MOTORCYCLE ENTHUSIASTS WILL INVADE LAUGHLIN IN APRIL

The 38th Annual Laughlin River Run, the largest motorcycle gathering on the West Coast, will take over the town Thursday-Sunday, April 23-26. Golden Entertainment, Inc.'s Aquarius, Colorado Belle and Edgewater will be hosting a full lineup of activities and entertainment for the town-wide gathering.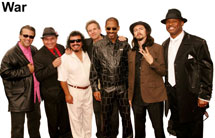 The Colorado Belle and Edgewater will hold an outdoor festival for the more than 20,000 attendees anticipated for this year's River Run. This mega-event brings top motorcycle brands and sponsors together, including Harley Davidson Motorcycle Company, Law Tigers, Ciro3D, Indian Motorcycles and Vance & Hines. In addition to accessories and parts which will be available for purchase, there will be food and drinks, an assortment of clothing and leather accessories, and more. There will be a bar and live DJs at the Center Circle located right outside the Colorado Belle's entrance.
On the Colorado Belle's "D" Deck, the Ink Mayhem Tattoo Convention will take place Wednesday-Saturday, April 22-25 with more than 100 tattoo artists and be open free to the public. There will be challenges every day including the Miss Mayhem Tattooed Hottie competition. The Inked Icon Awards will celebrate and honor the kings and queens of tattooing.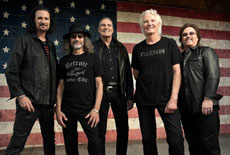 The Edgewater E Center will host live entertainment over the weekend, starting with Grand Funk Railroad on Friday, April 24. Hailing from Michigan, the "We're an American Band" group is known for their crowd rocking music style. They've toured extensively over the past five decades performing for sold out audiences.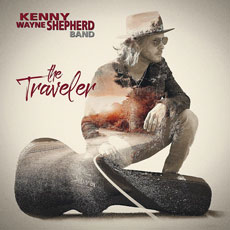 On Saturday, April 25 Kenny Wayne Shepherd will take the stage. The blues singer and guitarist has headlined for super rock acts such as The Eagles, Van Halen, and Rolling Stones and has appeared as a musical guest on national late-night shows. Tickets start at $20.
These three resorts are offering two- and three-night room packages for River Run starting from $285 for two nights and $325 for three nights at the Colorado Belle. All room packages will include two complimentary beer mugs, vouchers for two free beers at each Laughlin-based Golden Entertainment, Inc. property and two complimentary T-shirts.
MUSIC WILL ROCK THE LAUGHLIN EVENT CENTER
Rockin' on the River at the outdoor Laughlin Event Center on Saturday, March 14 at 5 p.m. will be a classic rock festival with headliners John Fogerty, Joan Jett & the Blackhearts and Don Felder. Tickets start at $55.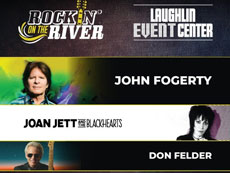 John Fogerty, with a career spanning more than 50 years, is hailed as one of the most influential musicians in rock history and known for creating the soundtrack of a generation. The American musician, singer, and songwriter as co-founder of Creedence Clearwater Revival was the group's chief musical architect. He was the lead singer, lead guitarist and principal songwriter. As a solo artist, his works rank as some of the most influential in American music history.
Joan Jett is an American rock singer, songwriter, composer, musician, record producer and occasional actress. She is best known for her work as the frontwoman of her band Joan Jett & the Blackhearts, which was inducted into the Rock and Roll Hall of Fame, and for earlier founding and performing with the Runaways.
Don Felder is renowned as a former lead guitarist of The Eagles. The true American rock and roll guitar hero is building upon his rich legacy as one of the most innovative riff-generating songwriters of the modern rock era while continuing his growth as a featured touring and recording solo artist. In April 2019 his first solo album, "American Rock 'N' Roll," in seven years was released.
CHARLEY PRIDE HEADLINES EDGEWATER'S E CENTER
Country singer Charley Pride will perform at The E Center at the Edgewater on Saturday, March 28 at 8 p.m. Tickets start at $48.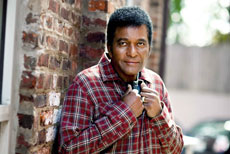 Pride is an American singer, musician, guitarist, business owner, and former professional baseball player. His greatest musical success came in the early to mid-1970s, when he became the best-selling performer for RCA Records since Elvis Presley.
Pride wrote an autobiography in the early 1990s, with the assistance of Jim Henderson, called "Pride: The Charley Pride Story." In 1993, he was inducted into the Grand Ole Opry, 26 years after he had first played there as a guest. He'd always had an open invitation to join as early as his first appearance in 1967.
Some of Pride's other honors include the Academy Of Country Music (ACM) prestigious Pioneer Award in 1994; induction into the Country Music Hall of Fame in 2000; and The Recording Academy®, renowned for its Grammy® awards, honored him with a Lifetime Achievement Award in 2017.
Although he no longer dominates the country radio airplay charts, Pride has never stopped recording new music. Since 1990, he has released many new studio albums, including "Music In My Heart" in July 2017.
RIVERSIDE HOSTS URBAN COWBOY REUNION
Urban Cowboy Reunion featuring Mickey Gilley and Johnny Lee will appear at the Riverside in Don's Celebrity Theatre March 18-22 in celebration of the 40th anniversary. Tickets for the 8 p.m. performances are $30.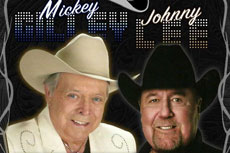 Gilley and Lee will be bringing back some of their chart-topping songs complete with memories of the 1980 hit movie, "Urban Cowboy." Gilley and Lee have earned an outstanding 38 Chart singles with 20 No. 1 hits including Gilley's "Room Full of Roses," "Don't the Girls all Get Prettier at Closing Time," and Lee's "Cherokee Fiddle" and "Lookin' for Love."
Country pianist/vocalist Gilley shot to fame with his musical fusion of country, rock, blues, and R&B. Long associated with the urban cowboy movement, Gilley racked up 16 country No. 1 hits, some of which include "I Overlooked an Orchid," "City Lights," "She's Pulling Me Back Again," "True Love Ways," "Stand by Me," "That's All That Matters," and "You Don't Know Me."
Lee for many years worked as a back-up singer and trumpeter in Gilley's band and was a guest headliner at Gilley's Texas nightclub. Lee's easygoing vocals stood out on "Lookin' for Love," a million-seller hit and the musical centerpiece of the 1980's film "Urban Cowboy," filmed on location at Gilley's club.
TOP OF NEXT COLUMN
JUSTIN MOORE HEADLINES HARRAH'S AMPHITHEATER
Chart topping country powerhouse, Justin Moore, will be live in concert at Rio Vista Amphitheater at Harrah's Laughlin on Saturday, April 4 at 8 p.m. Tickets start at $31.33.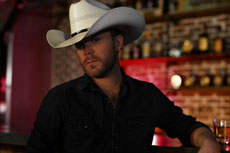 Moore landed the New Artist of the Year award in 2014 at the 49th Annual Academy of Country Music Awards after releasing his critically acclaimed third album, "Off The Beaten Path." He has produced eight No. 1 hits, seven Top 10 songs, and Platinum-certified albums "Justin Moore" and "Outlaws Like Me." His fifth studio album is "Late Nights and Longnecks." This year, he will kick-off his "Late Nights and Longnecks Tour" with Tracy Lawrence. Moore has shared the sage with Hank Williams Jr., Brad Paisley, Miranda Lambert and Brantley Gilbert.
RIVERSIDE CELEBRATES ALL THINGS IRISH WITH 'THE FITZGERALDS'
The Fitzgerald's Irish Celebration will bring holiday cheer Wednesday-Sunday, March 11-15 at 8 p.m. in Don's Celebrity Theatre at the Riverside. Tickets start at $30.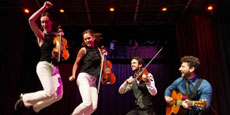 This fiddle and stepdance group features three-time Canadian Grandmasters Fiddle Champions Julie, Kerry and Tom Fitzgerald, who can fiddle and step dance at the same time. They are joined by five-time Canadian Open Step Dance Champion and guitarist Kyle Waymouth. This high energy show features Celtic Jigs and Reels, Irish ballads such as "Danny Boy," western swing vocals like the Bob Wills classic, "It's All Your Fault," as well as traditional fiddle tunes. These siblings continue to push boundaries by fusing traditional and modern styles of fiddle and dance to create their own sound and style. The Fitzgeralds have headlined Irish Festivals in Europe and across the United States.
WEEKENDS MEAN COMEDY AT THE EDGEWATER
"Comedy on the Edge" continues Friday-Sunday in the newly renovated Edge Lounge with 7 p.m. performances. Two stand-up comedians appear weekly. Tickets are $15 with a $2 discount for U.S. veterans on Sundays. Following the show, there's dancing with a DJ from 9 p.m. to 3 a.m.
Tim Homayoon will appear with Virzi Triplets March 13-15. Comedian Homayoon is also an actor and writer who currently is co-starring along with being head writer of the Amazon Prime TV Show "Not For Nothin'." He started his comedy career as a high school senior and 25-plus years later has more than 5,000 performances to his credit. With an Iranian father and Norwegian mother, he draws upon some of his wild stories of his past including stripping at a nursing home, getting fired as the Easter Bunny, and performing at Shea Stadium as "Anorexic Elvis" in front of 20,000 people.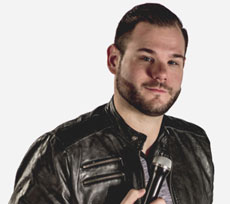 Jeff Leeson is paired with Tige Wright March 20-22. Leeson began his comedy journey at the age 14. Now 18 years later he is one of the best comics on the professional circuit with no two shows ever alike. His off-the-cuff improvisational, style leaves crowds wanting more. For his signature end of show "wrap-up," he integrates all the audience members he addressed, which has been described as "human fireworks."
Leeson creates a brand-new show every time based solely on the audience sitting in front of him.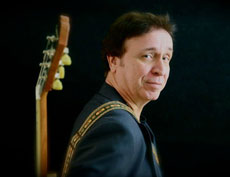 Dennis Blair is teamed with Nola J March 27-29. Blair, best known as a stand-up comedian, has opened for many celebrities such as George Carlin, Rodney Dangerfield, Joan River, and Tom Jones. His writing credits include Dangerfield's ABC specials in the 1980s, a book entitled "Me First" about his experiences as an opening act, and a one-man show "Also Appearing..."
TEMPTATIONS REVUE WILL GROOVE AT THE RIVERSIDE
Dennis Edwards Temptations Revue "The Official Temptations Revue" will be center stage Wednesday-Sunday, March 25-29 at 8 p.m. Tickets start at $30.
For three decades, Grammy Award Winner and Rock and Roll Hall of Fame Inductee, Dennis Edwards of The Temptations toured the world with this handpicked group of talented singers and musicians. Now, to honor the late Edwards, to keep his legacy alive and to celebrate his association with The Temptations, his group continues to perform to rave reviews and enthusiastic audiences. The show featuring hit tunes by The Temptations has "spot-on" performances with precision choreography.
Singer Edwards Jr. was an American soul and R&B singer best known as the frontman in The Temptations on Motown Records. He joined the group in 1968 replacing David Ruffin and sang with the group from 1968 to 1976, 1980 to 1984 and 1987 to 1989. Until his death, Edwards was the lead singer of The Temptations Review featuring Dennis Edwards, a Temptations splinter group.
BROOKS & DUNN AND REBA TRIBUTE APPEARS AT RIVERSIDE
Brooks & Dunn Tribute with Simply Reba will headline Don's Celebrity Theatre at the Riverside Wednesday-Saturday, April 1-4 at 8 p.m. Tickets start at $30.
In this award-winning show, Rob and Rick Stinson play Brooks & Dunn backed by a live band. They are joined by Wendy T starring as Reba in this live country concert tribute. Together the trio of country superstars make a concert recreation of their current tour singing some their biggest hits.
As a singer, dancer and tribute artist, Wendy T has appeared in the award-winning live tribute show "Legends in Concert," starred in the title role of the musical "The Unsinkable Molly Brown," and performed as a country singer on the Nashville Network.
FINDING LIVE ENTERTAINMENT IN LOUNGES
At the Splash lounge at the Aquarius Doll Face will Play Top 40 music, classic 80s hits, country and more from 7 p.m. to midnight Thursday-Sunday, March 5-8 and 8 p.m. to 1 a.m. March 12-15. Sam Riddle will inject country music from 8 p.m. to 1 a.m. March 19-22 and March 26-29.
At the Colorado Belle's 24-hour River Bar & Lounge entertainment is featured Friday-Sunday from 8 p.m.-1 a.m. performing a wide range of music, from rock and blues to country and R&B. The current lineup will be Greg Peterson Band March 6-8; Sweet Home Alabama March 13-15; San Fernando Band March 20-22; and Neil Morrow March 27-29.
GOLDEN NUGGET HOLDS SLOT TOURNAMENT
The Golden Nugget will hold its $40,000 Blarney Bucks Slot Tournament March 19-21. The entry fee is $100 with first place winning $12,500. Guests who pick up preregistration tournament information on Thursday, March 19 will be entered for a one and 10 chances at $50 in free slot play. The tournament's round one will be played on Friday, March 20 and round two and three on Saturday, March 21.
ABOUT TOWN
The Riverside Resort South Tower Pool Rockin' On The River Party will be held Friday, March 13 from 6:30-10 p.m. The event will feature Sheclipse, the only all-female Journey tribute act. General admission is $5, call Don's Celebrity Box Office 1-800-227-3849, or pay $10 at the door.
The Forbidden Fantasy Show 'N Shine will take place at the Avi's Beach Overlook Friday-Sunday, March 27-29. It's free to view the custom trucks and cars.
The U.S. Desert Scrambles Championship are scheduled Friday-Sunday, March 20-22 and will be held at Laughlin Events Park. Best in the Desert will present the racing event with UTVs, quads and motorcycles, along with a fun family poker run. For information, visit bitd.com.
The Colorado River Women's Council will hold its spring fundraising event, A Night at the Speakeasy on March 17 at 7 p.m. at the Laughlin River Lodge inside the Lodge Banquet Room. The event will include light appetizers, live entertainment by Leonard Interior, and DJ Loke. Call 928-444-5731 for information. Tickets are $30.
CONTINUE ON TO...:


THIS WEEK'S >LAS VEGAS NEWS
LAST MONTH'S >LAUGHLIN NEWS
>VEGAS VIEW FULL ARCHIVES
Return to >"Heard Around Town"
Return to >Las Vegas Leisure Guide