KISS WILL STOP IN LAUGHLIN DURING FINAL FAREWELL TOUR

Legendary rock band KISS will appear at the Laughlin Event Center for an outdoor concert on Leap Day, Saturday, Feb. 29 at 8 p.m. The performance will be one of the stops on their worldwide "End of the Road" farewell tour. Tickets start at $55.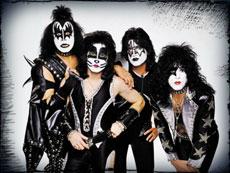 KISS band was formed in New York City in January 1973 by original members Paul Stanley, Gene Simmons, Peter Criss, and Ace Frehley, who were inducted into the Rock and Roll Hall of Fame on April 10, 2014. The band has gone through several lineup changes, with Stanley and lead singer and television personality Simmons being the only constant featured members.
While the group is known for producing several hard rock classics including "Rock and Roll All Nite," "I Was Made For Lovin You," and "Detroit Rock City," they are also famous for their wild face paint and stage outfits. However, in 1983, KISS began performing without makeup and costumes, which marked the start of the band's more than a decade long "unmasked" era.
In September 2018, KISS after selling more than 75 million records worldwide announced they would embark on their final tour after 45 years of recording and performing with the final show confirmed for July 17, 2021 in New York City where the band was formed.
FRANKIE VALLI & THE FOUR SEASONS VISIT EDGEWATER
Frankie Valli & The Four Seasons will bring their famous tunes to the E Center at the Edgewater on Friday, Feb. 14 - Valentine's Day at 8 p.m. Tickets start at $60.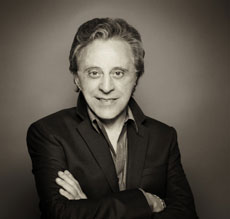 The fascination with this group and their music has always been strong and the Broadway show "Jersey Boys," which debuted in 2005, has kept their profile front and center. As the lead singer of The Four Seasons and frontman beginning in 1960, Valli had a string of hits beginning with the No. 1 hit "Sherry" in 1962. He scored 29 Top 40 hits with The Four Seasons including "Big Girls Don't Cry," "Walk Like a Man," "Rag Doll" and "December 1963," and nine Top 40 hits as a solo artist including "My Eyes Adored You" and "Grease."
Valli has also had an acting career with television appearances in such shows as "Miami Vice," "Full House," "The Sopranos," "Hawaii Five-O," and the film "And So It Goes."
CRYSTAL GAYLE WILL PERFORM AT THE RIVERSIDE RESORT
Songbird Crystal Gayle will grace the stage in Don's Celebrity Theater at the Riverside Thursday-Sunday, Feb. 13-16 at 7 p.m. Tickets start at $35.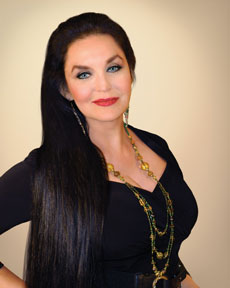 During her award-studded career, multi-million-selling singer Gayle has performed songs from a wide variety of genres. Last year, Gayle's first all-new album in almost 16 years, "You Don't Know Me," revisits the country roots which run in her musical family. This is the first time she's devoted an album to classic country music. The LP was co-produced by Gayle and her son, Christos Gatzimos, and it includes a trio performance of the Porter Wagoner-Dolly Parton classic, "Put It Off Until Tomorrow," featuring Gayle and her sisters, Loretta Lynn and Peggy Sue Wright.
Gayle's major career breakthrough came in the mid-1970s with songs like the Grammy-winning "Don't It Make My Brown Eyes Blue." Of her 35 Top 10 country hits to date, 13 also became pop and adult-contemporary hits. Gayle is one of the 10 most prominent hit-making country female artists of all time. She was the first female country artist to earn a Platinum Record in 1978, entered the Kentucky Music Hall of Fame in 2008, received a star on the Hollywood Walk of Fame in 2009, and won induction into the cast of the Grand Ole Opry in 2017.
DAUGHTRY APPEARS IN CONCERT AT RIO VISTA AMPHITHEATER
Daughtry is headed to Harrah's for an appearance at the Rio Vista Outdoor Amphitheater on Saturday, March 21 at 8 p.m. Tickets start at $39.50.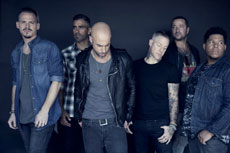 As the frontman for his band, Chris Daughtry, who is the lead vocalist and rhythm guitarist for the rock band was the fourth-place finalist on the fifth season of "American Idol." Throughout his career, Daughtry has released five albums and one Greatest Hits, all of which reached the Billboard Top Ten and have combined sales over 8 million copies in the United States. Daughtry and his band have been performing together for more than a decade.
Daughtry has collaborated with artists such as Timbaland, Vince Gill, and Carlos Santana, had the role of Judas Iscariot in the 2016 live television performance of "The Passion," and even fulfilled a lifelong dream by drawing the cover of a Batman comic. His group's most recent record, 2013's "Baptized," featured the platinum-selling "Waiting for Superman," which the singer points to as a turning point in his songwriting.
OAK RIDGE BOYS WILL HEADLINE AT THE RIVERSIDE
The Oak Ridge Boys will bring their distinctive and recognizable music to Don's Celebrity Theatre at the Riverside Monday-Sunday, Feb. 3-9 with 7 p.m. shows and matinees at 3 p.m. Feb. 4-6 and 8. Tickets start at $40.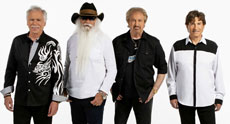 This American country and gospel vocal quartet was founded in the 1940s as the Oak Ridge Quartet. Their name changed to the Oak Ridge Boys in the early 1960s, and in the mid-1970s they changed their image and concentrated on country music. Their four-part harmonies produced mega-hits like "Elvira" in 1981, "Bobbie Sue" in 1982, and "American Made" in 1983. In 2011, they re-recorded a 13th anniversary version of "Elvira" for a Cracker Barrel Old Country Store project.
The group has scored 12 gold, three platinum, and one double platinum album - plus one double platinum single - and had more than a dozen national No. 1 singles and more than 30 Top Ten hits. The Oak Ridge Boys have appeared before five presidents.
RICK THOMAS BRINGS MAGIC TO HARRAH's
Award-winning illusionist Rick Thomas will present his magic in the Fiesta Showroom at Harrah's Wednesday-Sunday, Feb. 5-16 at 8 p.m. Tickets start at $35.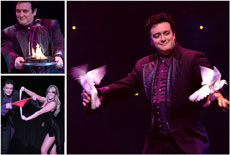 In addition to magic, Thomas is a champion ballroom dancer, and he designs and produces magic productions for some of the world's largest corporations. He also starred in both "Masters of Illusion" and "The Illusionists" on Broadway. Thomas was awarded Magician of the World by the World Magic Awards, and Stage Magician of the Year by the Academy of Magical Arts.
Thomas was a Las Vegas headliner for 15 years at Strip resorts like Bellagio, Planet Hollywood, and The Mirage. His skills landed him television appearances in a variety of programs airing on many major networks.
NELSON TWINS REMEMBER THEIR DAD AT THE RIVERSIDE
"The Nelsons - Ricky Nelson Remembered" will be presented Wednesday-Sunday, Feb. 19-23 at 7 p.m. Tickets start at $35.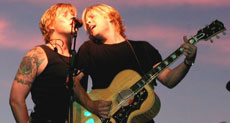 This show stars Matthew and Gunnar Nelson, the identical twin sons of Rock & Roll Hall of Famer Ricky Nelson, and grandsons' of 1950s TV stars Ozzie and Harriet Nelson. The brothers have created a multi-media entertainment event featuring them singing Ricky Nelson's hit songs including "Hello Mary Lou," "Travelin' Man," and "Garden Party." Audiences are also treated to never seen big screen video footage of the Nelson family and interviews with celebrities influenced by Ricky Nelson. The concert celebrates the life of America's original "Teen Idol." This year marks the 35th anniversary of their father's passing in a tragic New Year's Eve airplane crash. Rick Nelson is in the Rock and Roll Hall of Fame credited with founding the country rock music genre.
Matthew and Gunnar Nelson have their own successful careers. With their rock band Nelson, they've garnered five Top 40 Billboard hits, four No. 1 MTV videos, and have sold more than 6.5 million albums worldwide. Their No. 1 Billboard hit, self-penned "(Can't Live Without Your) Love & Affection" put the Nelson family in the Guinness Book of World Records as the only family in entertainment history with three generations of No. 1 hitmakers beginning with their grandparents.
TOP OF NEXT COLUMN
BRITISH INVASION TAKES THE TROPICANA STAGE
"Britain's Finest - The Beatles Experience" will visit the Pavilion Theater at the Tropicana on Saturday, Feb. 8 at 7 p.m. Tickets are $25.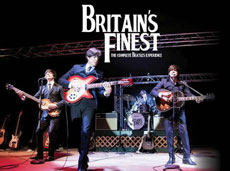 Based in Hollywood, Calif., Britain's Finest is one of the most authentic Beatles tribute band to emerge in the past 20 years. The all-star cast has a real chemistry and create the enduring embodiment of the Fab Four. This group takes its audience back in time and present an unforgettable concert experience like the young lads from England used to deliver complete with off-the-cuff humor and cheeky banter between songs.
LETTERMEN BRING HARMONY TO THE RIVERSIDE
The Lettermen will grace Don's Celebrity Theater with their three-part harmony Wednesday-Sunday, Feb. 26-March 1 at 7 p.m. Tickets start at $30.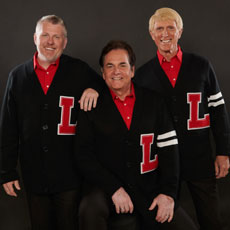 For more than 50 years, The Lettermen even with member changes have kept harmony alive with their soft, romantic, harmonic blend of music, which is as popular today as it was in 1961 when they recorded their first hit, "The Way You Look Tonight." Ironically, the slow romantic ballad was on the B-side with Capitol Records banking on the A-side tune "That's My Desire."
"The Way You Look Tonight" was a departure from the rock 'n' roll music of the day. Listener requests made radio station play the song, which shot to No. 13 on the Billboard chart. The group's second single, also a soft slow ballad that year did even better. "When I Fall In Love," hit No.7, establishing The Lettermen as the most romantic singing group of a generation.
The Lettermen have made more than 75 albums and a myriad of hits including "When I Fall In Love," "Theme From A Summer Place," "Goin' Out of My Head/Can't Take My Eyes Off of You," "Put Your Head On My Shoulder," "Hurt So Bad," "Come Back Silly Girl," and "Shangri-La." They have sung and recorded in many different languages and have received eighteen gold records internationally.
AVI HOSTS BEACH BOYS TRIBUTE SHOW
"SURFIN' The Ultimate Beach Boys Tribute" show will recreate the original group's upbeat fun music at the Avi Grand Ballroom on Saturday, Feb. 8 at 7 p.m. Tickets are $29.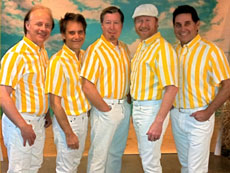 Surfin' has taken great care to preserve the honor and integrity of the Beach Boy's sound and enduring soundtrack. The tribute band is comprised of five professional musicians, who have all played with major rock artists. One member toured with the real Beach Boys and has been a long-standing member of the Brian Wilson Band.
The band is a faithful recreation of the Beach Boys in their prime and live in concert. Surfin' is unrivaled in their sound and presentation with the famous custom striped shirts and black suede boots, and professionalism.
NASHVILLE SINGER WADE HAMMOND VISITS AVI
Musical artist Wade Hammond will headline at the Avi Grand Ballroom on Friday, Feb. 14 at 7 p.m. Tickets start at $20.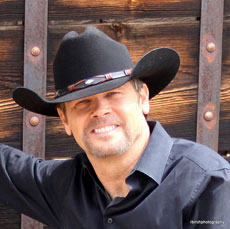 Wade's 25-year career has taken him from the Grand Ole Opry House in Nashville to many stages across the United States. He has been Nashville's ICMA (Inspirational Country Music Association) Winner Male Vocalist of The Year, twice nominated Entertainer of The Year and had five other national nominations.
Wade with his rich baritone voice will present 90 minutes of music from country and crooner legends - George Jones to Frank Sinatra, Alabama to Lou Rawls, and Randy Travis to Engelbert Humperdinck, with songs from the 1950s through the 1980s along with some new tunes this year.
RIVERSIDE FEATURES BOB SEGER TRIBUTE SHOW
Turn the Page will present their "Tribute to Bob Seger" show at the Riverside in Don's Celebrity Theater Wednesday-Sunday, March 4-8 at 8 p.m. Tickets start at $30.
"Turn the Page - a Tribute to Bob Seger and the Silver Bullet Band" faithfully recreates all the classic Seger hits. With 10 consecutive platinum albums between 1975 and 1995, the library of Seger's hits is nearly endless. The audience is made to feel as though they've been transported back to Detroit's Cobo Hall reliving the tunes "Old Time Rock and Roll," "Night Moves," "Against The Wind," etc. With more than 10 years on the road, Sam Morrison and Turn the Page continue to tour the United States bringing Seger's music and a memorable concert experience to his fans.
AQUARIUS HOSTS UFO MEGACON
The UFO MegaCon will be held at the Aquarius Pavilion, Feb. 15-22 with scientists and researchers giving presentations on extraterrestrial findings. The seven-day/eight-night conference will gather 35 extraordinary scientists, researchers and experiencers for intensive education and disclosure. At an affordable price, the Mega Conference goals remain the same as the International UFO Congress held for 20 years goals.
ABOUT TOWN NEWS
"Comedy on the Edge" features two different stand-up comedians every Friday-Sunday at 7 p.m. in the newly renovated Edge Lounge at the Edgewater. Tickets are $15.
Porkin' on the River, 9th annual Smokey Hayes BBQ competition, will be held in the parking lot at the Laughlin River Lodge Friday-Saturday, March 6-7. The prize pool is $5,000 and the deadline for competitors and vendors to enter is Feb. 7.
The fifth annual "Duel in the Desert" for UTVs, cars and trucks will be held at Laughlin Events Park, Thursday-Sunday, Feb. 20-23.
The Fort Mojave Classic Xtreme Bulls PRCA family event will be held Friday-Saturday, Feb. 28-29 at 7:30 p.m. Arizona time both nights. This is an opportunity to watch the world's top bull riders compete in a variety of events. Tickets start at $18.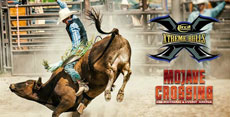 The 7th annual Connie Davis 5K Walk & Roll presented by The Laughlin Chamber will take place at the Pyramid Canyon Day Use Area at Heritage Greenway Park & Trails on Saturday, March 7 from 8-11 a.m. The memorial walk for cancer is open to the public. Registration is $25 and includes a T-shirt and goodie bag; visit the chamber's website or call 702-298-2214 ext. 0.
Taste of Bullhead, the 9th annual culinary competition presented by the Bullhead Area Chamber, will take place Saturday, Feb. 22 at 4:30 p.m. This year's theme is Mardi Gras. Tickets are $40 for singles and $75 for couples; call 928-754-4121.
CONTINUE ON TO...:


THIS WEEK'S >LAS VEGAS NEWS
LAST MONTH'S >LAUGHLIN NEWS
>VEGAS VIEW FULL ARCHIVES
Return to >"Heard Around Town"
Return to >Las Vegas Leisure Guide