WILLIE NELSON VISITS THE EDGEWATER!

The original "On the Road Again" man Willie Nelson & Family will stop at the Edgewater's E Center to start off the New Year on Saturday, Jan.2. Tickets range from $45 to $95.

The American musician, singer, songwriter, author, poet, actor, and activist, will bring his classics to town with such hits as "Always On My Mind," autobiographical road songs like "On the Road Again," and catchy rhythms including "Mammas Don't Let Your Babies Grow Up to Be Cowboys."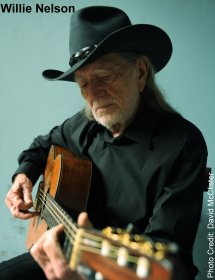 He was one of the main figures of outlaw country, a subgenre of country music that developed in the late 1960s as a reaction to the conservative restrictions of the Nashville sound. Nelson has acted in more than 30 films, co-authored several books, and has been involved in activism for the use of biofuels and the legalization of marijuana.
AQUARIUS BREAKS GROUND FOR $5 MILLION RESORT-STYLE POOL
The Aquarius hosted a ground-breaking ceremony with gold shovels and hard hats to mark the official start of construction for their 3,200-square-foot resort pool, which will be the largest in the tri-state area. The $5 million project is expected to be completed in May.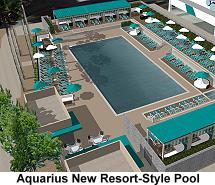 The pool will be located behind the parking garage in the southeast corner of the property replacing the Aquarius' former outdoor amphitheater space. Plans for the 34,251-square-foot pool area will offer amenities including more than 100 chaise lounges, 11 day beds, 12 cabanas, two hot tubs with special morning and evening times for adults, an outdoor bar with a window for the public to access from the Riverwalk, and a small grass area for small-scale concerts and recreational activities.
TROPICANA UPDATES THE STEAKHOUSE AND LOUNGE
After decades, both the Steakhouse restaurant and Trop Lounge at the Tropicana have been given a new look and feel. The resort is moving away from its famous train theme and going for an overall tropical motif.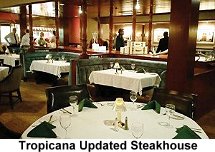 The Steakhouse is taking on a comfortable yet classy ambiance. The new colors are soft browns on the wallpaper, carpeting and paint scheme with colorful paintings on the walls. New light fixtures giving off a soothing tone are also an interesting design. The flow of the room allows for visuals like vintage suitcases giving a bon voyage feel, mini-metal sculptures, and soft candle lit lanterns.
The seating changed from high-back chairs in the two aisles of the room to low-back chairs, which makes people think the room is bigger. The cleaner lines help with this feeling. However, the walls and center are still outfitted with booths with the table seating in the aisles. The focal point of the room is still the stage lit back wall where the chefs can be viewed behind an opening. There is also a room at the front of the Steakhouse outfitted with a signature huge wrought iron clock that is nice for a reception, small meeting or private dinner party.
For the menu, many of the former popular menu items have made the transition as did the popular salad cart with all the toppings and extras.
The Trop Lounge, which is the old Caboose Lounge, has had a complete makeover. The overall effect is also cleaner and crisper. The sound system has been enhanced with advanced Bose speaker systems and also track spotlights are in place. The new design allows for the entire floor at the stage end of the lounge to be turned into a dance floor. Tables and chairs can be pushed back and the whole area can be open for dancing. One of the new signature looks is a mixture of different style chandeliers above the rectangular bar.
There are a few new specialty drinks including a souvenir Russian Mule where you keep the souvenir copper mug.
The Trop Lounge remains home to live music with top dance bands almost nightly. It is also home to football viewing and promotions.
NEW YEAR'S EVE ITEMS
The annual New Year's Eve free fireworks show will start after dark over the Colorado River with easy viewing along the Riverwalk.
Mel Tillis will bring country music to Don's Celebrity Theatre at the Riverside, Dec. 29-Jan 3. Tickets are $32 except on New Year's Eve when they are $35 for the 7 p.m. show and $40 for 11 p.m.
The New Year's show at Edgewater's E Center Dec. 30-Jan.1 will be "Under the Streetlamp" featuring Doo Wop, Motown and the classic rock vocal group that has done two PBS top specials. The quartet's members were recent leading cast members of the Tony Award-winning musical "Jersey Boys." They deliver tight harmonies and slick dance moves. Tickets range from $35 to $85.
Harrah's Fiesta Showroom will feature "Rockapella" with mash-ups and classic rock done a capella Dec. 26-30 at 8 p.m. Tickets are $27 and $37.
DAVE MASON'S 'TRAFFIC JAM' HITS HARRAH'S
Davie Mason will appear at Harrah's on Saturday, Jan. 16 at 8 p.m. Tickets are $38 and $48. Mason, renowned for such Traffic hits as "Feelin' Alright" and "Hole In My Shoe" plus his own solo signature tracks "We Just Disagree" and "Only You Know and I Know," enjoys performing the music of Traffic. He believes it is important to keep the legacy alive of four young men from England's heartland and their contribution of contemporary music.
The "Traffic Jam" concerts feature hits and deep album cuts from 1967's "Mr. Fantasy" and 1968's Traffic albums, additional Traffic jams, rare photos, stories from Mason, plus new material and a selection his own classic music.
CAR SHOW BEING HELD AT THE RIVERSIDE
River Cruizers' "Cruizin' on the River" car show returns to the Riverside's South Parking Lot, Thursday-Sunday, Jan. 14-17. The event is open to all years, makes, models, street rods, muscle cars, trucks, classics, specialty vehicles, 4X4, motorcycles. Over the weekend there will be a Show 'n' Shine, Parade of Cars on Casino Drive, automotive swap meet, Car Corral for vehicles sales, vendors, DJ music, contests, and more. The event starts at noon on Thursday, 8 a.m. Friday-Saturday, and 7 a.m. on Sunday with an awards/breakfast. There is a small fee to view cars. To enter a vehicle, call Ellen Bridges at 928-505-8457 or visit rivercruizers.com.
ELVIS MUSIC WILL PREVAIL AT THE RIVERSIDE
The Riverside will feature "Happy Birthday to the King" starring Don Rose in Don's Celebrity Theatre Jan. 5-10 at 7 p.m. Tickets will be $30.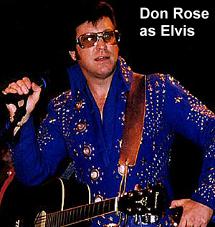 Rose's stage charisma and his strong voice are why fans compare him with to Elvis. He has performed Elvis tributes all across the United States and Canada. Rose considers himself to be a bigger Elvis fan than impersonator. Vocally trained in Orlando, Fla., and Nashville, Tenn., Rose works hard to make every event a special occasion and looks forward to meeting Elvis fans all around the world.
THE KINGSTON TRIO GOING STRONG AT THE RIVERSIDE
The Kingston Trio will refresh music memories at the Riverside in Don's Celebrity Theatre Jan. 12-17. Tickets are $32.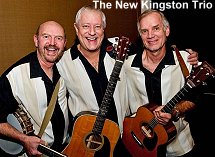 The Kingston Trio emerged from San Francisco in1957 and took the country by storm bringing the rich tradition of American folk music into the mainstream for the first time. During the late 50s and early 60s, the trio enjoyed unprecedented record sales and worldwide fame, while influencing the musical tastes of a generation. Through changing times, the threesome has played on, remaining popular with great songs that sound as good today as the first time you heard them. And 65 years after "Tom Dooley" shot to the top of the charts, the three singers are still on the road 30 weeks a year, bringing back great memories.
JOHN ANDERSON BRINGS COUNTRY SOUND TO THE AVI
Country music singer John Anderson will appear in the Avi Grand Ballroom on Saturday, Jan. 16 at 8 p.m. Tickets are $35.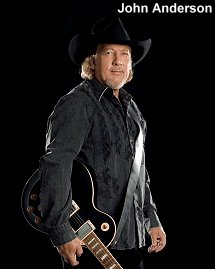 On his latest album "Goldmine," released on his own Bayou Boys label, Anderson has completed a long overdue record of original songs. The award-winning songwriter wrote or co-wrote 12 of the album's 13 tracks. In a Country Music Hall of Fame-worthy career, Anderson has produced 23 albums, more than 60 singles with 20 reaching the Top 10, and a wealth of industry awards.
Raised in Apopka, Fla., Anderson moved to Nashville in 1972, working construction by day including as a roofer at the Grand Ole Opry House and playing the honky-tonks at night. He signed with Warner Bros. in 1977, and notched his first major hit in 1980 with Billy Jo Shaver's "I'm Just an Old Chunk of Coal (But I'm Gonna Be a Diamond Someday)."
Anderson was inducted to the Nashville Songwriters Hall of Fame on Oct. 5, 2014, and has made his home in Smithville, Tenn., for more than 30 years.
TOP OF NEXT COLUMN
COMEDIANS LIVEN UP THE EDGEWATER EVERY WEEK
Every weekend, Friday through Sunday, comedians are co-billed for "Comedy on the Edge" at the Edgewater's Inferno Showroom with shows at 7 p.m. Tickets are $10 with veterans getting a $2 discount on Sunday.
The upcoming lineup includes: Jan. 1-3 Kathleen Dunbar and Jim Bruce; Jan 8-10 Ryan Wingfield and Suzy Nece; Jan 15-17 Dave Waite and Bethany Therese; Jan 22-24 Angel Guillen and Corey Sweeny; Jan 29-31 Billy Ray Bauer and Tara Brown; and Feb 5-7 Dennis Blair and Cliff Yates.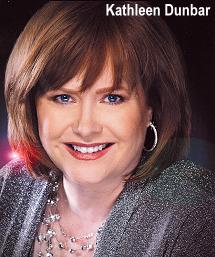 Kathleen Dunbar will grace the stage with Jim Bruce Jan. 1-3. Dunbar is blessed with a quick wit and great attitude with humor. She's got a realistic look at life that's developed into a sarcastic comic edge. Her observations of her life and the world around her are outrageous. Her comedy life in Las Vegas started with "Ladies of Laughter" and later moved to "Kathleen Dunbar's Divas of Comedy Show." She was the Comedy Winner in the 2003 Las Vegas Star Search competition and in 2005 the Entertainment Consumer Exchange (ECE) awarded her the Excellence in Entertainment Sunrise Award. In 2006, she won the ECE Favorite Comedy Show award.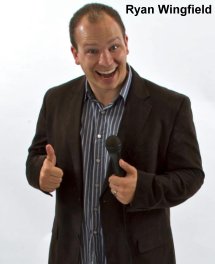 Ryan Wingfield will appear with Suzy Nece Jan. 8-10. Wingfield's comedy mixes family friendly jokes with a smart subtle edge. His routines uncovering interesting twists on everyday occurrences have been dubbed as having "high-brow comedy with low-brow humor." He grew up in Alaska as a middle child and was naturally drawn to comedy. He spent years developing his talent on radio, television, and the stage. Wingfield has been a traditional stand-up comedian with more than 11 years of experience and has performed with "Last Comic Standing" stars Jon Reep, Alonzo Bodden, and Tommy Johnagin. He has performed in 13 countries and on three continents including making overseas tours entertaining U.S. troops.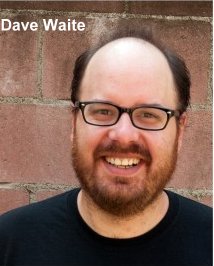 From Jan. 15-17, Dave Waite will be paired with Bethany Therese. The 10-year comedy veteran Waite has captured the hearts of comedy fans everywhere. A darkly-funny everyman, his swagger, honesty, and endless supply of bizarre catchphrases have earned him a reputation as a comic's comic with broad crossover appeal. His TV credits include "Last Comic Standing," "Comedy Central," and "Late night with Jimmy Fallon."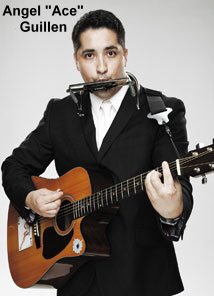 Angel "Ace" Guillen is teamed with Tim Bateman Jan. 22-24. Guillen is a new face in stand-up comedy. He started his career as a rocker touring with rock bands and being named a finalist for the Inland Empire Music Awards before switching his musical talent to comedy. Guillen performs regularly in clubs like the Improv, the Laugh Factory, the Comedy Store and countless other venues. He has appeared on National Lampoon Radio on XM Satellite radio, NBC, Comedy Central, and was a cast member of the sketch comedy show "Unacceptable Behavior" on the SiTV.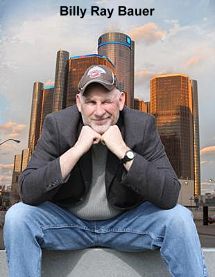 At the end of the month, Jan. 29-31, Billy Ray Bauer will provide the laughs with Tara Brown. Bauer has been performing stand-up comedy across America for the last 24 years. His routine focuses on skewed descriptions of growing up in Detroit in the 60s to the gory details of raising four boys in the new millennium. He adds to the mix some off-the-wall impressions and dialects. Bauer has been a repeat guest on the "Bob and Tom Show," heard on the "Dick Purtan" radio show in Detroit, and co-hosted the "Appliance Doctor Radio" program on WXYT for three years. Bauer's jokes have appeared in "Reader's Digest" and one was among their top 50 jokes for 2005.
RIVERSIDE SHINES SPOTLIGHT ON SUZY BOGGUSS
Suzy Bogguss, one of country music's most pristine and evocative vocalists, will star at the Riverside Jan.26-31. Tickets are $30.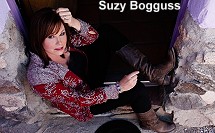 Bogguss didn't set out to craft a Merle Haggard tribute record but figured why couldn't a woman cover his masculine music. As it turns out, a woman can especially if it's Bogguss. With the release of the Illinois native's 1989 major label debut, "Somewhere Between," Bogguss quickly became one of the key artists that defined those days of '90s country. She scored a string of Top 10 singles with country radio staples like "Outbound Plane," "Drive South," "Hey Cinderella," "Letting Go" and "Aces," and her 1991 album of that name was certified platinum. In addition, she scored a trio of gold albums and notched more than three million sales.
CRYSTAL GAYLE BRINGS HER HITS TO THE RIVERSIDE
Crystal Gayle remains popular and will take center stage at the Riverside, Jan.21-24. Tickets are $30.
Gayle is an award-winning American country music singer best known for her mega-hit, "Don't It Make My Brown Eyes Blue." Over the years, she has accumulated 20 No. 1 country hits with six certified Gold records and was the first female country artist in history to reach Platinum sales with her album "We Must Believe in Magic."
DICK FOX'S GOLDEN BOYS MAKES A STOP AT THE EDGEWATER
Dick Fox's Golden Boys starring Frankie Avalon, Fabian and Bobby Rydell will headline at the Edgewater's E Center on Saturday, Jan. 9. Tickets range from $20 to $80.
Rydell, Avalon and Fabian were three of the most popular teen idols of the late 50s and 60s and have since proved to be an overwhelming live concert success. Countless television appearances, a special performance for the President of the United States and a Golden Boys PBS special have brought them a vast audience of fans of many generations.
THE O'JAYS BRING A GROOVE TO THE EDGEWATER
The O'Jays will make a tour stop at the E Center at the Edgewater on Saturday, Jan. 23. Tickets range from $25 to $90.
The O'Jays are a connection to an era and a sound that formed the soundtrack for the lives of several generations. They are still hitting the road with the same amazing energy they've had for more than 50 years. The trio has achieved 10 Gold albums, nine Platinum albums and 10 No. 1 hits and kept the "love train" going strong.
AQUARIUS NEWS CLIPS
Margie P., who was visiting from Peoria, Ariz., left the Aquarius $886,711.20 richer after winning on the television series-based Sons of Anarchy™ slot machine. She played the game for seven minutes prior to winning the grand progressive on a $3 bet and had only spent $39.
For the fourth consecutive year, Aquarius spread holiday cheer with its Christmas Tree Silent Auction where people bid on 10 fully-decorated and individually-themed trees that were on display in the front lobby. All proceeds benefitted Aquarius' "Feed A Family" program, which provides tri-state families in need with warm meals during the holiday season. Last year, Aquarius raised more than $4,490 and fed 225 families through the auction.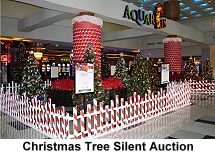 Nine Aquarius volunteers from Aquarius teamed up with nonprofit organizations, Tri-State Military Moms and American Center for Educational Opportunities (AMCEO) to provide 83-year-old Korean War veteran, Fred Poppin, and his family – daughter and three grandchildren - with a much needed mobile home renovation. The weeklong project was made possible through AMCEO's outreach program, The Green Cactus Project, which assists elderly as well as disabled and rural veterans with home improvements.
CONTINUE ON TO...:

THIS WEEK'S >LAS VEGAS NEWS
LAST MONTH'S >LAUGHLIN NEWS
>VEGAS VIEW FULL ARCHIVES
Return to >"Heard Around Town"
Return to >Las Vegas Leisure Guide