FOREIGNER WILL PERFORM AT RIO VISTA OUTDOOR AMPHITHEATER!

Popular rock group Foreigner will present their charting hits at the Rio Vista Outdoor Amphitheater on Saturday, Oct. 15 at 8 p.m. Tickets range from $47 to $77.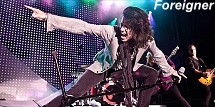 Founded in 1976, Foreigner has earned 10 multi-platinum albums and 16 Top 30 hits, along with album sales now exceeding 75 million. This dynamite group is responsible for some of rock 'n' roll's most enduring anthems including "Juke Box Hero," "Feels Like The First Time," "Urgent," "Head Games," "Hot Blooded," "Cold As Ice," "Dirty White Boy," "Waiting For A Girl Like You," and the worldwide No. 1 hit, "I Want To Know What Love Is."
DOLLY PARTON VISITS LAUGHLIN EVENT CENTER
The irrepressible superstar Dolly Parton will headline "An Evening with Dolly" at the outdoor Laughlin Event Center Friday, Sept. 30 at 8 p.m. Tickets range from $64-$149.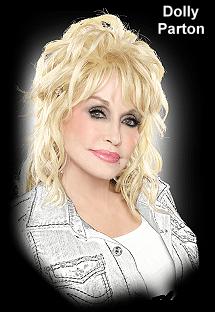 Parton's illustrious career includes achieving 25 RIAA certified gold, platinum and multi-platinum awards. She has had 25 songs reach No. 1 on the Billboard Country charts and is one of only five female artists to win the Country Music Association's Entertainer of the Year Award. Parton has garnered seven Grammy Awards, 10 Country Music Association Awards, five Academy of Country Music Awards, and three American Music Awards.
Parton made her film debut in the 1980 hit comedy "9 to 5," and achieved an Oscar nomination for writing the title song. More roles followed in "Steel Magnolias," "Best Little Whorehouse in Texas," "Rhinestone," and "Straight Talk."
NEIL SEDAKA WILL LIGHT UP THE E CENTER
Multi-talented Neil Sedaka will be singing his many hits and playing piano at the E Center at the Edgewater on Saturday, Oct. 15 at 8 p.m. Tickets range from $35 to $85.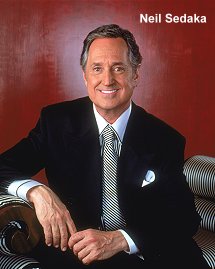 Sedaka has written or co-written more than 500 songs for himself and others, collaborating mostly with lyricists Howard Greenfield and Phil Cody. Sedaka was catapulted into stardom after Connie Francis recorded his tune "Stupid Cupid." She then sang her biggest hit and the theme song Sedaka and Greenfield wrote for the 1960 MGM spring break movie classic, "Where the Boys Are."
Sedaka soon recorded his own chart toppers "The Diary," "Oh! Carol," " Stairway to Heaven," "Calendar Girl," "Little Devil," "Happy Birthday Sweet Sixteen," "Next Door To An Angel," and "Breaking Up Is Hard To Do." More hits followed in the 1970s including "The Hungry Years," and two of his songs co-written with Phil Cody, "Bad Blood" and the quintessential "Laughter in the Rain," both reaching No. 1 on the music charts.
Some more songs Sedaka wrote for other artists included: Frank Sinatra - "The Hungry Years;" Elvis Presley - "Solitaire;" Tom Jones "Puppet Man;" The Monkees - "When Love Comes Knocking (At Your Door);" and The Fifth Dimension - "Workin' on a Groovy Thing." This gifted songwriter also helped to launch the career of Captain and Tennille with their version of his "Love Will Keep Us Together."
LAUGHLIN HOSTS INTERNATIONAL FILM FESTIVAL
The 5th Annual Laughlin International Film Festival (LIFF) will take place Thursday-Sunday, Oct. 13-15 with screenings of short films, feature films, documentaries, music videos, experimental works and industry workshops on Friday and Saturday. Tickets for individual film screenings at Stadium 9 Cinemas are $10 and $8 for seniors and students sold at the theater.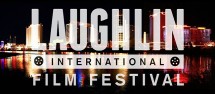 LIFF will host a Filmmaker Lounge at the Tropicana, which is the event's host hotel. The LIFF Awards will be presented on Saturday night at the Tropicana Pavilion Theater followed by the annual Filmmaker's Breakfast on Sunday with a director/producer panel, raffle and complimentary mimosas. For information, visit laughlinfilmfestival.com.
TROPICANA HOSTS DRAG PAGEANT AND DANCE PARTY
"Hello Dollys" -Drag Pageant & Dance Party hosted by Las Vegas Mistress of Ceremonies Toni James will invade the Pavilion Theater at the Tropicana on Saturday, Oct. 1. The evening will feature DJ Chris Cox and a Dolly Parton look-alike and lip sync contest for $850 in cash prizes. Doors will open at 8 p.m. with the pageant and contest at 9 p.m. Cost is $15.
The Dance party will follow at 10 p.m. with free admission.
THE COMMODORES WILL BE GROOVING AT THE EDGEWATER
The Commodores will headline the Edgewater's E Center on Saturday, Oct. 29 at 8 p.m. Tickets range from $25-$65.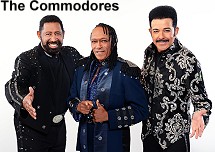 The Commodores have maintained their place among the most successful entertainment groups in the world. They had a string of monster hits and massive tours in the late 70s and early 80s and won their first Grammy Award for the multi-platinum smash hit single and LP "Night Shift" in 1986. Today, the Commodores have their own label and six new albums in stores. They are currently working on new material for their next studio CD.
MOE BANDY - T.G. SHEPPARD WILL SHARE THE STAGE AT THE RIVERSIDE
Moe Bandy and T.G. Sheppard with special guest star Kelly Lang will headline Don's Celebrity Theater at the Riverside Oct. 26-30 at 8 p.m. Tickets are $35.
Bandy's long string of hits include "Bandy The Rodeo Clown," "You Wrote My Life," "Till I'm Too Old To Die Young," and dozens of other chart-toppers. His songs never strayed far from the traditionally Honky Tonk subjects…loving, cheating, drinking and patriotism.
Sheppard's unstoppable passion for music has aided him to garner a show chock full of chart topping hits like "I loved 'Em Everyone," "Do You Wanna Go To Heaven" and "Party Time." Sheppard also served as the national spokesperson for the Folgers' NASCAR racing team for eight years. After 13 years, Sheppard's first commercial album was "Legendary Friends & Country Duets" with fellow stars and a 90-minute motion picture length DVD was also filmed as the sessions were recorded and won the top award for best music documentary at the Tele Awards in Los Angeles, Calif.
RIVERSIDE HEADLINES THREE TRIBUTE SHOWS IN OCTOBER
Three upbeat music tribute shows will take place in Don's Celebrity Theater in October with 8 p.m. show times and tickets ranging from $30 to $36.
"Winter Dance Party" leads off Oct. 5-9 paying tribute to Buddy Holly, Ritchie Valens and the Big Bopper. John Mueller's production is the official live and authentic re-creation of Holly, Valens and the Big Bopper's final tour and the only show endorsed by the Holly, Valens and Richardson estates. Each live concert performance includes more than two hours of high voltage entertainment featuring all the hit songs of the 50s era: "That'll be the Day," "Peggy Sue," "Oh Boy," "Rave On," "La Bamba," "Chantilly Lace" and many more.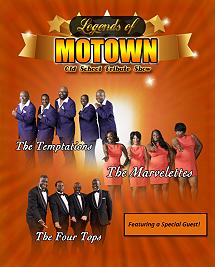 "Legends of Motown" - Old School Tribute will take the stage Oct. 12-15. This production captures the look, the sound and the feeling of being at a real Motown concert. Each group is talented in recreating their renditions of the Motown era with impressions of The Four Tops, The Temptations, and The Marvelettes. This show will also feature a special guest and the classic songs the groups made famous.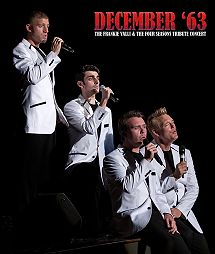 "December '63" - The Music of Frankie Valli & The Four Seasons will appear Oct. 19-23. This re-creation of a Valli concert experience includes the favorite songs everyone loves in the biographical Broadway musical "The Jersey Boys." In 1962, the group released their first album with the No. 1 single "Sherry" and from there more mega-hits followed including "Big Girls Don't Cry," "Walk Like A Man," "Candy Girl," and several others.
HARRAH'S FEATURES COUNTRY TRIBUTE SHOW
"The Country Artists Tribute Show" will headline the Fiesta Showroom Oct. 20-24 and Oct. 27-31. The show will honor some of today's big arena superstars Kenny Chesney, Toby Keith and Jason Aldean backed by a live Las Vegas Strip band. This trio of hit-makers will present a treasure trove of popular country tunes. Tickets are $29.50 and $40.50.
TOP OF NEXT COLUMN
EDGEWATER DELIVERS COMEDY ON THE WEEKENDS
Inferno Showroom at the Edgewater presents "Comedy on the Edge" at 7 p.m. on Friday and Saturday each week. The upcoming lineup of comedians include: Sept. 30-Oct. 2 Larry Reeb and Charlene Mae; Oct. 7-9 Rodger Lizaola and Carman Morales; Oct. 14-16 Gibran Saad and Sidney Smith; Oct. 21-23 Jill Kimmel and Amos Mack; and Oct. 28-30 Sean Tweedley and David Tobey. Tickets are $10 and on Sunday veterans get a $2 discount.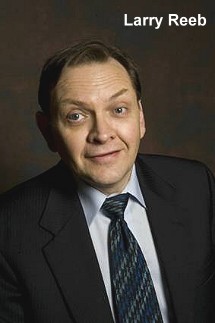 Veteran comedian Larry Reeb is set to appear with Charlene Mae. Reeb is known as Uncle Lar', the wacky wise-cracking black sheep, politically incorrect relative everyone knows. He gives crazy advice and jokes about driving, flying, marriage, technology, you name it. Reeb has been in the comedy business 38 years, and performed with greats like Rodney Dangerfield, Tim Allen, Larry the Cable Guy, Billy Gardell, Brad Garrett and Jay Leno, etc. Uncle Lar' is a regular on "The Bob & Tom Show" syndicated in more than 100 markets.
Rodger Lizaola will share the stage with Carman Morales. Lizaola is a 13-year veteran of the comedy circuit and has opened for Louis CK, Mike Epps, Donnelle Rawlings, Nikki Glaser, Ilisa Shlisinger and Aries Spears. His comedy is cutting edge and political season is providing him a wealth of material. Lizaola grew up in Gilroy, Calif., but his first stand-up chance came when he moved to Seattle, Wash., and took the stage at Comedy Underground in February 2003. Those first three minutes were terrifying for him and yet exhilarating. Even though his first years at comedy were tough and humbling, he stuck with it and became one of the youngest headliners in the Northwest and won many major comedy competitions.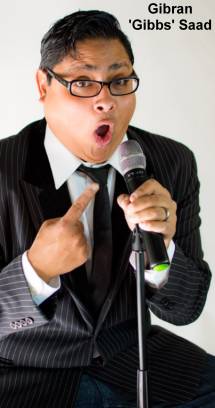 Gibran "Gibbs" Saad will be headlining with Sidney Smith. Saad is also known at Gibbs The Comegician! a stand-up comedian and sometimes magician whose bizarre humor and unscripted antics have earned him widespread recognition as a most original performer. Based out of El Paso, Texas, Saad has been performing for large audiences since the age of 15. The comedy magician pretty much ends up joking about himself and the situations that surround him. He's worked with Carlos Mencia, Eddie Griffin, Pablo Francisco, DJ Cooch, Joey Medina, Angel Salazar, and many more.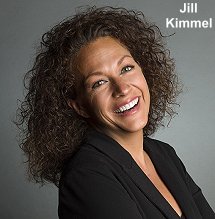 Jill Kimmel is booked with Amos Mack. Kimmel, a nine-year comedy veteran, draws from life for her jokes, which revolves around being a middle aged woman, husband and kid struggles, weight loss, and getting older. She has opened for a number of entertainers including Jimmy Fallon, Jeff Dye, Heather McDonald, DL Hughley, Dave Attel, Bob Marley, Dave Coulier, Ralphie May and more. Kimmel has also been cast for skits on "Jimmy Kimmel Live," acted in several TV films, and made multiple commercials for companies such as Vocera, Sit N Cycle, Presto Loans, George Brazil and ThinOptics. She was the only female in The Comedy Squadron, a group of five comedians selected by Armed Forces Entertainment to perform for the U.S. military.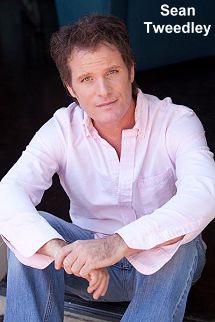 Sean Tweedley, a 15-year veteran of comedy, will create laughs with David Tobey. Tweedley's comedy is TV friendly observational humor. He has performed with Brad Garrett, Harland Williams and Drew Carry among others. Award-winning actor/comedian, Tweedley was head writer/producer for Canada's top rated, longest running late-night talk show, "Open Mike with Mike Bullard: on CTV." He also enjoyed a successful two-year run as host of the highly-rated cult hit "The Warm-Up Show with Sean Tweedley" on CTV/Comedy Network. Tweedley moved to Los Angeles in 2009 and wrote and starred in web series Internet videos with Jeff Foxworthy, Larry the Cable Guy and Bill Engvall. Tweedley recently returned to television as host of "The Limo Show," a comedy/talk show taking place inside a stretch limo with guests and a four-piece band.
THE LETTERMEN WILL SING MEMORABLE HITS AT THE RIVERSIDE
The Lettermen will bring their classic sound to Don's Celebrity Theater at the Riverside Sept.27-Oct. 1 at 8 p.m. Tickets are $30.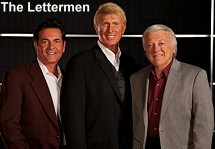 This trio scored 20 chart-topping hits through the 1960s and 1970s with songs like "Goin' Out of My Head," "Can't Take My Eyes Off of You," and "Hurt So Bad." The Lettermen through more than 40 years of performing still have its distinct classic harmony. Their undeniable sound has earned them 18 Gold Albums worldwide and scores of top singles.
COLT FORD WILL PERFORM AT THE AVI
Colt Ford will visit the Avi Grand Ballroom on Saturday, Oct. 22 at 8 p.m. Tickets are $20 and $25.
Ford's autobiography is laced through his music on the five albums released on his Average Joes Entertainment label. His debut album, "Ride Through the Country," was in 2008. Jason Farris Brown is known professionally as Colt Ford. He was a professional golfer playing on the Nationwide Tour until he broke his leg and then he turned his interests to music, taking influence from country music and hip hop.
SIDE NOTES
Hank Williams Jr. will appear at the Laughlin Event Center on Saturday, Sept. 24 at 8 p.m. Tickets range from $35 to $300.
REO Speedwagon will headline the Edgewater's E Center on Friday, Nov.18 at 8 p.m. Tickets range from $30 to $90.
The Marshall Tucker Band will take the stage at Harrah's on Thursday, Nov. 10 at 8 p.m. Tickets are $49.
Get the Led Out will present their tribute to Led Zeppelin at the Avi Grand Ballroom on Saturday, Sept.24 at 8 p.m. Tickets are $15 and $20.
The second "Run Laughlin" - Laughlin/Bullhead Half Marathon and 5K will take place on Saturday, Dec. 3 and will introduce an all-new downhill course run in two states in two time zones. The event is great for runners and walkers of all fitness levels.
Additional events will include a pre-race expo at the Colorado Belle on Friday noon to 8 p.m. on D Deck, and post-race party with a live band on Saturday at the Edgewater with free Pints beer.
For the seventh year Aquarius team members spent July collecting pens, notebooks, markers, pencils, crayons and more in a property-wide School Supply Drive to help three local elementary schools start the year off with the resources they needed. A total of 14,132 items were gathered.
IT'S BLUES MUSIC AT THE AVI EVERY THURSDAY NIGHT
Thursday nights each week at the Avi are dedicated to Blues at the River in the Arrowweed Lounge at 8:30 p.m. with free admittance.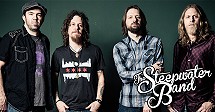 The Steepwater Band (TBS) formed in Chicago in 1998 will appear on Sept. 29 at 8:30 p.m. The group's signature sound is a nod to early British blues combined with a modern gutsy musical approach. In early 2012, the long-time original trio was joined by Eric Saylors, who brought an added depth to the TSB Live sound. The band has maintained a grueling schedule the last 18 years, averaging about 140 shows annually.
CAR SHOWS SHINE IN LAUGHLIN
The Viva Tropicana Car Show & Celebration will be held in the North Parking Lot and at other venues Friday-Sunday, Oct. 7-9. The event has classic cars, low riders, Show 'n' Shine, vendors, DJs, contests, etc. The car show goes from10 a.m. to sunset on Friday and Saturday.
The Haunt & Glow Car Show will be held Friday-Sunday, Oct. 28-30 at the Tropicana. There will be Show 'n' Shine, vendors, Halloween costume contest, and car light show. It will be free to view the cars on Friday Fri 1-6 p.m. and Saturday 9 a.m.-7 p.m. and $30 to enter a car. The Halloween Costume Contest and Light Show will be on Saturday at 6 p.m. and awards will be on Sunday at 10 a.m. Pavilion Theater.
The Golden Nugget will host the 29th Annual Fast Past Car Show Nov. 3-5 with a welcome reception, ladies poker walk, awards and exclusive slot and BJ tournament.
The River Cruizers' 25th Anniversary of Roddin' on the River will happen Thursday-Sunday, Sept. 22-25 in the Golden Nugget's South Parking Lot. There will be a huge collection of classic cars, trucks, specialty vehicles, motorcycles; Show 'n' Shine; contests (slow drags, open headers); Sock Hop with dance contest and music by DJ Ray.
CONTINUE ON TO...:

THIS WEEK'S >LAS VEGAS NEWS
LAST MONTH'S >LAUGHLIN NEWS
>VEGAS VIEW FULL ARCHIVES
Return to >"Heard Around Town"
Return to >Las Vegas Leisure Guide