WYNONNA HAS SMITHFIELD AS HER OPENING ACT AT THE EDGEWATER!

Wynonna Judd will headline the Edgewater's E Center with her band The Big Noise led by her producer husband and drummer Cactus Moser and have as her special guest act Smithfield on Saturday, Aug. 27 at 8 p.m. Tickets range from $35 to $85.

Wynonna became famous in the 1980s singing alongside her mother Naomi. The female duo released seven albums on Curb Records and charted 26 singles, of which 14 were No. 1 hits. Wynonna still makes hits and released a full-length album via Curb Records in February 2016. Wynonna has described the new sound as "vintage yet modern" and a "return to the well" because it's a rootsy work encompassing country, Americana, blues, soul and rock.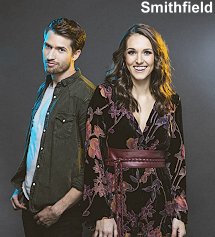 Opening for her at the Edgewater will be Smithfield. The duo comprised of vocalists Trey and Jennifer who grew up together was founded in 2011. After more than a year performing together, the twosome headed to Nashville to start a new chapter in their musical career. After one year, Nashville industry executives began to take notice and Smithfield began opening for established artists including Eric Paslay, Scotty McCreery, Dustin Lynch, Jana Kramer, and Craig Campbell. Mixing Trey's heavily rock influenced background and Jennifer's classical country tendency helps them create a contemporary country sound. Their new single coming out this fall is "Good Ol' Days."
LAUGHLIN RIVER TOURS RECOGNIZES NATIONAL MATCH MAKERS DAY
Laughlin River Tours and The Celebration Boat will host their first singles-only cocktail cruise on National Match Makers Day, Aug. 31 from 6-8 p.m. The two-hour cruise on the Colorado River will include hors d'eouvres, DJ entertainment, dancing and conversation among local and visiting singles looking to find a mate. Tickets are $30 and a full bar has cocktails for purchase, call 800-228-9825 to book or go online.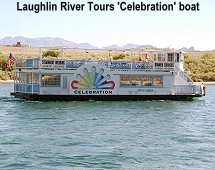 The Celebration boat accommodates 112 passengers with a climate-controlled lower deck and topside level with a canopy. The boat is docked at the Aquarius, which is offering discounted $34.99 a night room rates for those attending the cocktail cruise, call 800-662-5825 and mention code "C-ROR16."
HARRAH'S FEATURES TRIBUTE ACTS IN SEPTEMBER AND OCTOBER
Nathan Owens & Steve Owens Present Pop, Rock & Soul in the Fiesta Showroom at Harrah's Sept. 12-22 at 8 p.m. The show will pay tribute to Michael Jackson, Tina Turner, Aretha Franklin, and James Brown each night. Tickets are $29.50 and $40.50.
The Country Artists Tribute Show will visit Oct. 20 to 31. It's an all-hits, power packed tribute to three of today's biggest arena rocking country stars. Being honored will be Kenny Chesney, Toby Keith and Jason Aldean in one big show with a live Las Vegas Strip band in an intimate indoor environment. Tickets are $29.50 and $40.50.
COMEDY IS SUPREME ON WEEKENDS AT THE EDGEWATER
"Comedy on the Edge" takes place in the Inferno Showroom at 7 p.m. on Friday and Saturday nights each week. Upcoming comedians include: Aug 26-28 Howard G. and Jennifer Murphy; Sept 2-4 Kenny Bob Davis and Tim Haldeman; Sept 9-11 Steve Sabo and Kate Brindle; Sept 16-18 Ron Morey and Virginia Jones; Sept 23-25 Pete George and Jonathan Gregory; Oct. 7-9 Rodger Lizaola and Carman Morales; Sept. 30-Oct. 1-2 Larry Reeb and Charlene Mae; Oct. 14-16 Gibran Saad and Sidney Smith; Oct. 21-23 Jill Kimmel and Amos Mack; and Oct. 28-30 Sean Tweedley and David Tobey. Tickets are $10 and on Sunday veterans get a $2 discount.Top of Form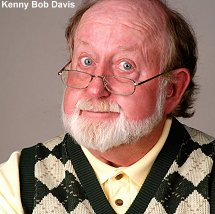 Veteran funny man Kenny Bob Davis is paired with Tim Haldeman over Labor Day weekend Sept. 2-4. Longtime comedian, actor, musician and singer, Kenny Bob has opened at many top concert venues and showrooms for such stars as Willie Nelson, Ramsey Lewis, George Burns, Kenny Rogers, Roy Clark, Vince Gill, and Larry Gatlin & The Brothers. He has also headlined all around the United States as a solo stand-up comedian and regularly been invited as a USO performer for our military men and women aboard aircraft carriers at sea and for our U.S. Marines in the field. Kenny Bob has appeared on TV in "Gremlins," "ER," "Sisters," "Zach and Cody," "Murder She Wrote" and more.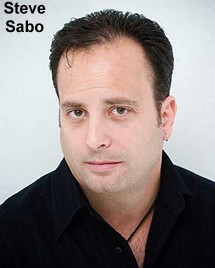 Steve Sabo is lined up with Kate Brindle Sept. 9-11. Sabo an admitted workaholic first hit a comedy stage right out of high school at age 18. Along with working comedy clubs, he has honed his craft at every imaginable location from cruise ships to concert with crowds as large as 5,000. Sabo has opened for Chris Rock, Kevin James, Bob "Bobcat" Goldthwait, Jim Breuer, Pablo Francisco, and The Spin Doctors naming a few. In the 25 years this comedy road warrior has been made many TV appearances, been heard regularly on SiriusXM Satellite Radio and released five full length comedy albums. His universal comedy is considered adult-friendly and intelligent, honest and an observational style, and topped with a high energy and frenetic pace.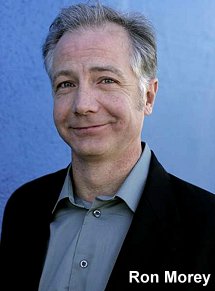 Ron Morey will share the stage with Virginia Jones Sept. 16-18. Versatile headliner Morey has joked about practically everything for the last 25 years. With absurdity and silliness, he creates incredible facial expressions, impersonations and original characters. His skills have had him performing with George Lopez, Ellen DeGeneres, Steven Wright, Drew Carry, Tracy Morgan and Bill Maher. Along with performing for U.S. troops and comedy clubs, Morey has film credits.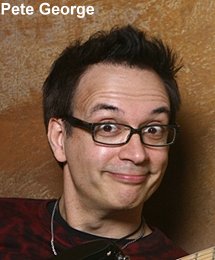 Pete George will be provoking laughter with fellow comedian Jonathan Gregory Sept.23-25. Unassuming in appearance, George is exhaustingly funny as he pinballs through his act filled with stage antics, jokes, life stories, cartoon voices and music. His father, Gilbert George, was first accordion soloist in the military at West Point. Pete got his start in show business as a lead guitarist in a Cleveland based 80s rock group but comedy won out as you can tell by his comment, "We wanted to be like the band A Flock of Seagulls, so we called ourselves A Peck of Peckers."
VENTRILOQUIST KEVIN JOHNSON VISITS THE RIVERSIDE
Comedy ventriloquist Kevin Johnson will appear at Don's Celebrity Theatre at the Riverside Resort Aug.31-Sept. 4 at 8 p.m. Tickets are $30.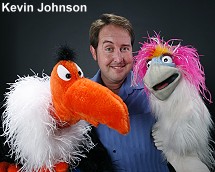 Johnson is recognized as one of the Top Ten Best Ventriloquists in the World. He is best known for his appearances on "America's Got Talent" and "The Late Show with David Letterman." With more than 10,000 shows under his belt including a nine-year run at San Diego's Legoland California Theme Park and countless voices in his head, Johnson seamlessly combines ventriloquism, puppetry and comedy into his show. His sidekicks include Matilda, Clyde and awkward Harley. Johnson's ventriloquist life started when he was 9 years old and his parents gave him his first pull-string dummy for Christmas.
AVI FEATURES LED ZEPPELIN TRIBUTE ACT
Get The Led Out (GTLO), an act capturing the essence of the recorded music of Led Zeppelin, brings the viewing and listening experience to the Avi Grand Ballroom on Saturday, Sept. 24 at 8 p.m. Tickets are $15 and $20.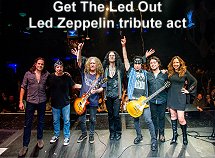 The Philadelphia-based group consisting of six veteran musicians is intent on delivering the Led Zeppelin sound live. GTLO re-creates the songs in all their depth and glory with the studio overdubs utilizing the multi-instrumentalists at their disposal. When you hear three guitars on the album, GTLO delivers three guitarists on stage. There are no wigs or fake English accents with GTLO presenting a high energy, intense Zeppelin concert.
TROPICANA HOLDS KARAOKE CONTEST
The 16th Annual Talent Quest National Karaoke Contest will take place at the Tropicana in the Pavilion Theater for a week, Sept. 11-17. Domestic and international karaoke singers in a variety of categories will compete for $25,800 in cash and prizes. The preliminary rounds will be Monday-Friday with semis and finals on Saturday, Sept. 17. Entry is either by winning qualifying contests held at a wide variety of venues or self-sponsorship for $475. It is free for folks to view the preliminary rounds and there is a slight fee to see the finals.
TOP OF NEXT COLUMN
38 SPECIAL BRINGS SOUTHERN ROCK TO EDGEWATER'S E CENTER
The powerhouse band 38 Special will headline the E Center at the Edgewater on Saturday, Sept. 10 at 8 p.m. Tickets range from $15 to $55.
After more than three decades together, 38 Special continues to visit more than 100 cities a year showcasing their signature blast of Southern Rock music. The group's many Gold and Platinum album awards are a testament to the endurance of their sound. With sales in excess of 20 million and 15 albums, their timeless hits remain a staple on radio, and are immediately recognizable and pave the way to their present-day touring regimen.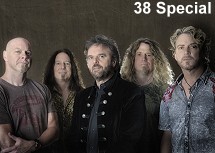 Around the fall of 2009, 38 Special started thinking of releasing a new live album. They wanted to incorporate advanced technologically, showcase a new growing spirit, and reflect on the band's maturing into an even tighter unit after three decades on the road.
For "Live From Texas," the group was able to carry their digital recording equipment to several cities and do their own remixing. The final outcome was being able to represent their onstage persona and present a collective history of a band that has made the road a part of its heritage.
RIVERSIDE FEATURES TRIBUTE ARTISTS
In September, the Riverside Resort will have acts in Don's Celebrity Theatre paying tribute to Bob Seger, Johnny Cash and Reba McEntire at 8 p.m. shows. Tickets are $30.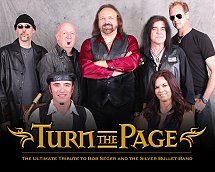 Turn The Page honors Bob Seger Aug. 25-28. Sam Morrison and Turn the Page have more than 10 years on the road and continue to tour the United States bringing Seger's music to fans. With 10 consecutive platinum albums between 1975 and 1995, Seger and the Silver Bullet Band provided the soundtrack to a generation, especially those growing up in the Midwest.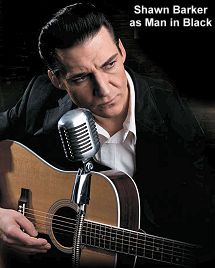 The Man in Black, A Tribute to Johnny Cash will be presented Sept. 7-11. The show stars Shawn Barker delivering the raw prowess that made Johnny Cash a 20th century pop culture figure, while capturing his ability to cross musical genres. After his time in the U.S. Army, Barker took up acoustic guitar and won contests and performed as Elvis. When he auditioned for the Hollywood production of "The Million Dollar Quartet" he made a video portraying Cash and ultimately created his own highly successful Cash tribute show "The Man in Black."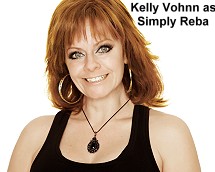 Simply Reba - Tribute to the Queen of Country will follow Sept. 14-18 featuring multi-award winning Kelly Vohnn backed by a five-piece live band. Vohnn has performed as McEntire, one of the most successful female recording artists in country music history, at the former Imperial Palace in Las Vegas. She delivers powerhouse vocals with McEntire's quirkiness and well-known manner.
NEWS ON THE HORIZON
If you're making plans to celebrate New Year's Eve, the Edgewater has revealed its entertainment package for Friday and Saturday, Dec. 30-31 at the E Center. The lineup for the 8 p.m. performances will include The Legendary Monroe Powell & his Platters Revue, The Original Cornell Gunter's Coasters, and The Legendary Bobby Hendricks & his Drifters Revue. Tickets range from $35 to $85.
The Riverside has booked Grammy-nominated and Dove award-winning recording artist Ty Herndon Dec. 28-Jan. 1. Shows will be nightly at 7 p.m. with tickets being $32. On New Year's Eve, Dec. 31, the early show will cost $35 and late show $40.
For Labor Day weekend, there will be fireworks in the sky above the Colorado River at the Avi. The "Thunder in the Sky" fireworks display by Zambelli Internationale will be on Sunday, Sept. 4 at 8:45 p.m. and it's free.
The Laughlin Live Smooth Jazz Festival 2016 is scheduled Friday-Monday, Sept.2-5 at various town venues including the Laughlin Event Center, E Center, Laughlin Ranch Golf Course and Harrah's Beach. The "Nuthin' But Jazz" weekend will feature four days and seven events with 22 acts including established and up-and-coming smooth jazz and Latin jazz artists from across the country.
It will be rodeo time at the Laughlin Event Center on Saturday, Sept. 10 with the
Championship Bull Riding - Colorado River Chute Out at 8 p.m. Tickets range from $25 to $250.
Festivals are plentiful on the Riverwalk by the Colorado Belle and Edgewater with free live music on the Loading Dock stage and food and beverages for sale. The Labor Day Riverwalk Festival will be Sept. 2-4 daily from 2-10 p.m. Rowdy on the River Festival will follow Sept. 23-25 with country style cookin'. Moving along, the Best Little Chicken Ranch in Laughlin Riverwalk Festival is scheduled Sept. 30-Oct. 2 with a home style menu featuring chicken entrées. The 8th Annual Das Beer Fest will feature oompah bands, beer and brats Oct. 7-9.
The World Fighting Championships 58 will take place on Saturday, Sept. 10 in the Avi Ballroom at 8 p.m. Tickets are general $30, reserved $50 and cage-side $75.
Saturday dates for the rest of the year are set for Tom & Sharon's Dance Party to return from 1:30 to 4 p.m. at The Karaoke Dance Club in the Riverside: Sept. 20, 24; Oct. 8, 29; Nov 19; and Dec 3, 17. There is an admission fee. For information, call Tom and Sharon Craddock, call 928-444-4067.
The Laughlin Event Center headliner on Saturday, Sept. 24 will be Hank Williams Jr. Tickets range from $35 to $300.
RIVERSIDE RESORT PRESENTS FRANK OLIVIER'S 'TWISTED CABARET'
Frank Olivier's - Twisted Cabaret will invade Don's Celebrity Theatre at the Riverside Resort Sept.21-25. Tickets are $30.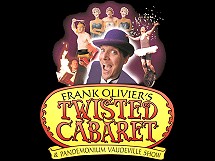 Olivier is the co-producer and emcee of this evening show of twisted fun highlighting outrageous magic, fire-eating, sword-swallowing, cross-dressing, unicycling, a shadow strip tease, rock 'n' roll, contortion, and even a tongue act. Olivier has been seen on "The Tonight Show," "America's Got Talent," "Just For Laughs," "Last Comic Standing," "Ellen," and more. He has toured "Twisted Cabaret" nationally and internationally for 14 years.
THURSDAY NIGHT SPELLS BLUES MUSIC AT THE AVI
The Avi dedicates Thursday nights each week and the Arrowweed Lounge for Blues at the River at 8:30 p.m. with free admittance.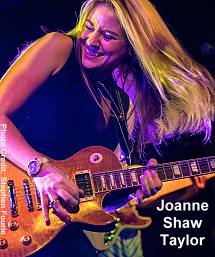 Joanne Shaw Taylor will appear on Sept. 1. Taylor was discovered by Eurythmics' Dave Stewart as a 16 year old guitar prodigy. She is now one of the hottest young names on the British Blues circuit and was voted "Best British Female Vocalist" at the British Blues Awards in 2010 and 2011. Many leading blues guitarists including Joe Bonamassa admire and respect her. Taylor's "Almost Always Never" album was helmed by the legendary record producer Mike McCarthy in Austin, Texas. She was invited as special guest to Annie Lennox performing at the Queen's Diamond Jubilee concert in June 2012.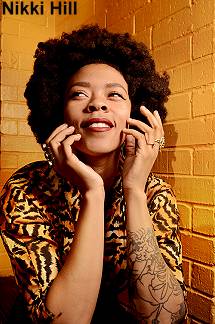 Carolina gal Nikki Hill will sing on Sept. 8. Hill and her band have been touring extensively following the release of their independent 2015 "Heavy Hearts Hard Fists" and debut album "Here's Nikki Hill" in 2013. With no explosive live show, they deliver a sound with raw rock and soul dynamics mixed with the strength, passion, and honesty of blues shouters of the past.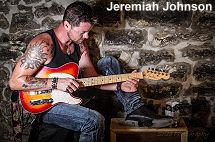 Jeremiah Johnson, who was born and raised in St. Louis, is the voice of Mississippi River blues and will visit on Sept. 15. He began learning guitar at age 6. After relocating to Houston, Texas, in 1999, Johnson finished in first place for three consecutive years at the Houston Regional Blues Challenges. In 2009, Johnson returned to St. Louis and merged Texas style with STL blues to create his sound. In 2011, Johnson won the St. Louis Blues Society IBC Challenge and went on to the semifinals in Memphis, Tenn. One year later, Sirius XM's B.B. King's Bluesville picked up the Jeremiah Johnson Band, where they can be heard nationwide, as well as on Touch Tunes Jukeboxes in bars and clubs and on radio stations across the country.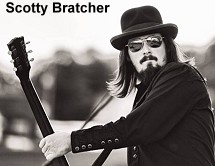 Scotty Bratcher will stop by on Sept. 22. He was born in 1987 and began playing guitar when he was 2 years old. When he was age 11, his family began going to open mic nights at clubs in the greater Cincinnati area to expose Bratcher to the live music scene. This was where he began getting on-stage experience and eventually found band members to support him. In the next several years, Bratcher sat in with various bands with one giving him the opportunity to open for guitar hero Lonnie Mack. Since then, he has played with and opened for an awesome list of big names.
CONTINUE ON TO...:

THIS WEEK'S >LAS VEGAS NEWS
LAST MONTH'S >LAUGHLIN NEWS
>VEGAS VIEW FULL ARCHIVES
Return to >"Heard Around Town"
Return to >Las Vegas Leisure Guide