SEPTEMBER WILL START OFF WITH JAZZ FESTIVAL!

Laughlin Live Smooth Jazz Festival 2016 will take place Friday-Monday, Sept.2-5 at various venues including the Laughlin Event Center, E Center, Laughlin Ranch Golf Course and Harrah's Beach.

DeSquared LV and 3141 Entertainment will present "Nuthin' But Jazz," a weekend featuring four days and seven events with 22 artists including established and up-and-coming smooth jazz and Latin jazz artists from across the country such as Marion Meadows, Will Donato, Phil Denny, David P. Stevens, Joel Del Rosario, Ray Obledo, Paula Atherton, Dirk K and many more.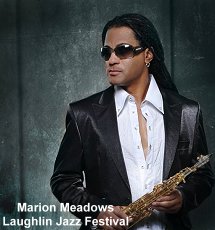 The festival will start with a kickoff VIP cocktail party at the Laughlin Ranch Golf Club on Friday in Bullhead City.
On Saturday and Sunday, jazz bands will perform the E Center at the Edgewater from 2 to 7 p.m. and at the Laughlin Event Center from 7:30 to 11:30 p.m.
Sunday there will be a Celebrity Golf Tournament "Swing for Jazz" fundraiser at the Laughlin Ranch Golf Club for the Ogden Foundation. Celebrities will include NFL players Andre Reed, Steven Jackson, Mervyn Fernandez, Michael Merriweather, Jonathan Ogden, Byron Chamberlain and NBA's Cedric Ceballos, among others.
On Monday, the Live Bayou Jazz Brunch will be held at Harrah's Beach from 10 a.m.-2 p.m.
THREE DOG NIGHT WILL VISIT EDGEWATER
Legendary American rock band Three Dog Night formed in 1967 will perform at the Edgewater in the E Center on Saturday, Aug. 6 at 8 p.m. Tickets range from $15 to $55.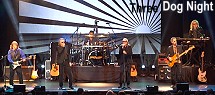 Now in its fourth decade, Three Dog Night claims astonishing statistics in popular music. In the years 1969 through 1974, no other group achieved more top 10 hits, moved more records or sold more concert tickets than this group. This Grammy-nominated band is not content resting on its legacy alone.
Three Dog Night maintains an aggressive, year-round touring schedule of more than 70 hit-filled concerts a year performing for generation-spanning audiences. Following the death of singer Cory Wells in 2015, the band invited David Morgan to join as a vocalist. The band's now-famous name refers to native Australian hunters in the outback who huddled with their dogs for warmth on cold nights; the coldest being a "three dog night."
WYNONNA & THE BIG NOISE WILL VISIT EDGEWATER'S E CENTER
American country music superstar Wynonna Judd will headline at the E Center at the Edgewater with and her band The Big Noise led by her producer husband and drummer Cactus Moser on Saturday, Aug. 27 at 8 p.m. Tickets range from $35 to $85.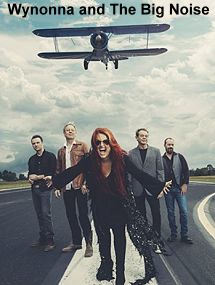 Wynonna first rose to fame in the 1980s singing as a duo alongside her mother, Naomi. The twosome released seven albums on Curb Records in addition to charting 26 singles, of which 14 were No. 1 hits.
Wynonna still makes hits and released a full-length album in February 2016 via Curb Records to critical acclaim. Wynonna has described the new sound as "vintage yet modern" and a "return to the well." It's a rootsy work encompassing country, Americana, blues, soul and rock. Special guests featured on the album include Derek Trucks, Jason Isbell, Susan Tedeschi and Timothy B. Schmit.
THE WEIGHT PERFORM THE BAND MUSIC AT HARRAH'S
The Weight featuring members of The Band, Levon Helm Band and Rick Danko Group performing music of The Band will take place in the Fiesta Showroom at Harrah's on Saturday, Aug. 20 at 8 p.m. Tickets are $ 29.50 and $40.50.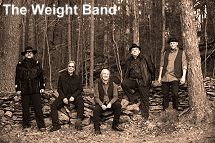 The Weight is a five-piece ensemble replicating and interpreting the music of The Band. The group features Jim Weider and Randy Ciarlante from The Band, Brian Mitchell of the Levon Helm Band, Albert Rogers and Marty Grebb, who worked with Rick Danko and Richard Manuel of The Band.
RIVERSIDE'S SHOWS SHOWCASE BEST TRIBUTE ACTS AROUND
The shows for the month of August headlining Don's Celebrity Theatre will honor Neil Diamond, Journey, Elvis and Bob Seger. All the performances are at 8 p.m. and tickets are either $25 or $30 depending on the show.
Leading the way will be "Neil Diamond: The Tribute starring Rob Garrett" with The KOD Band Aug. 3-7. Garrett like Diamond was born in New York City. He began learning to sing and play guitar at age 13. In 1974, his parents moved to Las Vegas, which remains his home today. Garrett has established himself as the world's most popular and requested Neil Diamond tribute artist, earning him the title "King of Diamonds." He continues to set the standard in the industry by performing his tribute to the iconic singer/songwriter around the country in venues usually reserved for national name acts.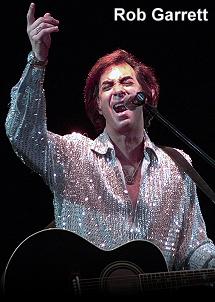 "Lights - The Music of Journey" will follow Aug. 11-14. The Lights group delivers a high-energy enthusiastic show and note-for-note accurate genuine renditions of Journey classics with no prerecorded backing tracks. With the fantastic vocal range of "American Idol" finalist, front man Rudy Cardenas, Lights recreates the feel of being at an actual Journey concert. Fans that have seen Journey, compliment Lights for their amazing genuine performances of Journey's legendary catalog.
"Elvis in Hawaii starring Don Rose" will grace the stage Aug. 16-21. This show has a cast of 12 starring Rose as Elvis and with the Polynesian troupe Hot Lava. Elvis loved the islands where he spent many vacations, performed his most spectacular concert, and made some of his most successful movies. This show includes hits from "Aloha From Hawaii," as well as from the movies "Blue Hawaii" and "Paradise Hawaiian Style." Rose has performed his Elvis tributes all across the United States and Canada.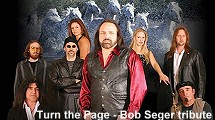 "Turn the Page tribute to Bob Seger" closes out the month Aug. 25-28. Bob Seger and the Silver Bullet Band truly provided the soundtrack to a generation with 10 consecutive platinum albums between 1975 and 1995. Turn the Page faithfully recreates all the classic Seger hits. With more than 10 years on the road, Sam Morrison and Turn the Page continue to tour the United States bringing Seger's music to fans.
ANNUAL RIVER REGATTA HAPPENS MID-AUGUST
There will be pirates on the Colorado on Saturday, Aug. 13 for the 10th Annual Bullhead City River Regatta, which has a "Pirates of the Colorado" theme this year. This water event attracts thousands of tubers who take to the Colorado River for a two- to three-hour float trip from launch sites on the Arizona side and Harrah's and the Pioneer on the Nevada side with a launch time at 7 a.m. For information, visit bullheadregatta.com.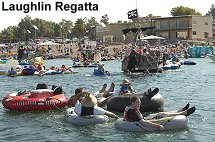 There will be a Regatta Pre Party at Harrah's South Beach with an official River Regatta Bikini Contest starting at 9 p.m. on Friday, Aug. 12. At Harrah's Amphitheater, there will be a Regatta Post Party - Wild & Wacky foam event on Saturday, Aug. 13 starting at 9 p.m.
DAVIS DAM IS AREA'S VISUAL LANDMARK
Davis Dam named in 1941 for then Director of Reclamation, Arthur Powell Davis, is located just north of Laughlin in Pyramid Canyon. The 200-foot high dam can be viewed by land and water tours on the river. The $67 million earth and rock filled embankment along the Colorado River is comprised of a concrete spillway, intake structure and power plant. The dam was completed in 1953 to control flash floods and to generate hydroelectric energy. A rock formation resembling a bull's head was located behind the present dam and was flooded by the waters of Lake Mohave when the project was completed. The construction town below the dam and directly across the Colorado River from Laughlin was named Bullhead City in honor of the formation.
OUTLET CENTER OFFERS SHOPPING
The two-story Laughlin Outlet Center is located in the heart of the casino district and across the road from the Aquarius. The mall has more than 60 merchants, indoor food court and market, and eight acres of parking. Merchants' prices are usually 20-50 percent below retail average on a variety of top-name produces. The shopping center is open Monday-Saturday from 9 a.m. to 8 p.m. and on Sunday from 10 a.m. to 7 p.m. Wheelchairs and strollers are available for rental.
TOP OF NEXT COLUMN
AVI HIGHLIGHTS SKID ROW WITH STRYPER
Skid Row with Stryper will headline the Avi Grand Ballroom on Saturday, Aug. 13 at 8 p.m. Tickets are $35 and $40.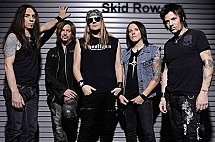 The first rebellion for Skid Row started in 1986 with New Jersey kids and a punk and metal attitude. All for one, they banded together with a single-minded purpose, which earned them Top Ten singles, gold and multi-platinum sales, and No. 1 on the Billboard album chart.
Stryper remains hard rock's best kept secret... they're Christian but they're also decidedly metal. That's the first thing that should come to mind when you think of their famous black and yellow stripes as well as hits like "To Hell With The Devil."
EDGEWATER PROMOTES WEEKEND LAUGHTER
Friday and Saturday nights at the Edgewater in the Inferno Showroom at 7 p.m. are reserved for "Comedy on the Edge" with two different comedians each week. Upcoming comedians include: July 29-31 John Novosad and Frank Schuchat; Aug 5-7 BJ Johnson and Greg Berman; Aug 12-14 Leif Skyving and Jill Maragos; Aug 19-21 Ron Lamprecht and Curt Fletcher; Aug 26-28 Howard G. and Jennifer Murphy; Sept 2-4 Kenny Bob Davis and Tim Haldeman; Sept 9-11 Steve Sabo and Kate Brindle; Sept 16-18 Ron Morey and Virginia Jones; and Sept 23-25 Pete George and Jonathan Gregory. Tickets are $10 and on Sunday veterans get a $2 discount.
Fifteen-year comedy veteran BJ Johnson will appear with Greg Berman Aug. 5-7. Johnson's comedy is centered on family and adult humor. He's performed at The Comedy Store, Yuk Yuks in Canada, Houston Improv, and opened for Darren Carter, Michael Winslow of "Police Academy" fame, Alonzo Boden and Dane Cook. He takes comedy to shows overseas and stateside for the troops at least four to five months of the year.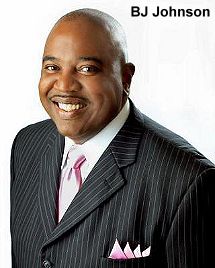 Leif Skyving is paired with Jill Maragos Aug. 12-14. Skyving began his 24-year career at the world famous Comedy Store in Los Angeles, and has since performed in clubs across the United States and Canada. Skyving's sharp wit focuses on current topics and vents about whatever happens to be bothering him. He has an "alter ego" with a dark side, Curt Sudden-a no nonsense kind of a guy who may appear at any time. Sudden plays a mean harmonica, as does Skyving, who has performed with a number of well-known comedians including Howie Mandel, Jimmy JJ Walker, Weird Al Yankovic, and Paul Rodrigues.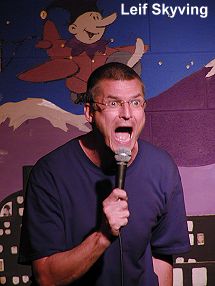 You can catch Ron Lamprecht with Curt Fletcher Aug. 19-21. Lamprecht's comedy is observational about family matters and ongoing battles of life. The eight-year comedy veteran has performed with Louie Anderson, Kira Soltanovich, Bobby Slayton, and Cathy Ladman. He has performed at the Hollywood Improv, The Icehouse, House of Comedy and can be seen as Norm Adelmen in Maria Bamford's Netflix series "Lady Dynamite." A veteran of the USAF, Lamprecht works military shows into his schedule whenever he can.
Howard G. and Jennifer Murphy will share the stage Aug. 26-28. Howard G. broke into comedy in the early 1990s. His credits include performing at "Showtime At The Apollo," once as an amateur and two years later as a professional. He has also been on Russell Simmons' HBO "Def Comedy Jam" and BET's "ComicView." He has performed for U.S. troops in Kuwait, Saudi Arabia, Afghanistan and Pakistan. Howard G. has opened up for Martin Lawrence, Jamie Foxx, Kevin Pollock, Dave Chappell, Tommy Davidson, Yolanda Adams, The Isley Brothers, The Temptations, and Patti Labelle.
AVI FEATURES BLUES MUSIC EVERY THURSDAY NIGHT
Thursday nights at the Avi in the Arrowweed Lounge are saved for Blues at the River at 8:30 p.m. and admittance is free.
Devon Allman, son of Gregg Allman, will appear on Aug. 4. He has long toiled to establish his own musical identity separate from his legendary dad. Allman grew up with his mom and didn't come on the music scene riding the coattails of his famous parent.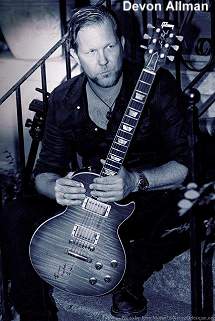 He's been living his own musical life for decades. Allman formed Honeytribe in 1999 after playing in local bands and working in Guitar Center in St. Louis. One part blues, one part rock, and one part jam, Honeytribe was named the 1999 Jam Band of the Year in St. Louis and toured for a few years. In 2011, his musical fate changed. Royal Southern Brotherhood was formed during JazzFest in New Orleans. Their debut self-titled release in 2012 caught fire catapulting the quintet as a major new attraction on the music scene.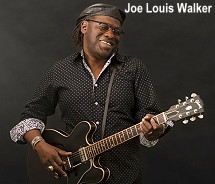 Joe Louis Walker is booked on Aug. 11. Blues Hall of Fame inductee and four-time Blues Music Award winner Walker celebrates a career exceeding a half a century. Born in 1949 in San Francisco, Walker at age 14 took up the guitar and in two years was a known quantity on the Bay Area music scene playing blues. In 1975, burned out on blues, Walker turned to God, singing for the next decade with a gospel group, the Spiritual Corinthians. In 1985 at the New Orleans Jazz & Heritage Festival, Walker was inspired to embrace his blues roots again. He assembled the Boss Talkers, and throughout the 1990s merged many of his gospel, jazz, soul, funk and rock influences with his trademark blues sensibilities. His new album "Everybody Wants A Piece" cements his legacy as a prolific torchbearer for the blues.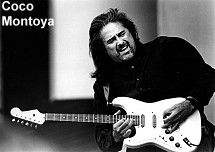 Self-taught guitar slinger Coco Montoya will present the blues on Aug. 18. For Montoya, it all started with a chance meeting in the mid-1970s with legendary bluesman Albert Collins, who offered him a gig as his drummer. Collins became Montoya's mentor and he taught him the secrets of Collins' "icy hot" style of blues guitar. Five years later, British blues icon John Mayall caught Montoya at a jam session and recruited him as his guitarist in the Bluesbreakers. Montoya spent the next 10 years touring non-stop, proving himself to be a world-class guitar master in one of the most renowned blues bands in existence.
SPECIAL EVENTS AND SHOWS ON THE HORIZON
The Edgewater will have American rock band 38 Special headlining on Saturday, Sept. 10 at 8 p.m. Tickets are $15-$55.
Championship Bull Riding (CBR) will take over the Laughlin Event Center on Saturday, Sept. 10 at 8 p.m. Tickets range from $25 to $250.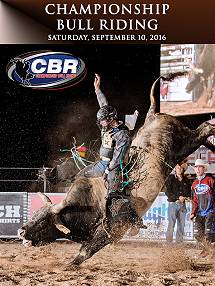 The headliner at the Laughlin Event Center on Saturday, Sept. 24 will be Hank Williams Jr. Tickets range from $35 to $300.
American country singer and songwriter Kane Brown will appear at the Avi Grand Ballroom on Saturday, July 30 at 8 p.m. Tickets are $30 to $35.
The 16th Annual Talent Quest National Karaoke Contest will take place at the Pavilion Theater at the Tropicana for a week, Sept.11-17. Karaoke singers, both domestic and international, will compete for $25,800 in cash and prizes in a variety of categories.
The 5th Annual Laughlin International Film Festival (LIFF) will take place Oct.13-16 with screenings of short films, feature films, documentaries, music videos, experimental works and more. There will be an opening night party, awards ceremony, workshops, and individual film screenings. To submit a film, visit withoutabox.com and Filmfreeway.com.
The next International Gift & Craft show will be held Aug. 12-14, same weekend as the Regatta float, in the Taos Room at the Edgewater from 10 a.m. to 9 p.m. For three days, the show will highlight several vendors showcasing handmade items such as exotic Indian skirts and tops, belly dancing and Zumba apparel, scarves, jewelry, pottery, pain relieving oils and sea salts, home décor, candles, pictures frames, keepsake boxes, tarot readings and much more. Admittance is free.
The World Fighting Championships 58 will be held at the Avi Grand Ballroom on Saturday, Sept. 10 with bouts stating at 8 p.m. Tickets are general $30, reserved $50 and cage-side $75.
Tom & Sharon's Dance Party at the Riverside will be held again in The Karoake Dance Club on Saturdays - Aug. 6 and 27, Sept. 20 and 24, and Oct. 8 and 29 - from 1:30-4 p.m. with an admission fee. Dance moves will go from swing and country to ballroom and Latin. For information, call Tom and Sharon Craddock, call 928-444-4067.
CONTINUE ON TO...:

THIS WEEK'S >LAS VEGAS NEWS
LAST MONTH'S >LAUGHLIN NEWS
>VEGAS VIEW FULL ARCHIVES
Return to >"Heard Around Town"
Return to >Las Vegas Leisure Guide