STYX WILL PERFORM AT EDGEWATER'S E CENTER!

Styx, a group of six men entering their second decade of averaging more than 100 shows a year, will headline The E Center at the Edgewater on Saturday, July 16 at 8 p.m. One key reason fans repeatedly return for a live Styx experience is the special energy put forth in each performance. Tickets range from $20 to $90.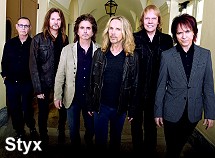 Styx is an American multi-mega-million-selling rock band from Chicago that formed in 1970. They are best known for melding the styles of pop and hard rock with the power of a hard-rock guitar, strong ballads and elements of international musical theater. Their famous albums were released in the mid-1970s and early 1980s.
DWIGHT YOAKAM BRINGS COUNTRY FLARE TO THE E CENTER
Popular since the early 1980s, American singer-songwriter Dwight David Yoakam, who is most famous for his pioneering country music, is also an, actor and film director.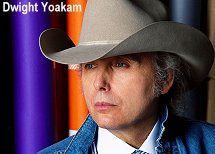 He will be appearing at The E Center at the Edgewater for his third visit on Saturday, July 23 at 8 p.m. Tickets range from $35 to $90.
Yoakam has recorded more than 21 albums and compilations, charted more than 30 singles on the Billboard Hot Country Songs charts, and sold more than 25 million records. In addition to his many achievements in the performing arts, Yoakam is also the most frequent musical guest in the history of "The Tonight Show."
Yoakam's distinctive, supple vocals, accented with his Kentucky croon, have the two-time Grammy Award winner sounding as strong today as he did on his debut 1985 album, "Guitars, Cadillacs, Etc. Etc." Yoakam's most recent album "Second Hand Heart" released last year debuted at #2 on Billboard's Country album charts and was self-produced.
TONY ORLANDO BRINGS HAPPINESS TO THE E CENTER
Tony Orlando will headline at The E Center at the Edgewater on Friday, July 29 at 8 p.m. Tickets range from $25 to $55.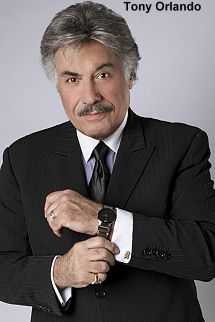 Without question, no entertainer can move and excite an audience like Orlando. He and America recently celebrated the 30th anniversary of his recording "Tie A Yellow Ribbon 'Round The Ole Oak Tree." Orlando brings to the stage a warmth and exhilarating energy that electrifies an audience. From million selling records including his five No. 1 hits, a popular television variety series, movies and Broadway in "Barnum" "Smokey Joe's Café," Orlando has conquered every facet of show business.
PIRATES ARE THE THEME FOR THE BULLHEAD CITY RIVER REGATTA
The 10th Annual Bullhead City River Regatta is set for Saturday, Aug. 13 with a "Pirates of the Colorado" theme. This water event attracts thousands of tubers who take to the Colorado River for a two- to three-hour float from launch sites on the Arizona side and from some of the casinos. The float will happen from launch at 7 a.m. to 1 p.m. People need to register to float, which is $34.64 online by Aug. 5 and $50.47 after that until Friday, Aug. 12 at 10 p.m. For information, visit bullheadregatta.com.
LAUGHLIN'S FIREWORK DISPLAYS CELEBRATE INDEPENDENCE DAY
For the 26th year in a row, Laughlin's annual Independence Day celebration, Rockets over the River, will light-up the sky with patriotic flare over the Colorado River at dusk. Good viewing for a true all-American experience will be along the Laughlin Riverwalk while the fireworks coincide with patriotic music. Good news the fireworks display is free and will take place at 9 p.m. on two nights, Saturday, July 2 and Monday, July 4.
COLLIN RAYE STOPS AT RIVERSIDE RESORT IN JULY
Country music artist Collin Raye will perform at the Riverside in Don's Celebrity Theater July 7-9 at 8 p.m. Tickets are $30.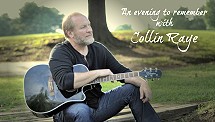 Born in De Queen, Ark., Raye was one of the true hit makers of the 1990s. He continues to crank out soulful, heartfelt material. With 24 top ten records, 16 No. 1 hits, and having been a 10-time male vocalist of the year nominee, this passionate performer remains one of the great voices of our time.
KANE BROWN WILL APPEAR AT AVI GRAND BALLROOM
American country singer and songwriter Kane Brown will headline the Avi Grand Ballroom on Saturday, July 30 at 8 p.m. Tickets are $30 to $35.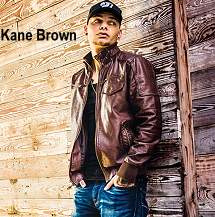 In 2014, a cover of "I Don't Dance" and 60,000 video shares changed Brown's life when he was only 21 years old. Brown released his first EP, "Closer," on June 2, 2015, featuring his previously released single "Don't Go City On Me." A new single "Used to Love You Sober" was released in October 2015. Brown signed with RCA Nashville in early 2016 and the song was included on his EP "Chapter 1," which was released in March.
Growing up, Brown was raised poor and by a hardworking single mother, moving around Georgia before settling in Tennessee. Until 11th grade, Brown planned to take the R&B route, but winning a talent show singing Chris Young's "Getting' You Home Tonight" took him in the direction of country music.
SPRINGSTEEN TRIBUTE SHOW VISITS RIVERSIDE
Bruce Springsteen tribute show, "Bruce In The USA," will play at the Riverside July 21-24 at 8 p.m. Tickets are $30.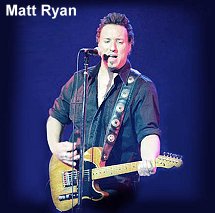 Matt Ryan, from the famous "Legends In Concert" cast, began playing the Springsteen character in 2000 in the Las Vegas show. This recreation is a musical experience that is note-perfect and visually accurate of a Bruce Springsteen and The E St. Band show. The Bruce In The USA Band consists of seasoned world class professional musicians, from famous acts and bands.
HARRAH'S FEATURES 'PETTY VS EAGLES - A MUSICAL SHOOTOUT'
Two of the world's greatest rock n' roll bands of all time will face off at Harrah's with tributes to The Eagles and Tom Petty and The Heartbreakers in the Fiesta Showroom at Harrah's July l7-11 and 14-18 at 8 p.m. Tickets are $29.50 and $40.50.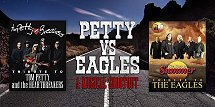 Taking the side of Tom Petty are the Pettybreakers, who accurately recreate the sights, sound and concert experience of a Tom Petty concert. They face off against Eagles tribute band, The Boys of Summer. With well over 500 high profile shows throughout the U.S., The Boys of Summer are known as the top touring Eagles tribute act in America.
'A TOAST TO THE RAT PACK' VISITS THE RIVERSIDE
"A Toast to the Rat Pack," which is a musical journey featuring the greatest hits from Frank Sinatra, Dean "Dino" Martin, and Sammy Davis Jr., will be the headlining show in Don's Celebrity Theater at the Riverside July 28-31 at 8 p.m. Tickets are $30.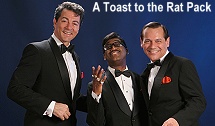 This production treats audiences to Sinatra classics including "Come Fly With Me," "Lady is a Tramp," "My Way," and "New York, New York." For Dino it's the soothing sounds with great songs like "Volare," "Everybody Loves Somebody Sometime," and "That's Amore." Dynamic Davis Jr. delivers "That Old Black Magic," "Mr. Bojangles" and "Candy Man." The tribute artists Sebastian Anzaldo, Andy DiMino and Lambus Dean as "Frank, Dean and Sammy" sing like their heroes, resemble them on stage, share their unique mannerisms and even banter like they are at the Sands taking part in the "Summit."
SPECIAL EVENTS PAST AND UPCOMING
The 29th annual Chefs Food Fest was held Thursday, June 9 in the Aquarius Ballroom and again was a favorite fundraising community event. Food and beverage departments, local restaurants and spirit/wine distributors went all out to impress attendees with their best food and creative displays. Each year four traveling trophies are awarded in four categories. Winners this year included: Nevada Beverage Company - Most Flavorful and Fun Presentation by a liquor distributor; Harrah's - Sweetest Dessert Sensation; Colorado Belle and Edgewater - Best Epicurean Experience; and Avi - Finest Booth Presentation. Tickets this year were $50, which is well worth it. Think about signing up for next year.
Another local fundraising event is coming up Friday, July 15 at 6 p.m. in the Aquarius Ballroom and presented by Western Arizona Regional Medical Center with 100 percent of the proceeds benefitting Boys & Girls Clubs of the Colorado River. Fiesta! is an annual margarita making contest for on the rocks and blended categories. Tickets are $25 and $30 at the door; call 928-763-1411.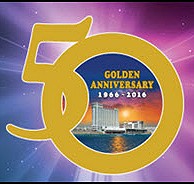 The Riverside Resort is celebrating its 50th anniversary all year long 1966-2016.
Tom & Sharon's Dance Party will be held in The Karoake Dance Club at the Riverside on Saturdays, July 9, 23 and Aug. 6, 27 from 1:30-4 p.m. Dance moves go from swing and country to ballroom and Latin. There is an admission fee, call Tom and Sharon Craddock, call 928-444-4067.
TOP OF NEXT COLUMN
THE CHIPPENDALES WILL HEAT THINGS UP AT HARRAH'S
The Chippendales are on their 2016 Break the Rules Tour with a stop at Harrah's on July 22 and 23. The all-new production turns up the heat on the "girls' night out." Tickets for their 8 p.m. show are $27 and $37.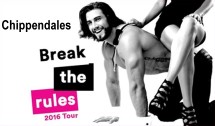 The Chippendales have always had their finger on the pulse of women's entertainment. The hunks make ladies' hearts beat faster while they retain the boy next door persona. Over the last 35 years, the men of Chippendales, have performed for more than 100 million women in more 100 countries and they have torn off more than 1.2 million shirts, worn 56,000 bowties and have been photographed more than 70 million times.
THE EDGEWATER ON WEEKENDS IS ALL ABOUT LAUGHTER
Every Friday and Saturday at 7 p.m. "Comedy on the Edge" at the Edgewater features two different comedians at the Inferno Showroom. Comedians on the roster include: July 1-3 Jimmy DellaValle and Jeremy Wieand; and July 8-10 Randy Lubas and Olivia Harewood; July 15-17: Eddie Jarvis and Derrick Stroman; July 22-24: Barry Neal and Debbie Praver; July 29-31: and John Novosad and Frank Schuchat. Tickets are $10 and on Sunday veterans get a $2 discount.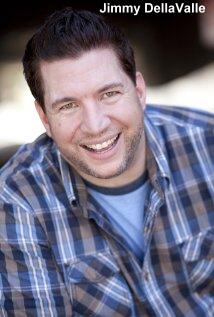 Jimmy DellaValle is paired with Jeremy Wieand July 1-3. DellaValle is also known as Jimmy D or The Brooklyn Buddha. He is an Italian Irish comedian from New York who now lives in Los Angeles with his Latina wife and cat. Since starting in comedy more than two decades ago, he has headlined more than 5,000 comedy shows in all 50 states and Canada. DellaValle is well known for his high energy rapid fire delivery, hilarious stories and one-liners as well as improvisation working off the audience. He is also an actor with many credits and his CD called "It's Just A Jimmyism" sold more than 100,000 copies. He is signed to shoot a comedy special as yet untitled, which will be produced and distributed worldwide by Oglio Records in 2016.
Randy Lubas and Olivia Harewood will co-headline July 8-10. Lubas' material is observational in nature. He has been commenting on current events for more than 30 years and poking fun at realtors, engineers, stepparents and himself, etc. The seasoned comedy circuit vet has made 24 national TV appearances and was Anselm, a hit man, in the movie "Cover Story." Lubas has written for television, had two screenplays and a stage play to his credit along, and created many original songs featured on Dr. Demento's radio show.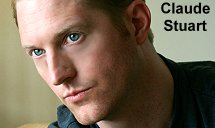 Claude Stuart and Derrick Stroman will share the stage July 15-17. Stuart's material includes family jokes, observational humor, edgy yet silly premises and bizarre bits taken straight from the news, such as "Fighting an Armless Man." He has worked for Dennis Miller on his HBO show "Dennis Miller Live!" and performed on shows with many comedy stars like Chris Rock, Louie C.K., Sarah Silverman, Chelsea Handler, etc. Stuart has performed for U.S. troops overseas and even shot a documentary with Jimmy Shubert and several other comedians called "Zero Dork Nerdy" about entertaining them overseas. Stuart has come a long way from his down home southern roots where as a teen he interned at a local radio station and ended up writing and performing a morning show broadcast to more than 30 cities nationwide.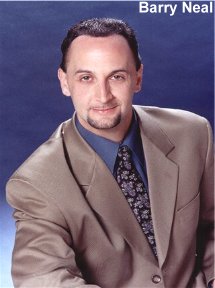 Barry Neal and fellow comedian Debbie Praver will provide laughs July 22-24. Neal's relationship-oriented material features his persona as "Counselor of Love." Since Neal has been successful in a relationship, he preaches the benefits of love and marriage while his easygoing, clean act is loved by audiences ranging from 18 to 80. Neal grew up in a Chicago suburb and was the youngest of four siblings. In his teens, Neal was the goaltender for the Midwest Champion Evanston Wildkits Hockey Team and traveled to Europe representing the United States. Later he attended Northwestern University where he became part of the famous Mee-Ow show Improv troupe. After college he moved to Los Angeles where his career flourished.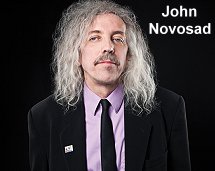 John Novosad is billed with Frank Schuchat July 29-31. Novosad a.k.a. "Hippieman" jokes about his hair, eyes and growing up in the 60s, plus some social commentary on the side. He's been performing comedy for 35 years, opening for major comedians along the way. Novosad made his comedic debut sometime around 1980 at the Blue Note in Boulder, Colo. He is a stand-up comedian based out of the Comedy Works in Denver, Colo., where he shares the stage with some of the biggest national acts working today.
BLUES MUSIC PREVAILS ON THURSDAY NIGHTS AT THE AVI
Blues at the River is presented on Thursday nights at 8:30 p.m. in the Arrowweed Lounge at the Avi with free admittance.
Slide guitarist and singer-songwriter Eric Sardinas will perform on July 7. Since the late-90s, Sardinas has been on stage globally performing for thousands of people. His six albums have displayed a distinct style that musically pushes the boundaries of rock and blues. Sardinas was born in Fort Lauderdale, Florida, and began playing guitar at age six. He is noted for his use of the electric resonator guitar and his live performances. He sometimes sets his guitar alight on stage during shows and suffered third degree burns to his left wrist in Sydney in 2000.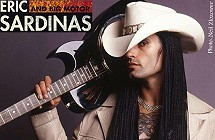 A. C. Myles will take the stage on July 14. Born in California, the only son of production workers grew up in the migrant worker rural areas of the Central California. Myles spent his later teens and twenties touring with his own band eventually finding his way to the San Francisco Bay Area, playing sideman to a wide array of acts, most notably blues man Fillmore Slim and modern day soul man John Nemeth.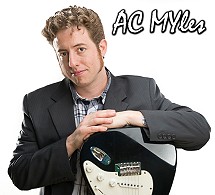 One of the most beloved figures in the Americana, blues and roots music world, Janiva Magness is booked on July 21. She's reached a larger and more diverse audience with each succeeding album and developed a reputation as a live entertainer that's made her a staple of the international festival circuit. Her new album, "Love Wins Again," released on April 8, 2016, on Fathead Records/Blue Élan Records, is yet another evolutionary step for the soulful, elegant, award-winning singer-songwriter. Its 11 core songs and two bonus tracks are built on a sonically sophisticated architecture that's in full service of Magness' flexible and generous voice.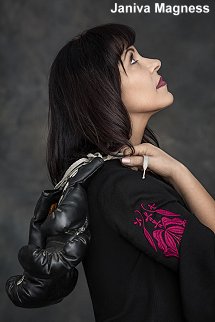 Hector Anchondo, who lives and breathes the blues, will be at the Avi on July 28. At 16-years-old, the budding musician picked up his first guitar and never looked back. He began an instant love affair with the instrument, especially Fenders. Born in Omaha, but raised seven miles outside of Salem, Mo., Anchondo was able to take advantage of the tranquil farm life and learn guitar at a steady pace. He was drawn to artists who played Fender Stratocasters like Jimi Hendrix, Stevie Ray Vaughn and Eric Clapton, but also respected the country greats such as Johnny Cash and Hank Williams Sr.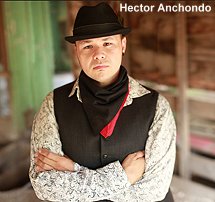 AQUARIUS' VOLUNTEERS RENOVATED WORLD WAR II VETERAN'S HOME
The Aquarius resort team members partnered with nonprofit American Center for Educational Opportunities (AMCEO) to assist a local World War II Marine veteran, Abraham 'Al' Eutsey and his wife, Sandy with necessary renovations for their mobile home. The Eutsey family's renovations were made possible through AMCEO's outreach program, The Green Cactus Project, which assists elderly and disabled veterans in need of assistance with home improvements.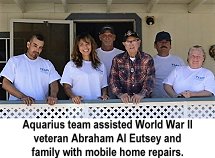 Eutsey earned his Purple Heart medal in one of the bloodiest and most famous battles of World War II, Iwo Jima. Of the 250 men in his unit, 67 lost their lives, 177 men including Eutsey were injured, and only six walked away physically unharmed. Eutsey was part of the legendary Marine Corps division that raised the first American flag on Iwo Jima and is still considered the best fighting unit in Marine Corps history. On behalf of the Iwo Jima National Society, Eutsey recently traveled back to the island and reunited with fellow American and Japanese veterans 71 years after conflict. Today, Eutsey is a town hero and is treated as such as Kingman's Home Depot is in the process of building a handicapped ramp made specifically for Eutsey.
CONTINUE ON TO...:

THIS WEEK'S >LAS VEGAS NEWS
LAST MONTH'S >LAUGHLIN NEWS
>VEGAS VIEW FULL ARCHIVES
Return to >"Heard Around Town"
Return to >Las Vegas Leisure Guide