'LEGENDS IN CONCERT' WILL CHANGE UP THE CAST IN SEPTEMBER!

This fall, "Legends in Concert" at the Flamingo will change up the cast. The new stellar lineup will include the debut of a tribute to Taylor Swift and the return of Frank Sinatra, just in time for his 100th birthday on Dec. 12, along with top Madonna and Elvis Presley tribute artists.

Elizabeth Scarborough will be Legends first Taylor Swift tribute artist beginning Monday, Sept. 14 and she will even take part in a duet with Madonna tribute artist Coty Alexander singing "Ghosttown." The "Material Girl" will also join the cast that day.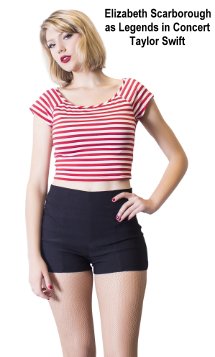 Also on Sept. 14, Brian Duprey will be paying tribute to Rat Pack legend, Frank Sinatra, and performing fan favorites including "Come Fly with Me" and "Witchcraft."
The reigning Ultimate Elvis Tribute Artist Contest winner Jay Dupuis will bring his "Blue Suede Shoes" to the show starting Monday, Sept. 7 paying tribute to the iconic Elvis Presley.
Current cast member and fan favorite, Jason Jarrett performing as Michael Jackson, will continue as the King of Pop until Wednesday, Sept. 30.
For more than three decades, "Legends in Concert" has produced over 18,500 performances on the Strip. Currently the show is performed 11 times a week.
NICKI MINAJ WAX FIGURE DEBUTS AT MADAME TUSSAUDS
The world's first Madame Tussauds wax figure of multi-platinum, award-winning rapper and singer Nicki Minaj will debut Tuesday, Aug. 4 inside Madame Tussauds Las Vegas at The Venetian. Minaj's Anaconda video, which has been viewed on YouTube nearly 500 million times, was the inspiration for the provocative pose, styling of her wax figure and detailed set that will be permanently on display inside of the attraction's Music Room.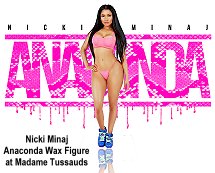 Following the unveiling Madame Tussaud's is launching an Instagram photo contest running through Sunday, Aug. 30 for the chance to win a Nicki Minaj goodie bag. People will be able to upload their photos posing on the "Anaconda" set to Instagram with the tag #mtnickiselfie.
'X COMEDY UNCENSORED FUN' OPENED AT FLAMINGO
"X COMEDY Uncensored Fun" has opened in Bugsy's Showroom at the Flamingo and runs Thursday through Sunday at 8 p.m. The intimate showroom is well suited for comedy.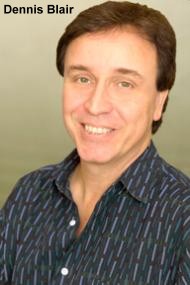 The new show joins "X Burlesque" and "X Rocks" and expands producers Matt and Angela Stabile's "X" brand. The show is hosted by comedy veterans Nancy Ryan and John Bizarre features a lineup of comedians that can change. The media recently saw PIFF the Magic Dragon who recently appeared on "American's Got Talent" with his sidekick Mr. Piffles, the "TV Guy" Joe Trammel, and Dennis Blair who worked with George Carlin for more than 18 years.
IPEC IS A NEW MEETINGS AND EVENTS VENUE
IPEC is a new freestanding elegantly designed events facility located near McCarran International Airport and the Strip. IPEC offers more than 20,000 square feet of flexible space suitable for groups of 50 to 720 attendees and the inclusion of onsite overnight accommodations for up to 200 event attendees. IPEC has a dramatic 5,000-square-foot front foyer with soaring 29-foot-high ceilings and an expansive, 10,000-square-foot ballroom.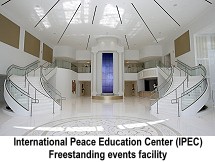 For meetings, IPEC offers six conference rooms with capacities of 22 to 61 for lecture-style seating and 28 to 79 for theater-style seating, as well as one multipurpose room with a capacity of up to 72 for lecture-style seating and 96 for theater-style seating. Onsite services available include two large, customizable LED screens, including one 22-foot-high screen in the foyer and one 22-foot-wide screen in the south lobby; state-of-the-art audio/visual, wireless and production services; a 2,500-square-foot kitchen with customizable food and beverage service available 24/7; an expansive registration area; business center services; 24/7 security and onsite parking for 200 vehicles.
EVENTURE HOLDS INAUGURAL USO CHALLENGE A TROOP 5K RACE
Event planning company EVENTURE is planning the inaugural USO Challenge a Troop 5K taking place on Saturday, Oct. 31at Craig Ranch Regional Park. The event will kick off at 8 a.m. with booths, food, prizes, music, and live entertainment and the 5K Race at 9 a.m. People are encouraged to play up the military theme and dress up.
Here's an interesting twist, every day until the event registered participants of the USO Challenge a Troop 5K are eligible to win a free pair of tickets to a local Las Vegas show or attraction donated by BASE Entertainment.
All the event proceeds will go to USO Las Vegas to fulfill their mission of lifting the spirits of America's troops and their families. Race registration is $35 and will go up to 40 as the date draws near, visit www.USO5K.org.
VENETIAN AND PALAZZO INTRODUCE ONEHOPE WINE PARTNERSHIP
The Venetian® and The Palazzo® as part of the company's Sands Cares corporate citizenship initiative have introduced a new concept featuring ONEHOPE Wine as a house wine selection in the convention center and pledging a donation to Three Square Food Bank for every bottle sold. Guests have their choice of two different award-winning varietals Chardonnay and Cabernet Sauvignon. For every 12 bottles of wine sold the program will help fund 18 meals to people in need.
MOB MUSEUM WILL UNVEIL FIFA CORRUPTION DISPLAY
On Sept. 1, The Mob Museum downtown will unveil a new permanent display ripped right from today's headlines…"The 'Beautiful Game' Turns Ugly." The exhibit through photographs, media clippings and cover stories, and expository narrative will provide an incisive and eye-opening look into the rampant corruption that plagues the Federation Internationale de Football Association (FIFA), the organization that runs international soccer. The FIFA presentation will give a breakdown of the kickbacks, secrecy and match-fixing associated with the scandal that involved 14 top-ranking soccer officials and sports marketing executives taking more than $150 million in bribes and kickbacks over 25 years.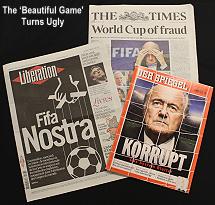 CIRQUE DU SOLEIL ARTISTS WIN MEDALS AT FINA WORLD CHAMPIONSHIPS
Cirque du Soleil performers Bill May and Christina Jones are going down in history as the first world champions of a mixed synchronized swimming event. On Sunday, July 26 the "O" performers took home two gold medals after competing in the first-ever mixed duet at the 2015 FINA World Championships in Kazan, Russia. May and Jones will return to the Bellagio to perform in the Strip's aquatic masterpiece "O" on Wednesday, Aug. 12.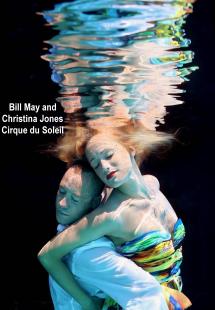 AXS TV PREMIERES ONE DROP™ CIRQUE DU SOLEIL EVENT FUNDRAISER
AXS TV (www.axs.tv) will premiere the third annual One Night for ONE DROP spectacular presented by Cirque du Soleil on Wednesday, Aug. 19, at 8PE. This one-time only exclusive performance in honor of international nonprofit ONE DROP established by Cirque du Soleil founder Guy Laliberté raised awareness and funds for global water issues.
The completely original show was filmed live at The Beatles™ LOVE™ Theatre in the Mirage on Friday, March 20 and highlighted more than 100 Cirque du Soleil performers from various resident shows. The special ONE DROP event raised more than six million dollars.
VINCE FALCONE IS F.I.O.R.E. SPEAKER AUG. 13
The F.I.O.R.E. club's next luncheon on Thursday, Aug. 13 at 11:30 a.m. at the Italian American Club on East Sahara will feature pianist, musical director Vince Falcone who has chronicled his life in music in his book "Frankly Just Between Us, My Life Conducing Frank Sinatra's Music." Falcone was musical conductor for Frank Sinatra and musical director for such artists as Tony Bennett, Andy Williams, The McGuire Sisters, Robert Goulet, Connie Frances, Steve Lawrence and Eydie Gorme and many others. Cost is $25; RSVP nonclubclubfiore@aol.com
The Sept. 10 luncheon speaker will be popular historian Mark P Hall-Patton.
TOP OF NEXT COLUMN
NEON MUSEUM LIGHTS UP RIVIERA SIGN
The Neon Museum officially lit the Riviera Hotel & Casino sign that joined a small group of restored signs in the Neon Boneyard that are able to be illuminated. The Riv sign is situated just above the iconic Stardust sign thanks to Young Electric Sign Company (YESCO) updating the sign by donating a new electrical system and bulbs.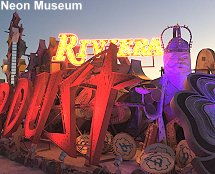 The Riviera opened in 1955, was the first high-rise hotel on the Strip, and closed May 4 this year.
VEGAS TWIST - NOW YOU CAN GET MARRIED BY A MOBSTER
Move over Elvis, now people can have a mob-style wedding and actually get
married by real life former mobster Frank Cullotta. Wise guy Cullotta who was once a street lieutenant for Tony Spilotro's "Hole in the Wall Gang" in the '70s and '80s is a former Las Vegas mobster turned minister. In 1982 Culotta turned over a new leaf and entered the Government Witness Protection Program. Now after 30 years on the right side of the law he is a practicing minister offering a special wedding you won't forget. For information, call 702-677-9015 or visit www.GetMarriedByTheMob.com.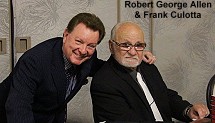 VEGAS ENTERTAINER INDUCTED INTO GHOST HUNTERS HALL OF FAME
Entertainer Robert George Allen has been inducted into the Ghost Hunters Hall of Fame. In 2004 he started producing the Haunted Las Vegas Tours and later expanded with the Vegas Mob Tour and the Goodsprings Ghost Hunt. In 2013, he wrote a book "The Adventures of a Ghost Stalker" telling of his investigations in South America and Dracula's Castle in Eastern Europe. He produced the first Paracon in Las Vegas in 2004 and just concluded the Las Vegas Paracon 2015 - "The Non-Con" in Goldfield, Nev.
LEARNING SERIES RETURNS FOR 'LIFE IS BEAUTIFUL' FESTIVAL
In its third year, the Life is Beautiful Festival downtown will hold the 2015 Learning Series featuring thought-provoking, global leaders in pop culture, science, sports, art, leadership and more. Speakers are from diverse backgrounds with an authentic, inspirational and passionate experience offering live discussions, learning panels and interactive Q&A sessions as part of the three-day festival weekend that includes music legends such as Stevie Wonder and Duran Duran, chart-toppers Imagine Dragons and Hozier, and hip-hop heavyweights Kendrick Lamar and Snoop Dogg Sept. 25-27.
This year's learning program will feature three different daily themes: "A Force for Good" highlighting new approaches to giving back to the community; "Shaping The Future" surrounding topics on technology and new media; and "Challenging the Game" >with subjects such as overcoming defeat, facing adversity and more.
Life is Beautiful's Learning Series is part of the festival ticket.
ATOMIC TESTING MUSEUM CELEBRATES 70 YEARS OF PEACE
During August, the National Atomic Testing Museum is hosting a variety of events that celebrate the 70 years of peace between the United States and Japan. Events are free to museum members.
There is a month-long exhibit that reveals the shocking reality of the atomic attacks on Hiroshima and Nagasaki. This exhibit is free with the purchase of a museum ticket.
The first planned event is a Japanese atomic bomb survivor telling their personal and harrowing story live from Japan via Skype on Thursday, Aug. 13 at 6 p.m. Cost is $10 for non-members.
Japanese Culture Day will be held Saturday, Aug. 22 from 10 a.m. to 3 p.m., featuring the culture of Japan. Activities will include tea ceremony demonstrations, Japanese style games, and anime viewings. Fee is $5 for non-members.
HARD ROCK LAUNCHES 'MUSIC FOR A MISSION' AT POOL CONCERT SERIES
In a continued effort to support the local community, Hard Rock will hold its "Music for a Mission" nonprofit initiative during select performances at the Friday Night Live at the Pool concert series beginning Aug. 7. Hard Rock Hotel will donate three cabanas during each show to nonprofits that support Southern Nevada. The upcoming music lineup includes: The Wailers - Aug. 7; Inner Circle and Fortunate Youth - Aug. 14; Tribal Seeds with special guest The Expanders - Aug. 21; Skid Row - Sept. 4; Blue October - Sept. 18; and Live - Oct. 2.
RIO SPA & SALON HOSTS 6TH ANNUAL LOCKS OF LOVE CUT-A-THON
Rio Spa & Salon will host its 6th annual Cut-A-Thon to benefit nonprofit Locks of Love on Wednesday, Aug. 12 from 10 a.m. - 5 p.m. Donated tresses will be used to create high-quality wigs and hairpieces for children suffering from long-term medical hair loss from any diagnosis. Guests who donate at least 10 inches of hair will receive a complimentary blunt cut and a 30 percent discount on any additional styling or coloring treatments offered at the salon.
ABOUT TOWN NEWS ITEMS
The only cherub statue to ever be recovered from the "Ship of Dreams" will be removed from its temporary display at Titanic: The Artifact Exhibition inside the Luxor on Labor Day. The limited engagement for the bronze statue was supposed to be from February 2015 until March but stayed due to popular demand.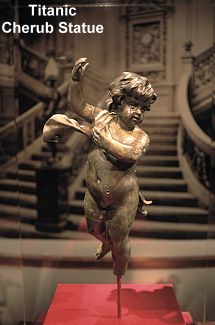 The 5th Annual One Drunk Puppy Wine Tasting Event will be held at the Silverton in the Veil Pavilion on Saturday, Aug. 15 from 6 - 9 p.m. with a portion of the proceeds benefitting The Animal Foundation. Admission is $30 in advance and $40 day of the event.
The third installment of "It's The Melody, Stupid" will be held at the Bootlegger Bistro on Sunday, Aug. 9 from 3-5 p.m. featuring Gary Anderson and Joe Darro with special guest Maggie Mancuso and others to be announced. There is no cover charge.
All educational programs offered at the Cleveland Clinic Lou Ruvo Center for Brain Health downtown are free of charge. In addition to caregiver programming, there is The Cleveland Museum of Art Series scheduled 11 a.m. to noon. The Aug. 4 program will be African Art: Secular & Supernatural and the Aug. 18 session will be Gods & Heroes of the Mayans.
DINING NEWS TIPS
The Hard Rock Cafe on the Strip is now offering bottomless mimosas and bloody marys for $15 and live acoustic music daily from 8:30 - 11 a.m. Guests can also enjoy breakfast.
At the Hard Rock Hotel, dining destination 35 Steaks + Martinis has launched its "Summer of 35" Bar Bites available only at the bar and lounge for $3-$8.25 and three-course Summer Prix Fixe Menu for $49 through Fall 2015.
Triple George Grill downtown located across the street from the Downtown Grand celebrated its 10-year anniversary last month. It is recognized for its power lunch specials, happy hour offerings and classic cuisine and being the first independent eateries to emerge in the beginning years of the revitalization of downtown Las Vegas. In addition, it has a great logo with the olive.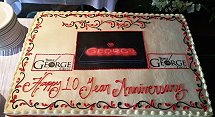 The Westside locals restaurant Honey Salt has launched "Sips and Savors" daily from 3 - 6 p.m. in the bar, patio and lounge area featuring small plate items starting at just $4 and some $4 and $8 drink specials.
Through Aug. 31, Andre's Restaurant & Lounge at Monte Carlo is offering a new Blueberry Blue Man Soufflé inspired by the Blue Man Group appearing at the hotel. The colorful dessert is a blueberry soufflé topped with a fondant marshmallow, one carefully-placed blueberry, sprinkled powdered sugar, and "spin art" specially created for beneath the dessert.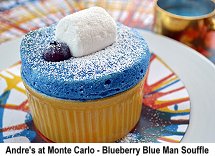 Grimaldi's Pizzeria and local nonprofit Opportunity Village will partner for a night of entertainment with DJ Deniro and a balloon artist and fundraising on Wednesday, Aug. 12 at Grimaldi's Pizzeria Boca Park location from 6 to 10 p.m. Patrons who donate $5 to Opportunity Village through Wednesday, Aug. 12 will receive a $5 off card for a future visit to Grimaldi's and a raffle ticket for prize drawings at the event.
Mentioned before, the city's newest pizza concept Pizza Forte opened its second Las Vegas location at Hard Rock Hotel just steps away from the resort's pool scene with walk-up counter service daily starting at 11 a.m.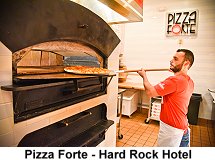 All Shake Shack U.S. locations excluding stadiums are now serving the Roadside Shack, a limited edition burger featuring a 100 percent all-natural Angus beef cheeseburger topped with caramelized onions simmered in beer and bacon paying homage to America's hamburger stand; single $6.19 and double $8.99.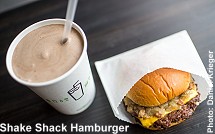 In anticipation of remorseful spouses from the AshleyMadison.com hack, Michael and Jenna Morton's CRUSH inside MGM Grand is now offering a "Forgive Me" prix fixe menu priced at $1,000 for two for the guilty conscience.
CONTINUE ON TO...:
THIS WEEK'S >LAUGHLIN NEWS
LAST WEEK'S >LAS VEGAS NEWS
>VEGAS VIEW FULL NEWS ARCHIVES
Return to >"Heard Around Town"
Return to >Las Vegas Leisure Guide