KABUKI SPECTACLE DEBUTS ON STRIP AT FOUNTAINS OF BELLAGIO!

Renowned Japanese actor Ichikawa Somegoro will perform an original high-tech rendition of Kabuki masterpiece Koi Tsukami on the Fountains of Bellagio in mid-August. Larger-than-life animations and water choreography will make for an extraordinary rendition of Tsukami's "Fight with a Carp" with an enormous fish and turbulent sea projected onto the Fountains of Bellagio in an epic battle scene during a 30-minute production. Somegoro will clash with the giant carp from a 165-foot stage constructed inside Lake Bellagio. The Kabuki Spectacle performance schedule is at 9:15 p.m. Aug. 14-16 and at 11:30 on Aug. 15-16.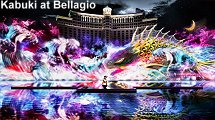 DONNY OSMOND'S VOCAL CORD SURGERY WILL DELAY SHOWS
Donny Osmond's sudden vocal cord surgery will cause some "Donny and Marie" shows at the Flamingo where the brother-sister act headlines to be postponed. Doctors discovered a hemorrhagic polyp on Osmond's right vocal cord that will be operated on by the specialist who previously treated Adele, Lionel Richie, John Mayer and Sam Smith. He'll resume performing this fall; hopefully in October.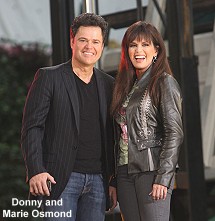 OPENING AT WESTGATE - EDGE STEAKHOUSE EXPANDS TO LAS VEGAS
Edge Steakhouse, a fine dining restaurant helmed by award-winning Chef Nick Lees, is opening at the Westgate on Tuesday, July 28. Operating hours will be 5 p.m. Tuesday through Saturday.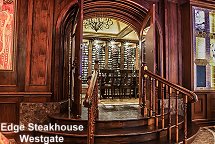 Since its inception in Park City, Utah, in December 2012, Edge Steakhouse has received awards including "Best Fine Dining Steakhouse" and "Best Overall Restaurant" at the 2013, 2014 and 2015 Utah Best of State Awards Gala. "USA Today" recognized it as a Top 10 restaurant in Park City and Edge Steakhouse received awards from TripAdvisor, Open Table and Wine Spectator.
Edge Steakhouse features top quality Aged Prime Steaks, Snake River Farm Wagyu Beef, fresh fish and seafood, and specialties along with tableside dining experiences, including a fresh seafood tower, tableside prepared Caesar Salad and an array of micro-desserts. In addition, the restaurant features more than 450 varieties of wine.
MYLAN WORLD TEAMTENNIS SMASH HITS WILL VISIT LAS VEGAS
One of tennis' most star-studded annual charity events the Mylan World TeamTennis (WTT) Smash Hits will visit Las Vegas for the first time on Monday, Oct. 12 at Caesars Palace, courtesy of "The Million Dollar Piano" headliner Sir Elton John and Billie Jean King. Four former tennis world No. 1 players - Andre Agassi, Stefanie Graf, Martina Navratilova and Andy Roddick - will headline WTT. Tickets are on sale ranging from general admission for $45 to premium reserved chair back seats for $125. Special VIP packages are $500.
Longtime friends King and John first brought together the music and tennis worlds for this event in 1993 and have served as the event coaches and co-hosts ever since. Since 1993, Mylan WTT Smash Hits has raised more than $13 million for the Elton John AIDS Foundation (EJAF) and various local AIDS charities throughout the United States.
The evening will begin with a pre-match VIP Reception and Auction at 5:30 p.m. at Caesars Palace, with tennis action at 7 p.m. John, King and all players will participate in the pre-match live auction, which will include an Elton John signed piano bench and King's Wimbledon tickets, among other items.
Captained by King and John, the players will form two teams and play a Mylan WTT match featuring singles and doubles action. The music legend is expected to participate in a celebrity doubles match to open the event. Additional participants will be announced in the upcoming weeks. This will be the 13th Smash Hits appearance for Agassi, the third for Graf, 11th for Navratilova and also for Roddick.
COMMONWEALTH STARTED NEW 'MARTES' LATIN NIGHT PARTIES
Last week, Commonwealth downtown started "Martes," a Latin-inspired rooftop fiesta, taking place every Tuesday night from 9 p.m. to 2 a.m. "Martes" features live music sets from DJ Low and guests spinning the best Latin house, salsa, bachata, merengue, reggaeton and Spanish hip-hop music. Master mixologist Dan Marohnic spices up the night with signature drink selections including the Don Juan and the Burro, each $8.
CRAZY GIRLS STATUE GOES ON DISPLAY AT PLANET HOLLYWOOD
The famous "NO, Ifs ands or..." Crazy Girls bronze statue that was created in 1995 and used to be in front of the Riviera is coming out of storage on Monday, July 27 and put on display on the casino floor at Planet Hollywood. This is fitting since the "Crazy Girls" show is headlining in the resort's Sin City Showroom.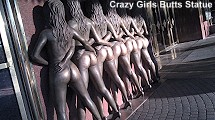 SPIN DOCTORS-CHERRY POPPIN' DADDIES PERFORM AT FREMONT STREET
Fremont Street Experience's "Rock of Vegas" free summer concert series continues with Spin Doctors and Cherry Poppin' Daddies performing a concert on the 1st Street Stage on Saturday, Aug. 1 at 9 p.m. The following series concert will feature Kansas and Blue Oyster Cult on Sept. 6.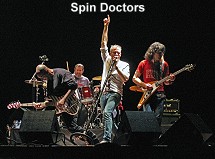 The Spin Doctors started out as four 20-something-year-old guys in New York and released "Pocket Full of Kyptonite" in 1992 with two monster hits, "Little Miss Can't Be Wrong" and "Two Princes." After a couple more albums, the band disbanded in 1999 and then reunited for a series of shows in 2001 and 2002, which gave them the momentum to record "Nice Talking to Me" in 2005. The Spin Doctors regrouped in 2013 for their first album in eight years, the all-blues "If the River Was Whiskey."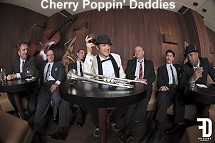 Cherry Poppin' Daddies became a popular act during the swing revival of the late 1990s although the eight-piece band had formed one decade prior in Eugene, Ore. The current lineup includes original members Steve Perry on lead vocals performing under the mad scientist stage persona of "MC Large Drink," bassist Dan Schmid and trumpeter Dana Heitman. The Daddies have been debuting songs on tour from an upcoming album entitled "The Boop-A-Doo."
GREGG ALLMAN VISITS THE PEARL AT THE PALMS
Blues rocker Gregg Allman will make a return visit to The Pearl inside the Palms on Oct. 9 at 8 p.m. Tickets start at $39.
Allman first made his impact on rock music as lead singer, organist and songwriter in the Allman Brothers Band, which he helped create in 1969. Just as their album "Brothers and Sisters" in 1973 was climbing the charts, Allman emerged as a solo artist and released his debut album "Laid Back" that same year.
In 2011, Allman released "Low Country Blues," which was 14 years after his album "Searching for Simplicity." Allman is still showing no signs of slowing down. In August, Concord Records will release "Gregg Allman Live: Back to Macon, GA," a live DVD/CD package capturing Allman and his eight-piece solo band in a high-energy performance recorded in January 2014 at the Grand Opera House in Macon, Ga., which is the town where it all began for the Allman Brothers Band.
Other acts appearing at The Pearl in August include: Melissa Etheridge Aug. 7; Fifth Harmony Aug. 13; Jackson Browne Aug. 21; and Vince Gill Aug. 28.
NEON MUSEUM FUNDRAISES TO REPAINT DESERT ROSE MOTEL SIGN
The Neon Museum is launching a preservation and conservation program to repaint the Desert Rose Motel sign with online crowdfunding resource Indiegogo. Donors will get something in return for their contribution from the $10 Rose Supporter level to $2,500 Rose VIP level and above.
A little history, the Desert Rose Motel opened at 4000 Las Vegas Boulevard South in 1953 and a pole-mounted, roadside sign designed by the Young Electric Sign Company (YESCO) was installed in front of the property in 1960. The motel remained operational until its demolition in 1995.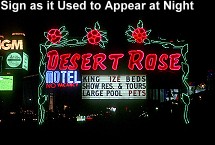 The Neon Museum chose the Desert Rose Motel sign for the repainting campaign because of its distinctive, hand-painted façade designed to be visually appealing both day or night, independent of neon electrification. The Neon Museum is hoping to raise $50,000, which is part of a larger initiative to conserve and stabilize signs that have been compromised by time and the elements.
FARMERS MARKETS OFFER TIPS AND DEMO
Kerry Clasby, the Intuitive Forager, will talk about Dry Farmed Early Girl Tomatoes grown on California's Central Coast on Friday, July 31 at 11 a.m. for "Talk & Taste" at the Downtown 3rd Farmers Market.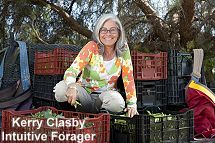 On Saturday, Aug. 1, for the Chef Demo Series at noon at the Downtown Summerlin Farmers Market, culinary grill master Chef Collin of Taste of Jamaica will highlight summer outdoor dining tips. Chef Collin is known for his Jerk wild caught salmon and Jerk organic chicken with grilled organic veggies.
TOP OF NEXT COLUMN
TYSON BECKFORD RETURNS TO 'CHIPPENDALES' AS CELEBRITY HOST
After breaking box office records during his engagement this past spring, model and actor Tyson Beckford will return as celebrity host for "Chippendales®" at the Rio for five weeks from Aug. 27 through Sept. 27. Also, "Chippendales" now boasts a much longer runway, which brings the hunks closer to the fans.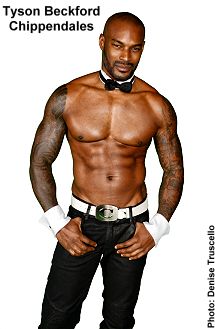 There was a big Beckford buzz after his sultry dance on stage for new Caesars Palace headliner Mariah Carey went viral last spring.
Tyson's modeling career took off when he appeared in the Fall 1994, Polo Sport campaign shot by Bruce Weber. He had an exclusive contract with Ralph Lauren apparel for five years and also spent three years as the spokes model for Polo Sport Fragrances. He is now his own brand and after five years of development, Beckford has released the Beckford Bar, an exercise tool designed to develop the most efficient way to keep the upper body in shape.
THE BUNKHOUSE SALOON ABRUPTLY CLOSED
The Bunkhouse Saloon downtown has closed again with more than 25 shows on its upcoming calendar. Tickets will be refunded. In 2013, the Downtown Project purchased the Bunkhouse and after a very major renovation reopened last August. Along the way, the Downtown Project gave the venue's operational control over to Corner Bar Management. Meanwhile, there is no word if a projected adjacent venue, the Wheel House, set to be owned and operated by Corner Bar will materialize.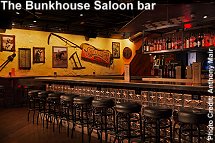 FLORAL DISPLAY AT THE PALAZZO TRANSFORMS DURING SUMMER
The Waterfall Atrium at The Palazzo® is continuing to showcase an art installation inspired by Venice's Carnivale di Venezia because the seasonal display is "transforming" throughout the summer with three distinct color palettes created by changing the selection of fresh flowers. The display is currently into its second "look" themed with jewel tone florals. Venetian women topiaries standing approximately nine feet tall are the focal point. The topiary dresses are each constructed from approximately 2,500 flowers.
The installation can be seen through Sept. 1, with the décor and colors changing once more before the end of summer. In August, to finish up the three-month show, the gardens and topiaries will begin to show the transition into autumn with orange, yellows, reds, and browns.
MERCADITO ADDS BOTTOMLESS MIMOSA BRUNCH - MIX & MATCH TACOS
Brunch at Mercadito at Red Rock Resort is now offering bottomless mimosas with the addition of the "No Mas Pantalones Brunch" every Saturday and Sunday from 11 a.m.–3 p.m. This special includes one brunch item and unlimited Mercadito mimosas including regular, strawberry, pineapple, guava or mango for $25 with additional brunch items and cocktails available for purchase.
In addition, Mercadito offers "Mix & Match Tacos" for Happy Hour and dinner. Guests can grab a plate of Camaron, Baja Estilo or Pastor to satisfy a variety of tastes. Throughout dinner, tacos are $4 each and during Happy Hour $3 per taco.
Mercadito offers a variety of special promotions including: all-you-can-eat tacos for $24 every Sunday and Monday; 15 percent off for military members on Monday; 30 percent off food and drinks for industry guests on Takeover Tuesdays; and ladies night, Chicas Night Out, every Thursday evening.
HARRAH'S HEADLINER MAC KING APPEARS ON 'PENN & TELLER: FOOL US'
Harrah's headliner comedy-magician Mac King will try to "fool" fellow magicians Penn & Teller on CW's "Penn & Teller Fool Us." Magicians are invited to perform their best trick to try and fool the Penn & Teller duo, who see the trick once and have to immediately attempt to work it out before a live studio audience. King's episode will broadcast on Monday, July 27 from 8–9 p.m.
HEALTHY-CONCEPT RESTAURANT JACQUES CAFÉ OPENS
Named after owner and Chef Jacques Pauvert, Jacques Café is a new healthy oriented restaurant with hormone-free and grass-fed beef and poultry from organic farms. This casual family American bistro located in Trails Village Center offers breakfast, lunch, dinner and Sunday Brunch. Wine and beer are also available.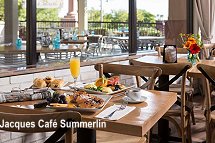 XTRA NEWS ITEMS
La Arrolladora has cancelled its performance scheduled for Sunday, Sept. 13 at The AXIS at Planet Hollywood due to scheduling conflicts.
Engelbert Humperdinck was at Westgate for three days this month filming segments for a documentary being produced about his life and 50-year career. He filmed scenes on the main showroom stage where he was a headliner for nearly a decade when the hotel was the Las Vegas Hilton and also at the Elvis Museum at the hotel. Engelbert and Elvis were good friends and they often attended each other's shows and spent time together backstage.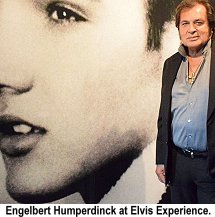 The cost of a marriage license in Las Vegas has increased by $14 to $77. The extra money will be spent promoting Las Vegas as a wedding destination since the number of licenses in Nevada has been declining.
In time for football picks, the D Las Vegas downtown has unveiled new party "Man Cave" rooms with plush leather couches, beer-pong tables, big screen TVs and fast Wi-Fi technology. Each room includes private cocktail services and an assortment of customizable menu options for larger groups.
Last week, Luxor's "Fantasy" ladies started hosting parties every Wednesday night at the LAX Nightclub after their 10:30 p.m. show. Also accompanied by the show's comedian, Sean E. Cooper, the gorgeous cast mixes and mingles with fans.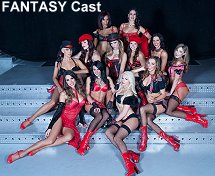 Five time Emmy-award winning choreographer, producer of "Fantasy" at the Luxor, director, dancer and actress, Anita Mann, will be one of four featured speakers at the 3rd Annual Woman to Woman Conference: Living Your Authentic Life on Thursday, Sept. 17 at the Skirball Cultural Center in Los Angeles.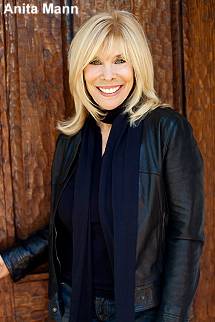 International retailer Oakley is now open inside Miracle Mile Shops at Planet Hollywood featuring innovative men's and women's sunglasses, athletic apparel, goggles, watches and accessories. This location is one of three stores across the globe.
Mercadito at Red Rock resort celebrates its first anniversary this summer with new, limited edition menu items. Beginning last Friday, Mercadito introduced a new Surf & Turf taco and Old Fashioned Mercadito cocktail to celebrate one year through Aug. 31.
Cabo Wabo Cantina at Planet Hollywood has introduced a new menu offered Monday through Thursday from 3 to 6 p.m. Happy Hour selections include $3 chicken, beef or pork street tacos and daily beer and shot specials starting at $5.
Las Vegas' Largest Mixer® will be held Wednesday, Sept. 16 at the Tuscany. Admission is $20 at the door.
NATIONAL NIGHT OUT BLOCK PARTY AT PROVIDENCE IS FREE EVENT
The National Night Out Block Party at Providence is a free event, promoting crime prevention awareness being held Tuesday, Aug. 4 from 6 to 8 p.m. at Knickerbocker Park in the Providence Master Planned Community in northwest Las Vegas. For information, call 702-216-2020.
The family-friendly event will feature interactive and educational activities, booths and emergency response equipment including a helicopter along with first responders and community groups. There will also be a large-scale version of the classic Red Light-Green Light game with a real traffic light. Target will provide free popsicles and water, and well-behaved leashed pets are welcome.
ANNUAL CELEBRITY BOWLING TOURNAMENT BENEFITS NEVADA SPCA
The NSPCA - Nevada Society for the Prevention of Cruelty to Animals will present the 3rd Annual "Out of the Gutters" Celebrity Bowling Tournament for Animal Rescue on Sunday, Aug. 2 at Sam's Town Bowling Center Bowling at 1 p.m. with local celebrities participating.
In addition to bowling, guests can enjoy an afternoon with a variety of activities for animal lovers of all ages. Tournament fees are $20 with pre-registration or $30 at the door, $ 7 for kids under 12 years old and teams of five people are $80. All fees include lane fees, equipment rental and one raffle ticket.
CONTINUE ON TO...:
THIS WEEK'S >LAUGHLIN NEWS
LAST WEEK'S >LAS VEGAS NEWS
>VEGAS VIEW FULL NEWS ARCHIVES
Return to >"Heard Around Town"
Return to >Las Vegas Leisure Guide