IT'S SUMMER REGATTA TIME IN LAUGHLIN!
It's a full weekend of activities during the 9th Annual Bullhead City Regatta Aug. 6-9 taking place on the Colorado River and at various casinos. This year's theme is Old West so thousands of participants will bring cowboy and cowgirl enthusiasm to the water by adorning their inner tubes, floats, kayaks and decorative non-motorized barges for a colorful ride down the Colorado River. Launching will begin at 7 a.m. through 1 p.m. from Davis Camp or Community Park and will end at Rotary Park. Floats must be registered.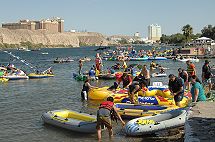 Several Laughlin hotels are offering pre-and/or post-float parties to add to the fun-filled weekend. On Thursday, Aug. 6 from 6 p.m. to midnight, there will be a Welcome Pool Party at the Tropicana with music by DJ Pauly C, line dance instructor Caffine, and stadium-style food for purchase. On Friday, Aug. 7 will be the Ultimate Pre-Regatta Party at Harrah's pool and beach with DJ Tatiana, a River Regatta Bikini Contest, Red Bull Party Tent, Beach VIP Ultra Lounge and more starting at 7 p.m. The After Party on the Riverwalk between the Colorado Belle and Edgewater will be on Saturday, Aug 8. The Contest Awards Ceremony will be held Sunday, Aug. 9 at 10 a.m. in the Banquet Rooms at Harrah's. Winners must be present to claim prize money.
DWIGHT YOAKAM WILL EXCITE AUDIENCES AT THE EDGEWATER
Two-time Grammy award-winning country singer, songwriter and actor Dwight Yoakam will headline at the Edgewater's E Center on Saturday, Aug. 29 at 8 p.m. Tickets range from $35 to $90.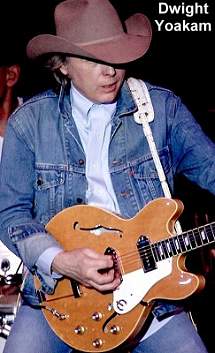 Popular since the early 1980s, Yoakam has 12 gold albums and nine platinum or multi-platinum albums, including the triple-platinum "This Time." Five of his albums have topped Billboard's Country Albums chart and more than 30 singles have charted with 22 going Top 20.
Yoakam has also starred in many films, most notably receiving critically acclaimed performances as an ill-tempered, abusive live-in boyfriend in "Sling Blade" (1996), as a psychopathic killer in "Panic Room" (2002), as a police detective in "Hollywood Homicide" (2003), and as the sheriff in "The Three Burials of Melquiades Estrada" (2005).
RICK DERRINGER MAKES AN APPEARANCE AT THE RIVERSIDE
Rick Derringer, American guitarist, vocalist, Grammy Award winning producer and entertainer will headline at the Riverside in Don's Celebrity Theatre Sept. 4-6. Tickets are $25.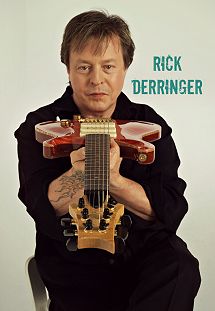 Derringer became popular as a member of The McCoys in the 1960s. The group had a No. 1 hit single with "Hang on Sloopy" and enjoyed four years of touring. In 1969, Derringer merged his talents with Johnny Winter. In 1973, Derringer joined Edgar Winter's White Trash full time and produced the gold LP, "Roadwork." Derringer's solo album, "All American Boy" was released in '73 scored him a 1974 hit with "Rock and Roll, Hoochie Koo." Derringer is still going strong after four decades and has worked extensively with brothers Edgar and Johnny Winter, Steely Dan, Todd Rundgren, "Weird Al" Yankovic, and Ringo Starr's 11th All-Starr Band.
DEEP PURPLE WILL MAKE A STOP AT THE EDGEWATER
English rock band Deep Purple will appear in concert at the Edgewater's E Center on Friday, Aug. 14 at 8 p.m. Tickets range from $40 to $105.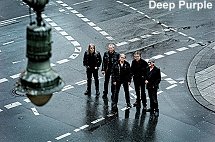 Deep Purple was formed in Hertford in 1968. The group has had several lineup changes and an eight-year hiatus from 1976–1984. Their holy grail of "In Rock" released in 1970, "Machine Head" 1972 and "Made In Japan" 1973 catapulted Deep Purple to the top in concert grosses and global album sales and "Smoke On The Water" ascended to mega-status.
While Deep Purple has released four studio albums since 1996 as a group, each of the five band members has done solo work and special projects. Ian Gillan, Roger Glover, Ian Paice, Steve Morse and Don Airey, Mark VIII of the band, continue traveling and promoting their scope of hard rock. Deep Purple was nominated a second time in 2013 for the Rock and Roll Hall of Fame, but were not voted in.
RIVERSIDE HOSTS ELVIS AND NEIL DIAMOND TRIBUTE SHOWS
"Elvis in Hawaii" starring Don Rose will take over Don's Celebrity Theatre Aug. 12-16 with 8 p.m. shows and $25 ticket prices.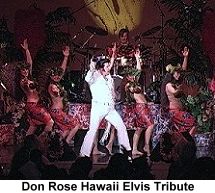 Elvis Presley, who loved the islands and the people of Hawaii, spent many vacations there, performed a famous concert there, and made some of his most successful movies in this exotic part of the world. "Elvis In Hawaii" is a production with a cast of 12 starring Don Rose as the King Of Rock-n-Roll with the Polynesian troupe Hot Lava. Rose has performed his Elvis tribute shows all across the United States and Canada.
"Neil Diamond Tribute" starring Rob Garrett will follow Aug. 19-23. Tickets are $20 for the 8 p.m. performances with the Garrett and the KOD Band.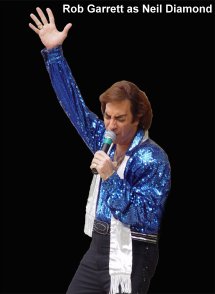 Garrett has established himself as the world's most popular Neil Diamond tribute artist, earning the title "King of Diamonds." Like his iconic counterpart, he was born in New York City. On Sept. 17, 2013, Garrett became the first tribute artist to receive the "Tribute Artist of the Year"/"Excellence in Entertainment" award. Garrett began learning to sing and play guitar at the age of 13. He continues to set the standard in the industry by performing his tribute the iconic singer/songwriter around the country in venues usually reserved for national/name acts.
AL STEWART HEADLINES HARRAH'S FIESTA SHOWROOM
Glasgow-born singer-songwriter and folk-rock musician Al Stewart will appear at Harrah's in the Fiesta Showroom on Saturday, Aug. 15 at 8 p.m. Tickets are $32-$42.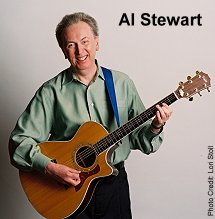 Stewart rose to prominence as part of the British folk revival in the 1960s and 1970s. He developed a unique style of combining folk-rock songs with delicately woven tales of characters and is well known for his 1976 hit single "Year of the Cat," which is the title song from the platinum album of the same name.
Stewart has released 16 studio and three live albums since his first album "Bedsitter Images in 1967." He continues to tour extensively in the United States, Canada, Europe, and the UK. His latest release is "Uncorked" with musical partner Dave Nachmanoff and takes a trip through Stewart's musical back pages. Recorded live during a springtime East Coast swing, "Uncorked" is the first live acoustic disc Stewart's done since his 1992 "Rhymes In Rooms." A conscious effort was made to not replicate any of the former tracks for "Uncorked."
TOP OF NEXT COLUMN
THE GEORGIA SATELLITES VISIT THE RIVERSIDE
The Georgia Satellites will bring music to Don's Celebrity Theatre at the Riverside Aug. 7-9 at 8 p.m. Tickets are $25.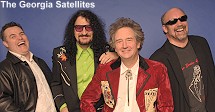 They were one of the most ferocious bands of the 1980s. Founded in 1985 by Rick Richards, Rick Price, singer Dan Baird and drummer Mauro Magellan, the Georgia Satellites quickly launched into stardom with hits such as "Keep Your Hands to Yourself," "Battleship Chains," "Hippy Hippy Shake" and others. Critically acclaimed albums and mind-bending performances earned the boys a permanent spot in music history.
After a brief sabbatical following the departure of Baird, The Georgia Satellites returned with a vengeance in 1993. Led by Price and Richards and joined by drummer Todd Johnston, they have packed houses around the world with their blistering brand of Southern rock.
TWO COMEDIANS STOP AT THE EDGEWATER EVERY WEEKEND
Comedians are on the agenda every Friday through Sunday at the Edgewater in the Inferno Showroom. "Comedy on the Edge" features two different stand-up comedians each week at 7 p.m. Cost is $10 and veterans on Sunday get a $2 discount.
Comedians coming up on the roster include: July 31-Aug. 2 Leif Skyving and Kate Brindle; Aug 7-9 DC Malone and Gary Jones; 14-16 Roy Haber and Brad Ellis; and Aug 21-23 Del Van Dyke and Daniel Storrow.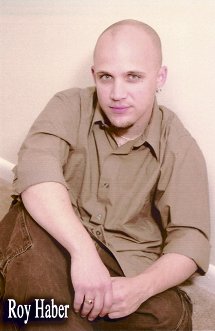 DC Malone will share the stage with Gary Jones Aug. 7-9. Malone is a 35-year comedy veteran whose material is observational covering life in general and personal relationships in particular. With his blues style singing voice, he also plays guitar and uses music in his act. He has performed with many of comedy's biggest names and worked in major comedy clubs across America. After 22 years touring the world with former partner Hampton Nootcheez, Malone has returned to his comedy roots as a solo entertainer describing himself as a living room comic.
Roy Haber is paired with Brad Ellis Aug. 14-16. Haber's comedy is very direct, brutally honest and current whether it's making fun of his own 5'2" height, talking personal issues, holding up a magnifying glass on world events and society in general, or sharing a story from his travels. He has performed throughout the United States, for our troops abroad, and on many stages in Canada. Haber also received numerous awards at the IMTA Nationals in Los Angeles Calif., including second runner-up.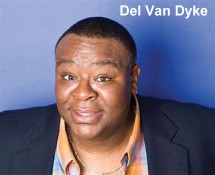 Del Van Dyke with his cutting edge observational humor is headlining Aug. 21-23 with Daniel Storrow. Van Dyke emerged from the San Francisco comedy scene in the 80s and quickly became a nightclub circuit fixture. He has won several major comedy competitions, headlined with many superstars including Robin Williams, Dana Carvey, and Jamie Foxx, and appeared on network and cable television. Van Dyke began performing comedy in 1984 after finishing college.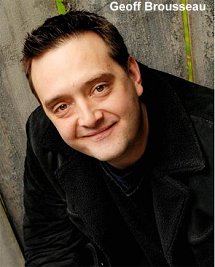 Geoff Brousseau will appear with Sally Mullins Aug. 28-30. Brousseau is single, an alcoholic from a broken home with a thriving inferiority complex, which makes for great material. He has had bad jobs, bad relationships, jail time, problems of every kind and some good things like kids. He talks too loud and feels all too comfortable talking about himself more truthfully than many would prefer. Consider this…Brousseau is who you might be if you had made 43 more bad decisions.
THURSDAYS AT 8 P.M. ARE BLUES NIGHTS AT THE AVI
Sena Ehrhardt and Cole Allen will appear in the Arrowweed Lounge at the Avi on Thursday, Aug. 6 at 8 p.m. Ehrhardt's latest release, "Live My Life," further confirms her emerging ascendance to blues elite status. She's been invited to open concerts for B.B. King, ZZ Top, Robert Cray, Dickey Betts, Johnny Winter and Gregg Allman. Allen is the critically acclaimed solo artist and guitarist for the Sena Ehrhardt Band, and an up-and-coming singer/guitarist/songwriter of contemporary blues and rock music.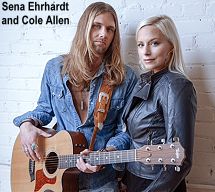 Eric Sardinas is scheduled on Aug. 13. Slide guitarist and singer-songwriter Sardinas has taken the stage thousands of times around the world. His six albums display a distinct style that musically pushes the boundaries of rock and blues.
On Aug. 20 Mark Day former guitarist and vocalist for Dickey Betts and Great Southern will bring on the blues. His fifth CD is "Release My Soul" with traditional blues, blues-rock and soulful ballads. Day perfected his craft playing rough-and-tumble biker bars and blues clubs in Houston, Texas, for more than 20 years. He was performing in nightclubs in Columbus, Ohio, before he was 15 years old.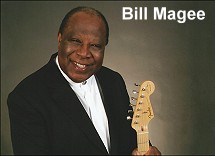 Bill Magee voted the Best Blues Band in San Diego by the San Diego Music Association and "Reader Magazine" will perform on Sept. 3. Since his first CD, "Steppin' Out," he has been tearin' up the San Diego blues scene. His album "Low Down Dirty Blues" received rave reviews in several publications and his latest work entitled "Good Morning Mississippi (Thank You For Being My Home)" is available online.
QUICK NEWS
Championship Bull Riding will be held at the Laughlin Event Center on Saturday, Sept. 12 at 8 p.m. Tickets are $30-$50.
Continuing through Aug. 2, The Bluzmen: The Ultimate Tribute to The Blues Brothers! starring Eric Martin and Carmen Romano is the headlining show at the Riverside. With Martin performing as Dan Aykroyd and Romano as the late John Belushi, they recreate The Blues Brothers beginning with their opening number "I Can't Turn You Loose," to the final song "Shout."
If you're looking ahead to New Year's Eve, Under the Streetlamp, a show that's a salute to the early rock 'n' roll groups will appear at the Edgewater Dec. 30 and 31. Country star Mel Tillis will do the honors at the Riverside from Dec. 29-Jan. 3.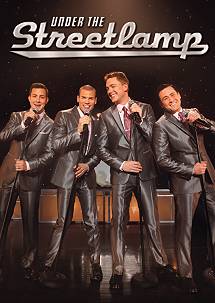 Some upcoming events include: the Laughlin Laugh Fest Oct. 2-4; the Viva Tropicana Car Show in the resort's North Parking Lot Oct. 2-4; UFOs, Technology & Consciousness: Our Place in the Universe at the Aquarius Pavilion & Exhibitor Hall Nov. 13-15; and Laughlin/Bullhead Half Marathon & 5K-Half Marathon on Saturday, Dec. 5.
The next Tom & Sharon's Ballroom Dance Party at the Riverside will take place on Saturday, Aug. 22 from 1:30 a.m.-4 p.m. The party features lots of dance mixer games, snacks and dance music, and a chance for students and veteran dancers to practice. The Craddocks offer west coast swing, fox trot, tango, waltz, rumba, cha-cha, salsa, polka, quick step, mambo, meringue, disco hustle, nightclub two-step, swing and country western two-step. Admission is free, for details call 928-444-4067.
The next International Gift and Craft Show will be held during Regatta weekend, Aug. 7-9 in the Rio Vista Room at the Edgewater. Friday and Saturday hours are 10 a.m-9 p.m. and Sunday until 6 p.m. Admittance is free and features several vendors showcasing handmade items such as jewelry, scarves, exotic Indian skits and tops, belly dancing and Zumba apparel, Native American pottery, etc.
CONTINUE ON TO...:

THIS WEEK'S >LAS VEGAS NEWS
LAST MONTH'S >LAUGHLIN NEWS
>VEGAS VIEW FULL ARCHIVES
Return to >"Heard Around Town"
Return to >Las Vegas Leisure Guide