IT'S BEATLES VS STONES AT HARRAH'S FIESTA SHOWROOM!

"Beatles vs Stones-A Musical Shootout" featuring Abbey Road and Jumping Jack Flash tribute artists will present the two legendary bands July 1-12 and 23-26 at Harrah's Fiesta Showroom at 8 p.m. Tickets are $27-$37.

These two incredible bands will engage in an on-stage, mash-up duel musical "shoot out of the hits" featuring internationally renowned tribute bands, Abbey Road taking the side of the Fab Four and Jumping Jack Flash representing the Stones.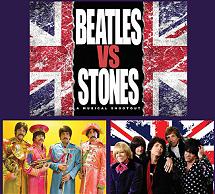 Since 2011, Abbey Road and Jumping Jack Flash have been going head-to-head throughout the United States, Canada, Mexico and Puerto Rico in casinos, clubs and performing arts centers. During the show, band members exchange tongue-in-cheek barbs about the rivalry between the bad boys of London and the lads from Liverpool.
LAUGHLIN HOLDS CHEFS FOOD FEST EVERY YEAR
This year, the 28th annual Chefs Food Fest sponsored by the Laughlin Chamber of Commerce as a big fundraiser to benefit the River Fund Inc., which helps struggling families in the area, was held at the Aquarius Pavilion on June 11. Consider marking this community event on your calendar for next year. It's always a sell out and fun time with some 700 locals and visitors gathering to enjoy amazing food.
Chefs from the Laughlin hotels and around the tri-state area come together in a friendly competition to showcase their talents and creativity. This year the traveling trophies voted on by attendees went to Harrah's for "Best Booth" and Bumbleberry Flats for "Best Food."
Guests sit at rounds of 10 in the center of the room and wander around the perimeter where the food and beverage booths are located. Guests sample appetizers, entrées, desserts, and drinks prepared by chefs from Laughlin casinos and food and wine distributors. A program outlines the food at each station so it's worth a read.
As a fundraiser, $6,000 was raised through an auction with 38 items at the end of the evening. An additional $15,000 was donated by the Laughlin Chamber for a combined total contribution of $21,000 for the local charity. The exhibitors have already started preparing for next year.
REMODELED LOADING DOCK BAR & GRILLE REOPENS
The Colorado Belle began remodeling the Loading Dock Bar & Grille in June and is reopening July 1. In the process, the restaurant's buffet area doubled in size and offers a wider variety of entrées, salads and desserts. Booth seating is being introduced in the center of the restaurant, providing comfortable seating with a view of the Colorado River. The bar's seating area has been expanded as well.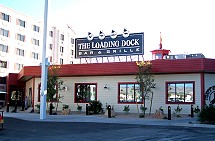 The restaurant will be open from 7 a.m. Monday through Saturday and from 8 a.m. on Sunday. A special Champagne brunch is served Sundays from 8 a.m. to 2:30 p.m.
The restaurant's new menus include south-of-the-border items like Grilled Fish Tacos, Fajitas and Carne Asada Tacos; American comfort foods like Chicken Pot Pie and Short Ribs Pot Roast; and Italian specialties including Chicken Alfredo and Lobster Fra Diavolo. The restaurant now features a Raw Bar offering ceviche, oyster shooters, shrimp cocktails and a seafood platter on the dinner menu. Desserts are plentiful from classic chocolate cake and crème brûlée to cheesecake, caramel apple pie and ice cream with berries.
CREEDENCE CLEARWATER REVISITED WILL STOP AT THE E CENTER
The Rock and Roll Hall of Fame rhythm section from the legendary group Creedence Clearwater Revival that launched the Creedence Clearwater Revisited project in 1995 will headline the Edgewater's E Center on Saturday, July 11 at 8 p.m. Tickets range from $29.99 to $74.99.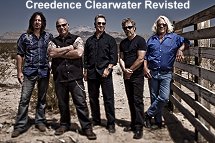 Creedence Clearwater Revival founding members, Stu Cook and Doug "Cosmo" Clifford have been on quite a ride. Forty-five years ago, Creedence Clearwater Revival headlined the Saturday night slot at the Woodstock Music Festival. That same year, three of the group's albums simultaneously made the top 10 of the rock music charts and had four top three singles.
Today, Creedence Clearwater Revisited performs up to 100 shows a year and has released the album "Recollection."
STARSHIP WITH MICKEY THOMAS ROCKS HARRAH'S FIESTA SHOWROOM
The legendary rock 'n' roll band Starship featuring Mickey Thomas will appear in concert at Harrah's Fiesta Showroom on Friday, July 31 at 8 p.m. Tickets are $34-$44.
Starship's front man Thomas has revamped his band and show with an expanded set list that includes the multi-platinum hits of Jefferson Airplane, Jefferson Starship and Starship, an expanded band and adding powerful female vocalist Stephanie Calvert. This band is behind several of the 20th century's biggest pop and rock anthems like "We Built This City," "Sara," "Nothing's Gonna Stop Us Now," etc. Their new album "Loveless Fascination" is the group's first studio record in more than 20 years and first for Loud & Proud Records. It's a diverse record with a big gospel choir lifting up "Nothing Can Keep Me From You," while the string-laden "You Never Know" recalls the band's 80s pop highlights.
RIVERSIDE RESORT FEATURES TRIBUTE SHOWS
In July the music of Lynyrd Skynyrd, The Doobie Brothers and The Blues Brothers will be headlining acts throughout the month in Don's Celebrity Theatre at the Riverside. Shows are 8 p.m. and cost $25.
"One More from the Road"-The Music of Lynyrd Skynyrd leads the way July 9-12.
This act has musicians coming from different regions of the country. There are three guitarists with three different styles and backgrounds and the combination hits the distinctive sound Skynyrd had. The voices of the ladies give this tribute a blend of sensual harmonies and sass. Finally, lead singer and founder, Lloyd, is a rock with his passion and conviction for this project. He has emulated Ronnie Van Zant from the day he heard his music.
"Listen to the Music"-Tribute to the Doobie Brothers will be performed July 22-26. This show is a complete re-creation of the famous rock band back in the 70s. The show brings back the famous all-star lineup of Pat Simmons, Michael Mc Donald, Jeff "Skunk" Baxter, Tom Johnston and Tiran Porter playing all the famous "Doobie" hits. The cast recreates the era with exact instruments, costumes and looks.
The Bluzmen: The Ultimate Tribute to The Blues Brothers! starring Eric Martin and Carmen Romano is scheduled July 29-Aug. 2. The blend of Martin as Dan Aykroyd and Romano as the late John Belushi is a perfect mix in recreating The Blues Brothers.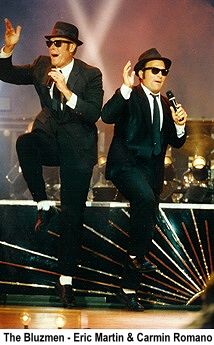 Together they are like a nonstop freight train from the opening number "I Can't Turn You Loose," to the climactic finale of "Shout." These "Bluzmen" go a step further and showcase some of the original choreography with a few steps of their own.
COUNTRY SUPERSTARS WILL RETURN TO THE RIVERSIDE
"Country Superstars" will be back at the Riverside in Don's Celebrity Theatre July 16-19. Tickets are $25 for their 8 p.m. performances. This concert style event features a world-class live band and tributes to some of the biggest names in country music history such as Big & Rich, Reba McEntire and Willie Nelson. Country Superstars consistently delivers an unforgettable entertainment experience treating audiences to the sights and sounds of America's heartland.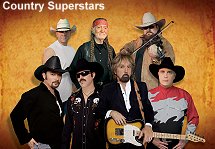 GLORIANA MAKES ITS WAY TO THE EDGEWATER'S E CENTER
The award-winning vocal trio Gloriana will make their way to the Edgewater's E Center on Saturday, July 18 at 8 p.m. Tickets go from $20 to $50.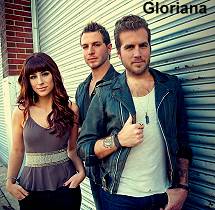 Unknown musician brothers Tom and Mike Gossin moved to Nashville in 2007 and joined forces with Rachel Reinert. Their 2009 self-titled debut album became the best-selling debut country act of 2009. "Gloriana" debuted at No. 2 on the Billboard Country Albums chart and No. 3 on the Top 200 chart and spawned the gold-certified hit single "Wild At Heart." The album's success led to two years on the road including being Taylor Swift's handpicked opening act. They also opened shows for Jason Aldean, Alan Jackson, Brooks & Dunn, and the Zac Brown Band. In 2010, Gloriana won the Academy of Country Music's Award for Top New Vocal Group and were nominated for a Teen Choice Award for "Choice Country Group."
In the past two years, their career has exploded. Their current single "Trouble" is the first single off their forthcoming studio album, set for release this year.
TOP OF NEXT COLUMN
TWO COMEDIANS STOP AT THE EDGEWATER EVERY WEEKEND
Two different comedians light up the Edgewater with humor every Friday-Sunday at 7 p.m. in the Inferno Showroom with "Comedy on the Edge." Cost is $10 and veterans on Sunday get a $2 discount.
Future comedians include: July 3-5 Howard G and Jason Cheny; July 10-12 Gary .
Caouette and Dustin Nickerson; July 17-19 Manny Hernandez and Mike Dapper; July 24-26 Barry Neal and Debbie Praver; and July 31-Aug. 2 Leif Skyving and Kate Brindle.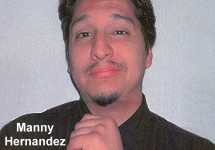 Howard G and Jason Cheny have the reins July 3-5. Howard G is a 21-year veteran of standup comedy dialing in on current events and using audience participation and celebrity impressions as the foundation for his shows. He has opened for such stars as Dave Chapelle, Kevin Pollock, The Temptations, The Isley Brothers, Patti Labelle and Jamie Foxx, and done TV shows. Howard G has also performed for U.S. troops in Kuwait, Saudi Arabia, Afghanistan, and Pakistan.
Gary Caouette will follow July 10-12 with Dustin Nickerson. For the past 20 years, Caouette's high energy original humor has been based on observations about the world around us. He got his start in comedy by winning the Funniest Professionals Competition at The Comedy Connection. After moving to Las Vegas, he was invited to compete at the Venetian for Organon's Last Comic Standing contest in front of TV cameras and 1,200 people. Caouette took home the $2,600 prize. He has appeared in the movies "The Boondock Saints" and "Middlemen." He had a feature role on Nippon TV's "Astonishing News" and was the focus story and performed comedy on A&E TV's "Caesars 24/7."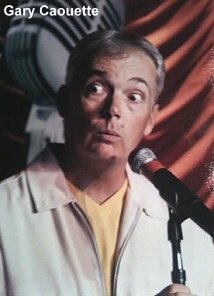 Manny Hernandez is paired with Mike Dapper July 17-19. Hernandez's comedy material draws on his experiences growing up, family and observations about life. He's a 20-year standup comedy veteran who has performed in many of the major comedy clubs, including The laugh Factory, The Ice House, The Improvs and Dangerfield's in New York. Hernandez has performed with Jamie Foxx, Paul Rodriguez, and Eddie Griffin and performed for U.S. troops at many military bases.
Barry Neal, a 28-year comedy veteran, will be joined by Debbie Praver July 24-26. Before Neal was "The Counselor of Love" preaching the benefits of love and marriage, he was nondescript Barry growing up in a suburb of Chicago as the youngest of four siblings who resented him for being so perfect. When he attended Northwestern University, he became part of the famous Mee-Ow show Improv troupe. After college he moved to Los Angeles and started his standup career.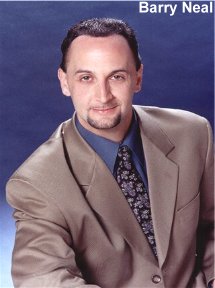 AVI PRESENTS COUNTRY SINGER COLT FORD
The one-time pro golfer turned songwriter and musician Colt Ford will perform at the Avi on Friday, July 24 at 8 p.m. Tickets are $25 - $30.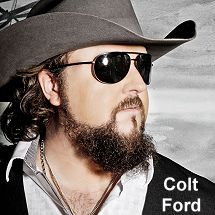 Ford is just an unassuming good old country boy from Georgia. His fifth album "Thanks for Listening" with collaborations with fellow stars on his own perfectly named Average Joes Entertainment label is the follow-up to his 2012 chart-topping "Declaration of Independence." With his groundbreaking blend of country music and hip-hop rhythms, Ford will be seen sharing the bill with Toby Keith on his "Shut Up and Hold On" summer tour.
Ford has written No. 1 hits for Jason Aldean "Dirt Road Anthem" and Brantley Gilbert - "Country Must Be Country Wide." He is currently working with Brad Paisley, has more than one million Facebook fans, 100 million YouTube views, and has sold more than one million albums and several million downloads.
PAT BENATAR AND NEIL GIRALDO STOP AT THE EDGEWATER
Rock legends Pat Benatar and Neil "Spyder" Giraldo are keeping their 35th Anniversary Tour rocking through the summer with an additional 35 concerts added coast to coast and a visit to the E Center at the Edgewater on Saturday, July 25 at 8 p.m. Ticket prices are $29.99 to $74.99.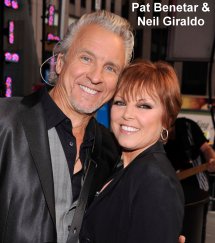 This powerhouse duo's debut album "In The Heat of The Night" 35 years ago had the hit "Heartbreaker" that was the catalyst to their longevity career. Together, with Benatar's mezzo-soprano vocal range and Giraldo's trail-blazing work as a guitarist, producer and songwriter, the two have forged one of the most successful partnerships in rock 'n' roll history. Since their initial collaboration 35 years ago, they have sold more than 26 million albums and charted 19 Top 40 singles, earning four consecutive Grammy Awards and three American Music Awards.
FAST TRACK ITEMS
The Edgewater's Hickory Pit is scheduled for a makeover in August and September. In addition to updating the steakhouse's interior design, the restaurant's menu will have a few notable upgrades.
The town-wide 9th annual Bullhead City River Regatta attracting more than 30,000 people taking rafts, floats, inner tubes, kayaks and decorative, non-motorized barges for one giant trip on the Colorado River will take place Saturday, Aug. 8 from 7 a.m.-5 p.m.. This year's theme "Round-Up Regatta" celebrates the Old West.
The Tom & Sharon's Ballroom Dance Party will be held on Saturdays, July 11 and Aug. 22 from 1:30 a.m.-4 p.m. The dances offered by the Craddocks include west coast swing, fox trot, rumba, cha-cha, salsa, tango, waltz, polka, quick step, mambo, meringue, disco hustle, nightclub two-step, country western two-step and swing. The party features lots of dance mixer games, snacks and dance music, and a chance for students and veteran dancers to practice Admission is free, for details call 928-444-4067.
The International Gift and Craft Show will be held in the Rio Vista Room at the Edgewater July 3-5 and Aug. 7-9. Saturday hours are 10 a.m.-9 p.m. and Sunday 10 a.m.-6 p.m. This specialty show has free admittance and features several vendors showcasing handmade items such as exotic Indian skirts and tops, belly dancing and Zumba apparel, jewelry, scarves, Native American jewelry and pottery, etc.
AVI PROMOTES BLUES AT THE RIVER ON THURSDAYS
Thursday nights at 8 p.m. in the Arrowweed Lounge at the Avi features blues music.
July 2 will highlight Alastair Greene who formed his first blues rock trio with former members of the legendary Southern California band the Pontiax in 1997. The Alastair Greene Band (AGB) has gone through several incarnations and lineups over the years and has included alumni of the Steve Miller Band, Paul Butterfield Band, and Junior Wells Band. Currently, the line-up has solidified with Alastair Greene on guitar and vocals, Jim Rankin on bass and vocals, and Austin Beede on drums.
The next act on July 9 will be the Shari Puorto Band, which is a blues/rock/roots band with a lot of soul that has been touring together for many years, sharing the stage with the likes of, Tab Benoit, Jimmy Vivino, Tommy Castro, Joe Bonamassa, Dickey Betts, Johnny Winter, Dave Mason, Barry Goldberg, Robben Ford, Robin Trower, Walter Trout, Coco Montoya, Larry Carlton, Ike Turner, among others.
Corey Stevens will take fans on a musical journey on July 16. Each new Stevens album is different enough to offer up something new and yet stay within the bounds of what his core fans may expect. He likes the classic band set up of bass, drums, piano, organ and lots of guitars. He writes catchy songs and drives them home with a band that would feel at home in the 60s or 70s.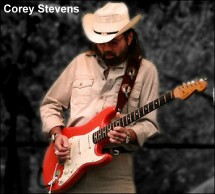 The ball started rolling at the Orpheum Theater in Memphis in February 2011 for the Lionel Young band that will perform on July 30. Carving out a unique sound in the blues world, the band has played festivals and other dates including the last West Coast Legendary Rhythm & Blues Cruise.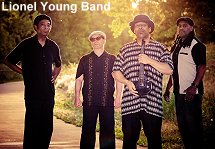 On July 23, the foursome Pat Travers Band will play. In early 1979, the Pat Travers Band recorded what became the slick guitar-rock album "Live! Go for What You Know." It was a huge success on both sides of the pond with it being acclaimed by their musical peers, fans, and music critics alike. The album, like the Canadian musician, remains an influence for a whole generation of guitar slingers. Other members include guitarist Pat Thrall, drummer Tommy Aldridge and bass player Peter "Mars" Cowling.
CONTINUE ON TO...:

THIS WEEK'S >LAS VEGAS NEWS
LAST MONTH'S >LAUGHLIN NEWS
>VEGAS VIEW FULL ARCHIVES
Return to >"Heard Around Town"
Return to >Las Vegas Leisure Guide