ATLANTA RHYTHM SECTION BRINGS THE BEAT TO THE RIVERSIDE!

The Atlanta Rhythm Section (ARS) will bring their sound to Don's Celebrity Theatre at the Riverside, June 5-7. Tickets for their 8 p.m. shows are $25.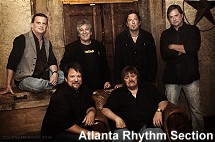 Formed from the cream of Atlanta's studio musicians, the Atlanta Rhythm Section released their No. 1hit, "So In To You" in 1977, which became the band's breakthrough single reaching the U.S. Top 10, and the album from which it came, "A Rock And Roll Alternative," went gold. Their platinum follow-up album, "Champagne Jam," broke into the Top 10 in 1978.
After an extended break, the band got back together in the mid-'90s and re-recorded some of their best-known songs, the live-in-the-studio sound of "Atlanta Rhythm Section '96." ARS continues to make concert appearances showcasing their many classic hits and outstanding musical abilities.
CHEFS FOOD FEST IS JUNE 11 AT THE AQUARIUS PAVILION
The 28th annual Chefs Food Fest will take place on Thursday, June 11 inside the Aquarius Pavilion with doors opening at 5:30 p.m. This food event features chefs from around the tri-state area who showcase their talents and creativity in a friendly competition that raises funds to benefit the River Fund, Inc., which helps struggling families in the area. Last year, the event sponsored by the Laughlin Chamber of Commerce raised more than $20,000.
Guests who attend can sample creative appetizers, entrées, desserts, and drinks prepared by chefs from Laughlin casinos, along with other local restaurants and food and wine distributors. Participants in Chefs Food Fest compete for various categories and awards. Tickets are $50, call 702-298-2214 or visit www.laughlinchamber.org. Guests must be 21 years of age and over.
The Aquarius is offering a special Chefs Food Fest Room and Ticket package that includes one room night on Thursday, June 11 and two tickets to Chefs Food Fest. Package starts at $140; call 800-662-5825 and mention code CHEF15.
IMPORTANT NOTES
The Colorado Belle's Loading Dock Bar & Grille will be closed the month of June for remodeling with a target date to reopen July 1.
The 9th annual Bullhead City River Regatta will take place on the Colorado River on Saturday, Aug. 8 from 7 a.m.-5 p.m. Attracting more than 30,000 people taking rafts, floats, inner tubes, kayaks and decorative, non-motorized barges makes for one giant trip down the river. This year's theme "Round-Up Regatta" celebrates the Old West. There will be an Ultimate Pre-Regatta Party at Harrah's pools and beach with the Ms. River Regatta Bikini Contest, Red Bull Party Tent, Beach VIP Ultra Lounge and more on Friday starting at 7 p.m. Entry to the party is free. For information, visit http://www.bullheadregatta.com.
FREE COUNTRY MUSIC TALENT CONTEST AT THE RIVERSIDE
Aspiring country music artists will compete in the local level of the 34th Annual Country Showdown being held at Don Laughlin's Riverside Resort on Thursday, June 25 at 6 p.m. in The Starview Room. The free show will present around 10 finalists selected by Highway Country radio to compete in "America's Largest Country Music Talent Search." The audience that night may be witnessing the launch of the professional career of an aspiring country music star or group with up to seven members.
The local winner at the Riverside will advance to one of more than 40 state contests where the prizes include $1,000 in cash and the opportunity to compete at one of five regional contests in the fall. The final five regional winners receive an all-expense-paid trip to the National Finals in Nashville, Tenn., to compete for $100,000 and the coveted National Title. To ensure fairness, a uniform judging system is used on all levels of the competition.
The hometown talent contests like the one in Laughlin are sponsored by more than 450 radio stations across the country. Country Showdown fans can follow the entire nationwide contest on the Showdown Mobile App in a mobile friendly format.
TRACE ADKINS VISITS EDGEWATER'S E CENTER
On Saturday, June 6 at 8 p.m., country music singer-songwriter Trace Adkins with the trademark baritone voice will headline in the Edgewater's E Center. Tickets range from $35 to $100.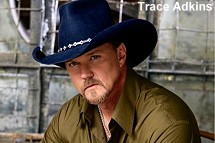 Adkins has sold more than10 million albums while powering countless hits to the top of the charts. The Grammy-nominated member of the Grand Ole Opry is a TV personality, actor, author, spokesman for the Wounded Warrior Program and the American Red Cross, and has performed seven USO Tours. He raised more than $1.5 million dollars for charity as the winner of NBC's "All-Star Celebrity Apprentice."
His autobiography, "A Personal Stand: Observations and Opinions from a Freethinking Roughneck," recounts the former oil rigger's rise to fame, battles with personal demons and life as a father of five daughters. Adkins played a tough biker in "The Lincoln Lawyer" starring Matthew McConaughey, developed and hosted GAC's "Great American Heroes," and in December will host the "American Country Awards" on FOX for the fourth consecutive year.
LAUGHLIN HAS FIREWORKS FOR FOURTH OF JULY
There will be free Fourth of July Fireworks shows in the sky over the Colorado River on Saturday, July 4 after sunset in two places. Rockets Over the River will be a fireworks display by the famous Zambelli fireworks company at the Laughlin casinos along the Riverwalk at 9 p.m. and the other will be at the beach area at the Avi.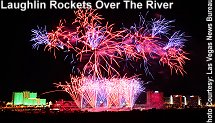 The Aquarius has a 4th of July Room Package that includes a two-night stay in an Aquarius guest room, Friday and Saturday, July 3 and 4; guaranteed 4th of July fireworks viewing on Aquarius' 3rd floor pool deck; two-for-one drinks (beer, soda, or water) during the fireworks; and a beer and a shot of Patron Silver for $6.50, or bucket of six Budweiser or Budweiser Light for $18 at any casino bar. This room package starts at $240, call 800-662-5825 and mention code JLY4151.
SUPER DIAMOND PAYS TRIBUTE TO NEIL DIAMOND AT HARRAH'S
Super Diamond, a Neil Diamond tribute band unlike any other, will headline the Rio Vista Outdoor Amphitheater on Saturday, June 27 at 8 p.m. Tickets are $29-$39.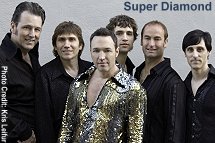 This popular tribute band interprets Neil Diamond's music in a surreal way. Super Diamond has been recreating the sounds of Neil Diamond for nearly 20 years. The group met the real superstar several times and he even sang with them twice. They perform all over the country and love doing Diamond's music.
GREGG ALLMAN WILL ROCK THE E CENTER
Grammy-nominated Gregg Allman will perform at The E Center on Saturday, June 20 at 8 p.m. Gregg, with the Allman Brothers Band, was inducted into the Rock and Roll Hall of Fame in 1995 and the group received the Lifetime Achievement Award at the 54th Annual Grammys in 2012. Tickets for his Edgewater show range from $25 to $85. Allman possesses a distinctively soulful voice and singular songwriting ability that resonates through a musical career of nearly 50 years.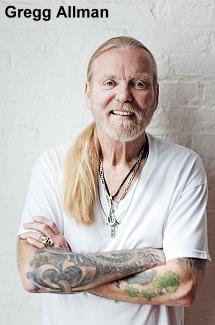 Allman as soon as he finished high school and with his older brother Duane who shared a passion for music and affinity for the blues hit the road with their band the Allman Joys. In 1969, they formed the Allman Brothers Band, which emerged as one of America's most original and influential music groups; however, the band suffered a devastating blow when Duane Allman was killed in a motorcycle accident in October 1971. Despite the loss of his brother, Allman and his band members rallied and the Allman Brothers Band reached greater success, releasing a pair of albums, "Eat A Peach" and "Brothers and Sisters." In 1973, Allman launched a solo career with the album "Laid Back," and toured with a 14-person backup band. Since then, he has remained an important musical force, both with the Allman Brothers Band and as a solo artist.
TANYA TUCKER WILL PERFORM IN THE AVI GRAND BALLROOM
Country singer Tanya Tucker, who put forth her debut album "Delta Dawn" when she was only 13, will make an appearance at the Avi Grand Ballroom on Saturday, June 20 at 8 p.m. Show tickets are 45-$50.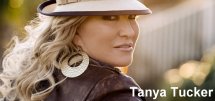 Tucker, a year later after releasing "Delta Dawn," had her first No. 1 hit with "What's Your Mama's Name," featured on the album of the same title. With a musical style that belied her age, at 15, Tucker had already recorded her first Grammy Award-nominated song and become one of the first country artists to appear on the cover of "Rolling Stone" magazine. Over the ensuing decades, Tucker garnered many more hits while switching over to various labels. She also penned an autobiography, founded her own record label, starred in a reality TV series and helmed a collection of covers honoring male artists.
TOP OF NEXT COLUMN
LORRIE MORGAN SINGS AT THE RIVERSIDE
Lorrie Morgan the country songstress who has sold more than six million records will be headlining at Don's Celebrity Theatre in the Riverside Resort, June 19-21 at 8 p.m. Tickets are $25.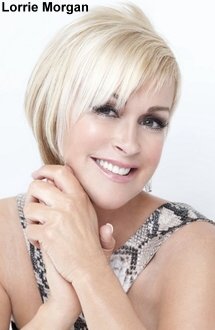 Morgan inked her first recording contract in 1988 as an RCA recording artist, and later on the roster of its sister label, BNA. She has sold more than six million records and has a trophy room adorned with reminders of her gold and platinum successes including 14 top-ten hits, 12 recorded albums and four Female Vocalist of the Year awards. Morgan's musical stories are as truthful and telling as a carefully crafted painting.
The singer is also a songwriter, worldwide entertainer on the performing and theatrical stage, producer, duet partner, wife, mother and now, a grandmother.
AVI IS HOLDING A BLUES CONCERT SERIES ON THURSDAYS
The Avi is featuring a free Blues Concert Series each Thursday in June with shows at 8 p.m. in the ArrowWeed Lounge. The bands in this series have won Grammys, major Blues Foundation Awards and recorded and toured with the greats. This is all the more impressive when you consider there is no charge to catch any of the shows during this series at the Avi.
On June 4 Coco Montoya, former member of John Mayall & The Bluesbreakers, will take the stage. Montoya has carved out his own niche as a great bluesman making top end chart releases such as the double CD set on RUF Records, "Songs from the Road."
Bex Marshall, who is a UK British Blues Award winner, will perform with her powerful seven-piece band on June 11. On Marshall's latest recordings you will find swamp blues, splashes of gospel and colorful bluegrass all with a lyrically British twist. Her unique style of guitar playing is a combined technique of slide, blues rock, ragtime and roots pickin'.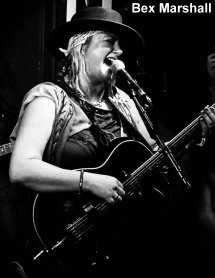 The third week on June 18, John Németh, the 2014 Blues Music Awards winner for Soul Blues Male Artist of the Year and 2015 Blues Music Awards winner for Best Blues Album for "Memphis Grease," will be performing with his band. Németh, the son of a Hungarian immigrant, gained his early chops on the harmonica.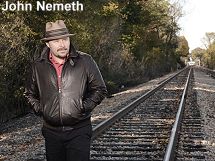 The last Thursday, June 25, will star Rick Estrin & The Night Cats, the 2013 Blues Music Awards winner for Best Instrumentalist-Harmonica. Estrin is considered one of the best harp players in all of blues. He also won Grammy nominations for his songwriting.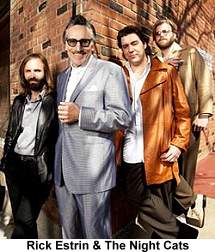 COMEDIANS STOP AT THE EDGEWATER EVERY WEEKEND
Every Friday-Sunday two comedians visit the Edgewater's Inferno Showroom performing at 7 p.m. in "Comedy on the Edge." Tickets are $10 and on Sunday veterans get a $2 discount.
Future comedians include: June 5-7 Randy Lubas and Jeff Johnson; June 12-14 Jimmy DellaValle and Rich Slaton; June 19-21 Anthony Padilla and Michael Vitiello; June 26-28 Derek Richards and Derrick Stroman; and July 3-5 Howard G and Jason Cheny.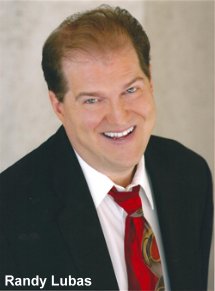 A 30-year veteran of standup comedy, Randy Lubas will appear with Jeff Johnson June 5-7. Lubas' material pokes fun at parenting, engineers, realtors, the airlines and government legislators. He has performed with many major comedy stars such as Jerry Seinfeld and Dana Carvey as well as for U.S. troops. Lubas has appeared on TV and was Anselm - a Hit Man in the film "Cover Story."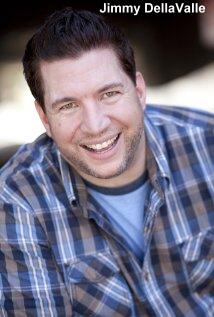 Jimmy Della Valle is paired with Rich Slaton June 12-14. With a streetwise edgy flare, Della Valle has been performing comedy for 24 years. His act has blue-collar twists and covers topics like his hot-tempered Italian father, his neurotic Irish mother and his sister's African American husband to his family's gambling problem. Della Valle has performed with Kevin Hart, Russell Peters, Ron White, Adam Sandler and others, and entertained U.S. troops more than 20 times, nationally and internationally. He has appeared at all the Improv comedy clubs, more than 50 casinos and also on TV and in movies.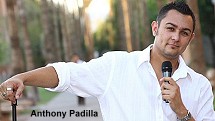 Anthony Padilla has been a comedian for nine years and will co-bill with Michael VItiello June 19-21. Stories about life dominate his material along with a quick wit and bit of edginess. In Las Vegas, Padilla was Louie Anderson's opener for a year and had his own show at the Rio for a year. He has also performed for U.S. troops and many comedy clubs.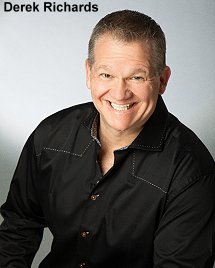 It will be the Derek Richards and Derrick Stroman show June 26-28. Richards' comedy includes tales about his Detroit blue-collar upbringing, his mom's dog, living in Florida, the holidays, and dating an exotic dancer. Richards is on the XM Satellite Radio Network and on the nationally syndicated "Bob and Tom Show."
TWO TRIBUTE ARTIST ACTS APPEAR AT THE RIVERSIDE IN JUNE
Fleetwood Nicks will pay tribute to the music of Fleetwood Mac June 10-14 at the Riverside in Don's Celebrity Theatre and Breakdown will honor the music of Tom Petty and the Heartbreakers June 24-28. Tickets for both shows are $25.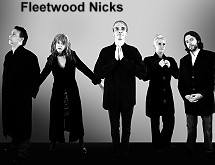 Fleetwood Nicks formerly WildHeart is one of the country's most authentic tribute bands, performing the timeless music of Fleetwood Mac and Stevie Nicks. Fleetwood Nicks staying true to the original studio recordings focuses on capturing the essence of Fleetwood Mac /Stevie Nicks in their prime. Fleetwood Nicks brings an incredible recreation of Fleetwood Mac's legendary sound to the stage with an impressive rock concert performing hits from the "Rumours" album through Fleetwood Mac's famous reunion Dance Tour.
Breakdown shares the music of Tom Petty and the Heartbreakers. Breakdown's show is designed for a large demographic audience allowing everyone to be a part of the experience. Playing all of the super group's favorite hits including "I Won't Back Down," "Free Falling," "Here Comes My Girl," "Mary Jane's Last Dance," and many more, Breakdown's music gives you the real group's authentic true sound.
AQUARIUS OFFERS FATHER'S DAY ROOM AND GOLF PACKAGE
The Aquarius is offering a Father's Day room package and Sunday dining deals.
The Father's Day Room Package includes: two nights June 19 and 20 in an Aquarius Panorama guest room; buy-one-get-one-free Father's Day Champagne Brunch in Windows on the River Buffet; buy one round of golf at $65 and get-one-free at Laughlin Ranch golf course; a late Sunday check out; and a special Dice Cup filled with Budweiser or Budweiser Light. This package starts at $189, call 800-662-5825 and mention code DADS15A.
Dining choices include: all-you-can-eat Father's Day Champagne Brunch at Windows on the River Buffet; a four-course dinner at The Vineyard Ristorante; or a meal at Café Aquarius.
CONTINUE ON TO...:

THIS WEEK'S >LAS VEGAS NEWS
LAST MONTH'S >LAUGHLIN NEWS
>VEGAS VIEW FULL ARCHIVES
Return to >"Heard Around Town"
Return to >Las Vegas Leisure Guide