HANK WILLIAMS JR. APPEARS IN CONCERT AT LAUGHLIN EVENT CENTER!

GRAMMY®, CMA, and Emmy award-winning country singer-songwriter Hank Williams Jr. will star at the Laughlin Event Center on Saturday, May 16 at 8 p.m. Tickets range from $25 to $120.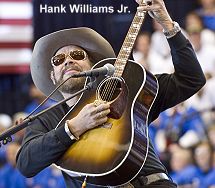 Williams started performing at a young age singing his legendary father's songs, but paved a name for himself emerging as a formidable country singer-songwriter with 1960s hits such as "It's All Over But The Crying" and "Cajun Baby." But things changed with the 1979 release of "Family Tradition," where he broke the Nashville mainstream by adopting a rebel image and writing/recording in a style incorporating his Blues and Southern Rock influences.
His songwriting skills have garnered 20 BMI Awards with arguably the most-heard country song of modern times being the four-time Emmy award-winning "Are You Ready For Some Football?," which was heard nationally as the theme song of ABC and ESPN's Monday Night Football telecasts for 21 years. Williams has sold more than 55 million albums in his life, and has achieved gold, platinum, and multi-platinum status along with 13 of those albums hitting the No. 1 spot on the Billboard chart.
The Aquarius is offering a Friday-Saturday night room and two-ticket concert package for Williams show that starts at $260, call at 800-662-5825 and mention code HANK151. Included in the deal is a two-for-one Budweiser or Budweiser Light coupon valid at any casino bar; two-for-one drink coupon in The Cove Bar and Lounge; and two-for-one drink coupon at Duet Coffee & Wine.
MICHAEL MCDONALD HEADLINES THE E CENTER
Five-time Grammy award winner Michael McDonald will return to the Edgewater's E Center Saturday, May 9. Tickets start at $25.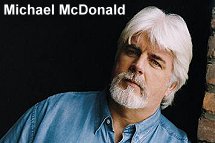 McDonald has commanded a singular musical presence for four decades. He began a long association with Steely Dan in 1975, touring with the band, singing backup as well as playing keyboards onstage. One year after the release of Steely Dan's "Katy Lied," McDonald was invited to join the Doobie Brothers on the road. In the years that followed, McDonald and the Doobie Brothers enjoyed tremendous commercial and creative success with their sound evolving from guitar-driven rock to a sultry, tight R&B feel. Following the Doobie Brothers' farewell tour in 1982, he began his solo career.
Continuing to explore new vistas, in 2003 and 2004, McDonald released his Grammy-nominated, platinum-selling pair of Motown albums. In 2005, he partnered with Hallmark for a special Christmas album, "Through The Many Winters," which sold 500,000 copies in its first two weeks. His 2008 acclaimed crossover album "Soul Speak" hit three different charts simultaneously.
BONNIE RAITT PERFORMS AT RIO VISTA OUTDOOR AMPHITHEATER
Singer, songwriter and guitarist Bonnie Raitt will appear with special guest Maia Sharp on Saturday, May 16 at the Rio Vista Outdoor Amphitheater at Harrah's at 8 p.m. Tickets range from $47.50 to $87.50.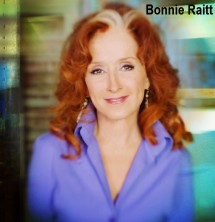 Raitt's music style blends blues, R&B, rock and pop. She broke through to the top in the early 90s after being a cult favorite for years with her Grammy award winning albums, "Nick of Time" and "Luck of the Draw." With nine Grammys under her belt and a long history of social activism, she tours regularly packing numerous benefit concerts into her schedule. After a brief hiatus, Raitt is back and recharged with a batch of great new songs. The Rock and Roll Hall of Famer's 19th album, "Slipstream," is her first in seven years and it is steeped with her inimitable slide guitar and soulful vocals.
Sharp has been embraced by major music stars like Bonnie Raitt, Carole King, Art Garfunkel and Trisha Yearwood and now it is her turn in the spotlight. Her latest album, "Change The Ending" and recording "Echo" allows audiences to appreciate this gifted singer, writer and multi-instrumentalist.
AQUARIUS PARTNERS WITH DISCOUNT ON SCENIC HORSEBACK RIDES
Channel your inner cowboy or cowgirl and saddle up for some scenic horseback riding along the beautiful Colorado River in the Lake Mead National Recreation Area at a special discounted price with Aquarius' new Horseback Ride and Room Package.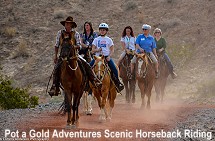 The Aquarius is teaming up with Laughlin's newest attraction, Pot A Gold Adventures Scenic Horseback Rides, by offering Aquarius hotel guests 25 percent off horseback rides for two people when they book the special package. One hour, one and a half hour, two hour and three hour rides are offered daily with prices ranging from $50 to $130 before the discount.
The trail rides provide guests views of Nevada, Arizona, the Laughlin resorts and Lake Mohave. The horseback rides begin near the base of Davis Dam at the equestrian corrals at the trails, using only experienced horses matched to every rider's ability level. Pot A Gold owners Jim and Sheila Peterman operate several ranches in Arizona and have brought horses to the trails for several years during special events. The Petermans also offer western riding lessons for $50 an hour, and family friendly wagon rides.
TROPICANA HOSTS CINCO DE MAYO CELEBRATION AND CAR SHOW
The event begins with the Cinco de Mayo Car Show hosted by Happy Times Events from noon on Friday through Saturday at the resort's north parking lot. Viewing is free for car show and motorcycle enthusiasts. Awards such as "Best Paint," "Best Original Restored" and "Trop Choice" will be given on Saturday.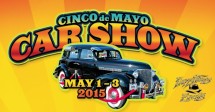 The Victory Plaza Dance Party will feature live entertainment, free admission and a cash bar. The Midnight Cruzzers will perform May 1 from 4:30-8:30 p.m. and May 2 from 9 p.m. to 1a.m. Rocky Padilla & the L.A. Latin Side will provide music on May 1 from 9 p.m. to 1a.m. and May 2 from 4:30-8:30 p.m. Attendees must be 21 or older.
Headline entertainment will take place in the Pavilion Theater at 8 p.m. Latin R&B, salsa, pop, rock and jazz band, Tierra, will appear May 1. The band is known for their classic hits "Together," "Gonna Find Her," "Memories" and "Zoot Suit Boogie." Chicano rock band, Thee Midniters, perform May 2. The popular East Los Angeles band is known for its cover of "Land of a Thousand Dances." Show tickets are $20.

Partygoers may end the fiesta with sopas at Victory Plaza from 8 a.m. to 1 p.m. on Sunday, May 3 for $5.99.
Looking to the future, the Tropicana's Viva Celebration and Car Show is scheduled Oct. 2- 4.
AQUARIUS OFFERS OPPORTUNITIES FOR CAMARO SLOT TOURNAMENT
Aquarius Casino Resort guests and players still have a chance to compete in The Camaro Slot Tournament being held this summer at the Aquarius' sister Las Vegas property, the Stratosphere, Aug. 13-15. The top 20 slot tournament point earners will compete for a share of $25,000 in cash and prizes and one of those lucky players will win and drive home a Limited Edition 2010 Dale Earnhardt Hall of Fame Camaro signed by members of the Earnhardt family.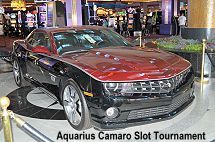 The Aquarius is offering three ways to qualify. One is guests signing up for an ace | PLAY™ card receive five drawing tickets. For every 100 additional points earned within the first 48 hours from enrollment, new members receive five additional drawing tickets. This promotion runs through Friday, July 31.
The second is participating in the Camaro Point Challenge, which is open to the entire casino floor: May 3-9; May 17-23; June 7-13; June 14- 20; July 5-11; and July 19-25. The top 10 point earners from each week of the Camaro Point Challenge will earn drawing tickets starting with 100 tickets for first place.
The third way is by booking a guest room reservation online, which earns10 drawing tickets. After the guest arrives and checks in, they will receive a letter explaining the promotion. The guest can then earn additional drawing tickets by participating in either the new member or Camaro Point Challenge promotions.
Each of these promotions will go into the same drawings at Aquarius being held: Friday, May 1 - 15 winners; Monday, June 1 - 10 winners; Wednesday, July 1 - 15 winners; and Saturday, Aug. 1 - 10 winners. Each of the winners will advance to the August Camaro Slot Tournament at the Stratosphere and receive three free nights Aug. 13-15, plus an invitation to the awards cocktail party for two.
COLORADO BELLE FEATURES EVENTS ON THE RIVERWALK
The month of May will begin with "Baja Days" on the Riverwalk at the Colorado Belle and The Loading Dock Outdoor Stage, May 1-3. The "Riverwalk BBQ Festival" will follow May 15-17. The next celebration will be the "Rock 'n' Ribs Festival" May 22-24.
Each event will sell food and beverages and offer free music provided by two bands. Hours for all three festivals will be Friday 4-10 p.m., Saturday 2-10 p.m., and Sunday noon to 7 p.m.
TOP OF NEXT COLUMN
RAMON AYALA VISITS LAUGHLIN EVENT CENTER
Ramon Ayala, the "King of the Accordion," who first rose to fame as a member of Los Relampagos del Norte or "Lightning from the North" in the early 1960s will perform at the Laughlin Event Center on Saturday, May 2 at 8 p.m. Since producing his first hit single, 1963's "Ya No Llores," Ayala has gone on to revolutionize the Mexican musical genre known as norteño and risen to stardom, producing 105 albums, appearing in 13 motion pictures and winning two Grammys and two Latin Grammys. Tickets range from $45 to $300.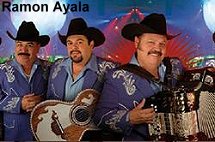 EDGEWATER OFFERS 'COMEDY ON THE EDGE'
Friday-Sunday every week comedians are on the roster at the Edgewater showroom performing at 7 p.m. in "Comedy on the Edge." Tickets are $10 and every Sunday veterans get a $2 discount.
Upcoming comedians include: May 1-3-Andy Beningo and Bill Boronkay; May 8-10-Andrew Rivers and David Tobey; May 15-17-Chris Warren and Jeremy Greenberg; May 22-24-Bill Campbell and Nola J.; May 29-31: Rickey Shackleford and Mark Minguey; June 5-7: Randy Lubas and Jeff Johnson; June 12-14: Jimmy DellaValle and Rich Slaton; June 19-21 Anthony Padilla and Michael Vitiello; and June 26-28: Derek Richards and Derrick Stroman.
Andy Beningo is paired with Bill Boronkay May 1-3. Beningo was named "Best Comedian" by the "Detroit Metro Times" and was a final four finalist on CMT's "Next Big Comic." He is a regular guest on radio's nationally syndicated "Bob & Tom Show," has been heard on XM Sirius Radio, overseas on the American Forces Network, on the "Daren Streblow Comedy Show," and has appeared on the NBC affiliate show, "Night Shift with Kevin Ferguson." Recently, Beningo won the Clean Guy's Unbleepable Contest, and his stand-up clip on text messaging premiered before Dave Coulier's Clean Guys of Comedy movie, which was in more than 600 theaters nationwide.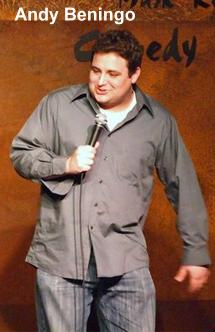 Andrew Rivers will work with David Tobey May 8-10. After losing a lucrative marketing job in Seattle, Rivers spent the first few months on his couch complaining about his life. Eventually he realized he could complain on stage and get paid for it. The rising young comedian can be heard on CBS radio frequently and plays clubs, casinos and bars around the country.
Chris Warren, "The Politically Incorrect Comic" is booked May 15-17 with Jeremy Greenberg. Warren has been spewing forth his rhetoric on stages from coast to coast and throughout Canada for more than 17 years, delighting audiences even as he tears apart the core beliefs of the politically correct, the environmental extremists, the religious freaks and the animal rights activists.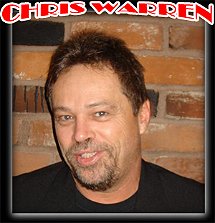 Veteran stand-up comedian Bill Campbell, who has been entertaining audiences for 25 years, will appear with Nola J. Campbell. His universal family-oriented humor has made him a sought after headliner throughout the United States and Canada. Campbell has done it all from small intimate comedy clubs to lavish cruise ships and corporate functions.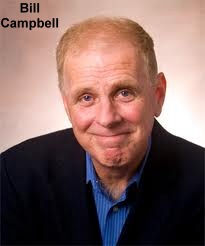 SOME HOTELS SCREEN PACQUIAO VS MAYWEATHER FIGHT
The Manny Pacquiao vs Floyd Mayweather fight will be shown via closed circuit on big screen monitors at Harrah's, Edgewater and Aquarius on Saturday, May 2.
At Harrah's the fight will be shown in the Rio Vista Outdoor Amphitheater. Cost is $40-$45 with two beverages included. In The E Center at the Edgewater, tickets are $60. At the Aquarius the anticipated mega-fight will be show in the Splash theater and will only be available with a two-night room package starting at $279, call 800-662-5825.
RIVERSIDE HOLDS MEMORIAL WEEKEND COMEDY FEST
The Riverside will focus attention on laughter with the Memorial Weekend Comedy Fest Thursday-Sunday, May 21-24. The lineup includes Gabe Lopez, The Smash Brothers, DJ Cooch, Joey Medina and Steve "Mudflap" McGrew. Tickets are $20 for the 8 p.m. show.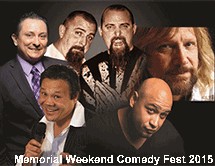 Lopez has been doing stand-up since 2002 when he was given the opportunity to perform on open mic night at the Improv Comedy Club.
Cory and Chad aka The Smash Brothers are identical twins who were born and raised outside of Los Angeles. If you ever wonder what it is like to be a twin, these two will show you.
DJ Cooch is a comedian, actor and disc jockey and was recently inducted into the Improv Wall of Fame.
Medina, born and raised in the Bronx, N.Y., is one of the freshest and funniest comedians to date.
"Mudflap" McGrew comes from an unconventional background. He was a cartoonist for the Houston Chronicles but knew early on that comedy was in his blood. He soon became a fixture at Houston's Comedy Workshop where Sam Kinison and Bill Hicks launched their careers.
TOWER OF POWER BRING RHYTHM TO THE RIVERSIDE
Tower of Power will deliver Rhythm and Blues at Don's Celebrity Theatre at the Riverside May 8-10 at 8 p.m. They have been a power for close to five decades with their first record, "East Bay Grease," helping to define the East Bay sound. The decade of the 1970s were a boom period for the group with radio classics like "So Very Hard To Go" and "What Is Hip?" The band has continued to tour and record over the years with their latest project "Hipper Than Hip" being a live flash back to their 1974 tour. Tickets are $30.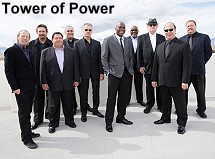 FAST TRACKING NEWS
Don's Celebrity Theatre at the Riverside is featuring Desperado - tribute to The Eagles April 29-May 3. Desperado highlights five talented musicians and highly accomplished vocalists taking great measure bringing forth the authentic, original Eagles' sounds. This band does a "totally live" show, free of backing tracks, overdubs or any other tricks to enhance the vocal sound. Shows are at 8 p.m. and tickets are $25.
For Mother's Day, Sunday, May 10, the Aquarius will offer a Champagne Brunch Buffet at Windows on the River Buffet with moms only paying half price or treating mom to a gourmet three-course meal at The Vineyard Ristorante.
All the bars inside the Aquarius will offer several drink specials throughout the month of May including: a tequila shot of Patron Silver or Patron Reposado for $5.50; a mango daiquiri for $6 or berry buster for $6; and for beer lovers an Alaskan Stout for $5 or Wookey Jack IPA for $6. Guests can also order a bucket of six Budweiser or Budweiser Lights for $18.
Phins to the West will be a big Parrothead party celebrating Trop Rock and the Jimmy Buffett lifestyle at the Aquarius Pavilion, pool and Splash May 14-17. There will be theme pool parties, nine live bands performing including SouthernDawl, pool games, contests, etc., Thursday-Sunday. For information, visit phinstothewest.com.
The International Gift and Craft Show will be held at the Taos Room at the Edgewater May 22-24 during the Memorial Day Holiday weekend. This show will feature vendors showcasing handmade items such as exotic Indian skirts and tops, belly dancing and Zumba apparel, jewelry, scarves, Pashminas, Native American jewelry and pottery, pain relieving oils and sea salts, home decorations, candles, picture frames and keepsake boxes, tarot readings, and much more. Entry is free.
Jason Bonham's Led Zeppelin Experience will take place at the Avi Grand Ballroom on Saturday, May 30 at 8 p.m. Tickets are $42.50 - $50.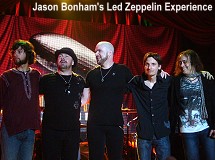 The 28th Annual Chefs Food Fest will be held at the Aquarius Pavilion on Thursday, June 11 at 5:30 p.m. The event will highlight chefs from the food and beverage departments of the Laughlin casinos, plus other local restaurants and food/wine distributors and show off their creativity in a competition. The public will get to sample food/beverages at this yearly event. Proceeds will benefit The River Fund, Inc. Tickets are $50, call 702-298-2214, ext 0 or visit the Laughlin Chamber of Commerce.
Tropicana captured awards from "Casino Player," resulting from the national magazine's annual "Best Dining & Nightlife Awards" survey. The resort captured first place nods for The Steakhouse voted "Best Steakhouse" and "Best Romantic Restaurant" while the resort's Sushi Bar received "Best Asian" and Passaggio Italian Gardens was acknowledged for "Best Pizza."
Sunday Champagne Brunch served from 8 a.m.-2 p.m. at the Colorado Belle's Loading Dock has added new menu items to the buffet including seafood, a variety of salads and desserts. Cost is $25.99.
CONTINUE ON TO...:

THIS WEEK'S >LAS VEGAS NEWS
LAST MONTH'S >LAUGHLIN NEWS
>VEGAS VIEW FULL ARCHIVES
Return to >"Heard Around Town"
Return to >Las Vegas Leisure Guide