ZZ TOP PAYS A VISIT TO HARRAH'S OUTDOOR AMPHITHEATER!

ZZ Top will rock Harrah's Rio Vista Outdoor Amphitheater on Friday, April 24. Tickets range from $47-$87 for the 8 p.m. show.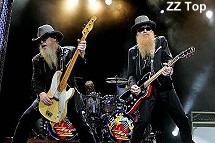 ZZ Top is an American rock band that formed in 1969 in Houston, Texas, and one of the few major label recording groups to have the same lineup for more than 40 years. The group was inducted into the Rock and Roll Hall of Fame in 2004. As of last year, the band has had global album sales in excess of 50 million. Their 1983 album, "Eliminator," remains the group's most commercially successful record, selling more than 10 million units.
DIERKS BENTLEY BRINGS COUNTRY MUSIC TO LAUGHLIN
Country star Dierks Bentley will infuse the Laughlin Event Center with his hit songs on Saturday, April 11. Tickets range from $25 to $105.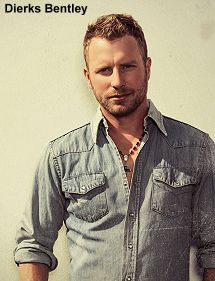 His latest album and seventh one is "Riser," which stands as his most personal to date with two number one hits tunes - "I Hold On" and "Drunk on a Plane." Written and recorded in the year following his father's death, the album draws its title from "I'm A Riser," a song about resilience and determination. "I'm A Riser" works as a commentary on spiritual, personal and societal recommitment, but it also applies to the competitive battlefield of the music industry. It's particularly appropriate for an album about rejuvenation delivered by Bentley.
MUSIC LEGEND LEON RUSSELL PERFORMS AT THE RIVERSIDE
Leon Russell, who in his 50-year career has played on, arranged, written and/or produced some of the best records in popular music, will headline in Don's Celebrity Theatre at the Riverside April 10-12. Tickets are $30.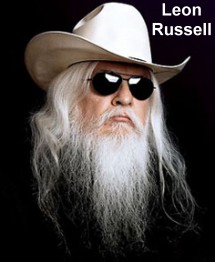 Born in Oklahoma in 1942, Russell began piano lessons at age 4 and was playing in Tulsa nightclubs by age 14. After graduating from high school, Russell's band, The Starlighters, went on the road with Jerry Lee Lewis for almost two months. At age 17, Russell moved to Los Angeles and began playing in the L.A. clubs and eventually became one of the best session musicians in Hollywood. As a session musician, arranger, producer, singer, songwriter, pianist, guitarist, record company owner, bandleader, and touring musician, he has collaborated with hundreds of artists.
Russell continues to write songs, record, and tour non-stop across the United States. His son Teddy Jack and daughters Sugaree and Tina Rose have all been in his band and his bass player, Jack Wessel, has been with him for 32 years. Russell's musical style is still resonating with his lifelong fans and is inspiring younger listeners who are discovering his music from either the "Mad Dogs & Englishmen" or "Concert For Bangladesh" DVDs.
IT'S TIME FOR BLUES & BREWS AND BUDDY GUY
The 17th Annual Blues & Brews Festival will be held outdoors on Colorado Belle's Riverwalk and at the Loading Dock Bar & Grill Stage Friday through Sunday, April 17-19. The returning featured act will be Buddy Guy in concert at the Edgewater E Center on Saturday, April 18 at 8 p.m. Tickets to see Guy start at $30.
At age 78, seven-time Grammy and 23-time WC Handy Award winning Blues giant Buddy Guy received his 7th Grammy--the Lifetime Achievement Award on Feb. 8. Guy is a Rock and Roll Hall of Fame inductee and a pioneer of Chicago's fabled West Side sound. Guy's 23 W.C. Handy Blues Awards are the most any artist has received. He also received the 2012 Kennedy Center Honors for lifetime contribution to American culture, and the Presidential National Medal of Arts. "Rolling Stone" ranked him in the top 30 of its "100 Greatest Guitarists of All Time."
Blues fans will also get to enjoy great bluesmen performing all weekend on the Loading Dock stage. Memphis bluesman Preston Shannon, a powerful guitarist with soulful vocals and the reigning "King of Beale Street," returns to the Belle for Blues & Brews. Also returning will be Las Vegas bluesman John Earl & The BoogieMan Band and Chris Hiatt. New this year is rockin' blues guitarist Chris Duarte. Entertainment at the Loading Dock is free to the public.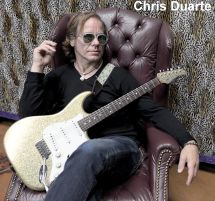 The event will also feature great food and beer including several Pints microbrews for sale. Event hours are 4-10 p.m. Friday, 2-10 p.m. Saturday, and noon to 7 p.m. Sunday.
RIVER RUN TAKES OVER LAUGHLIN APRIL 23-25
The 33rd Annual Laughlin River Run will attract more than 40,000 motorcycle enthusiasts to the Colorado River city Thursday through Saturday, April 23-25. This is the largest motorcycle-oriented event on the West Coast. Activities will include: stunt shows; motorcycle exhibits; custom bike shows; demo rides; all types of clothing, leather and motorcycle vendors; the annual Miss Laughlin River Run contest; wet t-shirt contest; free outdoor live entertainment; and the always-popular "American Heroes Charity Poker Run" to Oatman, Ariz., on historic Route 66.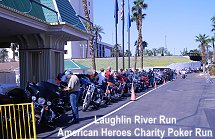 Several Laughlin hotels will feature top-name entertainment including Slaughter at the Riverside, ZZ Top at Harrah's Rio Vista Amphitheater, plus Foghat and Burton Cummings at the Edgewater's E Center.
A huge bar sponsored by the Hogs & Heifers Saloon in Las Vegas will dominate Edgewater Outdoor Party Zone and feature dancing bartenders and entertainment daily.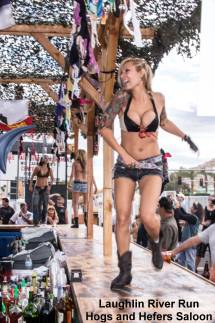 Free live blues entertainment featuring John Earl & The BoogieMan Band and Chris Hiatt will be featured on the Loading Dock stage Thursday through Saturday.
The Edgewater's main entrance will feature the Mexican Cantina "Paco's Tacos" with bar and food plus a DJ.
FOGHAT - CUMMINGS HEADLINE DURING LAUGHLIN RIVER RUN
Foghat will start the weekend performing at the Edgewater's E Center on Friday, April 24 at 8 p.m. Foghat has been together for 43 years, with Roger Earl in that drum seat throughout that time. In 2013, the band released a single called "The Word of Rock n' Roll," a Christmas instrumental version of "Winter Wonderland," and a new DVD "Live In St. Pete." Their latest single "Boogie Train" was released last year and they are currently working on yet another new CD. Tickets range from $15 to $45.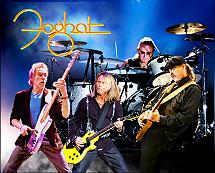 The next night, April 25, Burton Cummings - former lead singer and songwriter with The Guess Who performs at 8 p.m. Both with the group and on his own, Cummings has enjoyed a career spanning more than 40 years and has amassed more hit records than just about any other Canadian performer in history. He has racked up an impressive 80 platinum and gold record awards. Tickets range from $25 to $55.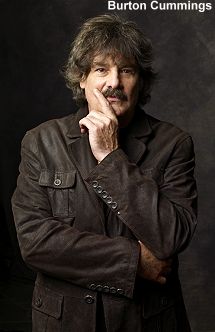 TATTOO CONVENTION COINCIDES WITH RIVER RUN

The Laughlin Tattoo Convention - "Ink Mayhem" will be held April 22-25 in the Laughlin River Lodge Event Center on the mezzanine level from noon to midnight each day.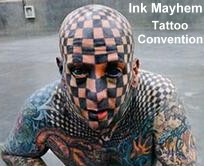 This event will feature live tattooing, art fusion, indoor/outdoor vendors, a tattoo biker babe contest, celebrity artists, tattoo contests, tattoo raffle, and blues music by Catbone Thursday through Saturday. Admission is free.
TOP OF NEXT COLUMN
EDGEWATER COMEDIANS PROMOTE LAUGHTER
On weekends, Friday-Sunday, comedians star at the Edgewater showroom at 7 p.m. in "Comedy on the Edge." Tickets are $10 and every Sunday veterans get a $2 discount.
The future lineup of laugh makers includes: March 27-29 - Scott Long and Todd Link; April 3-5- Keith Barany and Mike James; April 10-13- Ryan Clauson and Boomer Nichols; April 17-19-Marc Yaffee and Ina Romeo; May 1-3- Andy Beningo and Bill Boronkay; May 8-10: Andrew Rivers and David Tobey; May 15-17- Chris Warren and Jeremy Greenberg; and May 22-24- Bill Campbell and Nola J.
Ryan Clauson will share the stage with Boomer Nichols, April 10-13. In 2012, judges from NBC, ABC, and CBS rated Clauson as the best performer in the Seattle International Comedy Competition. He was voted Boston's Best Young Comic by AOL.com. Performing at major comedy venues, Clauson's material is based on true stories.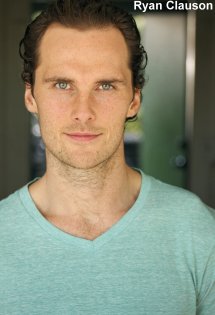 The following week, April 17-19, Marc Yaffee will be paired with Ina Romeo.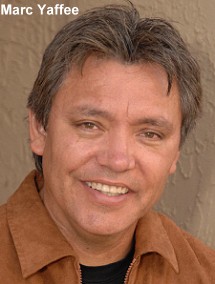 Yaffee is a gifted writer and performer blazing his way across the standup comedy scene. He describes his material as a comedy buffet, feeding the audience his views and observations on everything from family and being adopted to politics and pop culture. Currently in year 16 of the 50-year plan, Yaffee has performed in 25 states, the Middle East five times for the troops, the Pacific and Asia.
CHASE BRYANT BRINGS COUNTRY TO THE AVI
Chase Bryant, who was named recently as one of "The Best Things We Saw at CMA Music Fest 2014" by "Rolling Stone," will perform at the Avi Grand Ballroom on Saturday, April 25 at 8 p.m. Tickets are $25.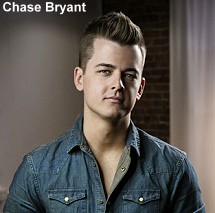 Bryant a 21-year-old Texan who is completely defined by music is already a top-flight guitar player, head-turning songwriter, RED BOW recording artist and co-producer of his debut album. Raised in Orange Grove, Texas, with a population of 1,200, his music influences were strong with his grandfather playing piano in Roy Orbison's first two bands and, later, for Waylon Jennings. His uncles co-founded the group Ricochet, which had several hits in the '90s. Because of his Roy Orbison connection, someone suggested a meeting with Orbison's widow, the late Barbara Orbison, a prominent Nashville publisher, who signed Bryant on the spot, making him her final signing before she passed.
RIVERSIDE EXPLODES WITH TOP TRIBUTE ACTS
A powerful lineup of tribute acts are scheduled in Don's Celebrity Theatre at the Riverside: Randy Linder's CCR Tribute March 25-29; Barbra & Frank: The Concert That Never Was April 1-5; The Troubadour Experience - tribute to George Strait April 15-19; and Desperado - tribute to The Eagles April 29-May 3. Shows are at 8 p.m. and tickets are $25.
Randy Linder's Tribute to Creedence Clearwater Revival features his band using the same energy and passion of the original group. Linder has been a performer for more than 30 thirty years.
"Barbra & Frank, The Concert That Never Was" has two great artists paying tribute to Streisand and Sinatra who never worked together... until now. This interesting pair is even skilled at delightful onstage banter giving the show an amazing rapport between two 20th century music icons.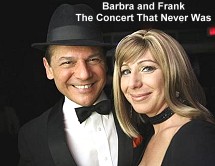 The Troubadour Experience incorporates all of the real concert production creating the look, sound and feel as if you are truly at a George Strait concert. Each member of the band was hand chosen for their expertise and attention to detail. They have opened for many big name national acts.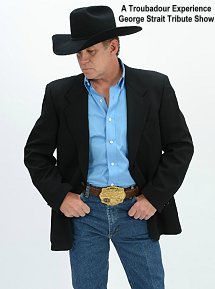 Desperado features five talented musicians and highly accomplished vocalists taking great measure to bring forth the authentic, original Eagles' sounds. This band takes great pride in bringing you a "totally live" show, free of backing tracks, overdubs or any other tricks to enhance the vocal sound.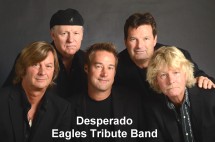 FAST TRACKING NEWS
Alabama, the trio of cousins from Fort Payne, Ala., will headline the Laughlin Event Center on Saturday, March 28 at 8 p.m. The group concluded a tour at the end of last year celebrating the release of their gospel album, "Angels Among Us: Hymns & Gospel Favorites." This year, the band will release their first studio album of new material in 14 years and continue touring. Tickets range from $25 to $250.
Slaughter will appear at the Riverside April 23-25 at 9 p.m. Tickets are $20.
Slaughter is a hard rock band formed in Las Vegas, Nev., by lead vocalist/rhythm guitarist Mark Slaughter and bassist Dana Strum. The band reached stardom in 1990 with their first album "Stick It to Ya," which spawned several hit singles and reached double platinum status in the United States. This group continues on the road playing with such bands as Great White, Skid Row, Quiet Riot and Ratt.
During the Easter weekend, the International Gift and Craft Show will be held in the Rio Vista Room at the Edgewater April 3-5. Several vendors will showcase handmade items such as exotic Indian skirts and tops, belly dancing and Zumba apparel, jewelry, scarves, Pashminas, Native American jewelry and pottery, pain relieving oils and sea salts. The day-long exhibit opens at 10 a.m. each day. Admission is free.
The Aquarius will debut its new Sunday Champagne Brunch on Easter Sunday, April 5 from 7 a.m. to 3 p.m. at Windows on the River Buffet. Cost ranges from $17.99 with a player's card to $23.99 without one. The resort will also offer a four-course meal at The Vineyard Ristorante for Easter Sunday dinner costing $31.95 with an ace | PLAY card or $35.50 without one.
The Cinco de Mayo Car Show will be held in the North Parking Lot and Victory Plaza at the Tropicana on Friday and Saturday, May 1-2. The annual car show will have a Show 'n' Shine, vendors, DJ, and contests from 10 a.m. to sunset both days. There will be a dance party in Victory Plaza with two bands each day from 4:30 p.m.-1 a.m. It's free to view cars and attend the dance parties. On Friday, May 1 Tierra will headline in the Pavilion Theater and on Saturday, May 2 Thee Midniters will take the stage. Shows are 8 p.m. both days and tickets are $20.
The Smokey Hayes 4th Annual "Porkin' on the River" BBQ competition will be held in the front parking lot at the Pioneer on Saturday, March 28. There will be two categories of BBQ: pork ribs and pork shoulder, with a $1,500 prize for the grand champion. There will be live music, vendors, and samplings at 12:30 for $2.
AQUARIUS CONNECTS WITH LAS VEGAS CAMARO SLOT TOURNAMENT
Aquarius Casino Resort guests and players have an opportunity to compete in The Camaro Slot Tournament being held this summer at the Aquarius' sister Stratosphere property in Las Vegas, Aug. 13-15. The top 20 slot tournament point earners will compete for a share of $25,000 in cash and prizes during the tournament and one of those lucky players will win and drive home a Limited Edition 2010 Dale Earnhardt Hall of Fame Camaro signed by members of the Earnhardt family. The limited edition vehicle will be on display at Aquarius March 23-April 19.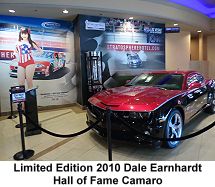 The Aquarius is offering three ways to qualify. One is guests signing up for an ace | PLAY™ card will receive five drawing tickets. For every 100 additional points earned within the first 48 hours from enrollment, new members will receive five additional drawing tickets. This promotion will run Wednesday, April 1through Friday, July 31.
The second way is participating in the Camaro Point Challenge, which is open to the entire casino floor on the following dates: April 5-10; April 12-18; May 3-9; May 17-23; June 7-13; June 14- 20; July 5-11; and July 19-25. The top 10 point earners from each week of the Camaro Point Challenge will earn drawing tickets starting with 100 tickets for first place.
The third way is by booking a guest room reservation online at AquariusCasinoResort.com, which earns10 drawing tickets. After the guest arrives and checks in, they will receive a letter explaining the promotion. The guest can then earn additional drawing tickets by participating in either the new member or Camaro Point Challenge promotions.
Each of these promotions will go into the same drawings at Aquarius being held on the following dates: Friday, May 1 - 15 winners; Monday, June 1 - 10 winners; Wednesday, July 1 - 15 winners; and Saturday, Aug. 1 - 10 winners. Each of the winners will advance to the August Camaro Slot Tournament at the Stratosphere and receive three free nights Aug. 13-15, plus an invitation to the awards cocktail party for two.
CONTINUE ON TO...:

THIS WEEK'S >LAS VEGAS NEWS
LAST MONTH'S >LAUGHLIN NEWS
>VEGAS VIEW FULL ARCHIVES
Return to >"Heard Around Town"
Return to >Las Vegas Leisure Guide