LEGENDS IN CONCERT STAYS CURRENT WITH TWO NEW ARTISTS!

Checked out the new lineup at "Legends in Concert" at the Flamingo. Each time a new artist is integrated into the show, new costumes and routines are created. Joining the current cast members Jason Jarrett as Michael Jackson, Chris VanDahl as Steven Tyler and Elisa Furr as Celine Dion are Jourdan Carroll as Barry White and Dean Z as Elvis.

Barry White follows Jackson and hits the stage with incredible baritone-bass vocals. Carroll sings such hits as "Can't Get Enough," "Love Theme" and "My First, My Last."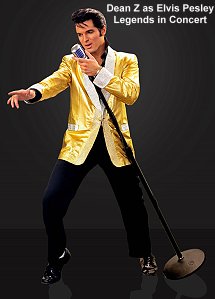 Elvis carries the show to the finale with his "Jailhouse Rock" and other classics including "Blue Suede Shoes," "If I Can Dream" and "Don't Be Cruel." Dean Z is the 2013 winner of The Ultimate Elvis® Tribute Artist Contest™ sanctioned by Elvis Presley Enterprises, Inc. The biggest surprise and something this reporter hasn't seen before is Dean Z and three members of the five-piece live band sitting on the stage stairs in the audience holding an impromptu jam session with Dean Z playing guitar and taking audience requests. The show's COO verified that Dean Z does different songs each day. It's very impressive and really shows how talented he is.
"Legends in Concert" has been on the Strip for more than three decades. That in itself is a good testament to the show's credibility.
PITBULL WILL HEADLINE SEVEN SHOWS AT PLANET HOLLYWOOD
Global music superstar Pitbull will visit The AXIS at Planet Hollywood this fall for a limited seven-show engagement with his "Time Of Our Lives" show Sept. 23-Oct. 7. Tickets for his 9 p.m. performances range in price from $39-$169.
Pitbull is an internationally successful musician, performer, business entrepreneur, fashion icon and actor also known as Mr. 305 and Mr. Worldwide. Including his current album, "Globalization," his music sales have exceeded five million albums and 60 million singles worldwide. Pitbull has scored No. 1 hits in more than 15 countries.
KENNY CHESNEY HOLDS REVIVAL AT THE JOINT OVER FOURTH
Country superstar Kenny Chesney will perform at The Joint with his The Big Revival Tour on Friday and Saturday, July 3 and 4. Tickets start at $155.
Chesney has played The Joint nine times, which is more than any other artist or band excluding the residency bands, and that includes a show for the opening of the new Joint in April 2009. Their two July shows will bring the total to 11 performances at the venue.
MO5AIC SETTLES IN AT BALLY'S WINDOWS SHOWROOM
MO5AIC (pronounced Mosaic) held a VIP media night to celebrate their new residency show in the intimate Bally's Windows Showroom. The famous a cappella superstars were joined by celebrities including their mentor comedian George Wallace. The group turned a three-week opening gig with Wallace into a three-year run with him at the Flamingo a few years ago.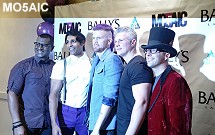 The group was started by Josh Huslig who while working in vocal groups at Walt Disney World in the early 2000s recruited other talented theme park employees to form MO5AIC. Huslig stands out with his neon multihued Mohawk but each member including Heath Burgett, Jake Moulton, Corwyn Hodge and Roopak Ahuja, is distinctly different in appearance and style.
Musically the show crosses many genres including opera that Huslig belts out. Skillfully they can go from "Mack the Knife" by Bobby Darin to "Radioactive" by Imagine Dragons. There's quite a bit of audience interaction including a time when Huslig demonstrates vocal looping. Since Chris Phillips better known as Zowie Bowie was in the audience, Huslig got him on stage. It's nice to have MO5AIC back in Las Vegas.
ANCHOR BAR INTRODUCES EAST COAST FAVORITES TO LAS VEGAS
An upstate New York tradition, Anchor Bar is widely credited with inventing America's beloved bar food, the buffalo wing. Anchor Bar is an iconic Buffalo, N.Y., institution. Since 1964, Anchor Bar has been serving its signature Buffalo wings that Teressa Bellisimo created one night as an improvised snack taking chicken wings, usually meant for the stock pot, and frying them up fried them up and coating them.
The first West Coast outpost located in the Grand Canal Shoppes in the food court area is the classic eatery's first quick service outpost where you can dine in or carry out; plus they cater. In addition to the original wings that come mild, medium, hot, spicy hot BBQ and suicidal, there are other flavors including chipotle, honey-ginger, salt & pepper, spicy Italian, lemon-pepper and teriyaki-sesame.
The menu has many more selections including salads, which the Kale choice is addictive, sandwiches like the signature Beef on Weck (baked Kimmelweck role), spicy chicken meatballs, and the irresistible gelato chocolate covered Anchor Bar. Beer, wine and cocktails are also available.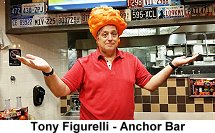 Spotting what looked like an eerie atomic bomb cloud among the merchandise, the COO Tony Figurelli had to explain its existence. Turns out it's a chicken wing you wear on your head giving the Wisconsin cheese heads a little competition.
STANLEY CUP TAKES A RIDE ON THE HIGH ROLLER
In true celebrity form, you never know where the Stanley Cup will show up. On Tuesday afternoon, June 23, the National Hockey League championship trophy, took a ride on the High Roller at The LINQ Promenade. The Stanley Cup was accompanied by Phil Pritchard, The Hockey Hall of Fame's "Keeper of the Stanley Cup."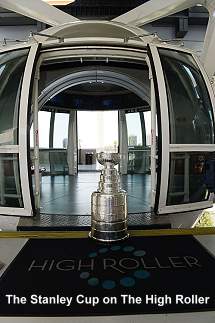 DROPKICK MURPHYS PERFORM AT FREMONT STREET EXPERIENCE
Fremont Street Experience and UFC (Ultimate Fighting Championship) have partnered to present a free concert by multi-platinum artists Dropkick Murphys on July 10 at 9 p.m. on the 3rd Street stage as part of the 4th Annual UFC International Fight Week. The show will kick-off a 19-city international tour for the American-Celtic punk rock band from Quincy, Mass. Dropkick Murphys have released eight albums and sold more than four million records in their nearly 20-year career.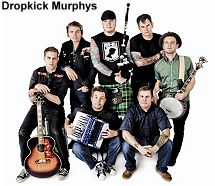 Dropkick Murphys is named after John "Dropkick" Murphy, a football player, wrestler, boxer and coach who ran a training camp in Boston.
WAYNE BRADY HEADLINES AT THE MIRAGE
Wayne Brady the Emmy Award-winning actor, improv artist and television will return to The Mirage as part of the Aces of Comedy series on Saturday, July 11 at 10 p.m. Brady hosts the daytime show on CBS "Let's Make A Deal." Tickets start at $39.99.
NEON MUSEUM'S VISITORS CENTER MAKES HISTORIC PLACES REGISTER
The La Concha visitor center at the Neon Museum has been named to the Nevada State Register of Historic Places. The building was the former lobby for the La Concha Motel located just south of the Riviera. It was designed by Paul Revere Williams, the first African-American member and fellow of the American Institute of Architects.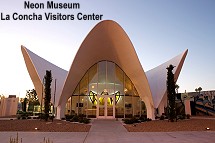 The clam shell lobby was constructed in 1961for the 100-room motel. The look was inspired by the "Googie," or coffee-shop, architectural style that was popular in the mid-century American West. Its whimsical, curvilinear form constructed of thin-shell concrete and glass was designed to resemble a seashell. The La Concha remains one of the few existing examples of the once-popular roadside design. Grassroots preservation efforts saved the structure that was moved in December 2006 in eight pieces to the two-acre Neon Museum grounds.
CONTAINER PARK GETS FIVE NEW BUSINESSES
Downtown's development Container Park is considered an incubator village for startup businesses so they do come and go. The shopping center made from repurposed shipping containers permits leases for as short as three months. Currently there are 38 stores and one vacancy. The five new entrepreneurs are: Uptown Children's Boutique; Downtown Beauty Co.; Sassy the Boutique; The Pink Tutu Ballet; and Vegas Flip Flops.
TOP OF NEXT COLUMN
GEORGE THOROGOOD & THE DESTROYERS AT SUNSET STATION
Rock legend George Thorogood & The Destroyers will return to Las Vegas for a special performance at the poolside Sunset Amphitheater at Sunset Station Saturday, Sept. 19 at 8 p.m. Tickets are $23.50 to $60.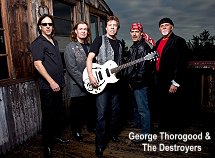 Thorogood began his career as a solo acoustic act and then became an electric trio for a while. Now more than four decades later, the group has performed 8,000 live shows and sold some 15 million albums worldwide.
WILLIAM SHATNER SHOWS OFF RIVET MOTORCYCLE
Actor William Shatner who captained the Starship Enterprise for more than 30 years has created the first-of-its-kind Rivet motorcycle with American Wrench. As part of the final road test, Shatner is riding the bike across the country showcasing Rivet alongside the machine builders and members of The American Legion Riders in different cities. Last minute news said he'll be at Caesars Palace, front valet/entrance on Monday, June 29 at 6:30 p.m.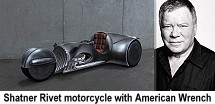 Shatner will be making an eight-day trip retracing the route he took to Hollywood when he was 19 years old and following the famous Route 66 for most of the trek.
LIGHT NIGHTCLUB-DAYLIGHT BEACH CLUB HOSTS PLAYBOY WEEKEND
LIGHT Nightclub and DAYLIGHT Beach Club at Mandalay Bay in a partnership with Playboy will host a series of events including a Las Vegas version of the famed Midsummer Night's Dream Party and a Playmate search July 10-11.
The Playmate search will take place on Friday, July 10. The prize is the "Ultimate Playmate Experience," including airfare to Los Angeles, hotel accommodations and a photo shoot at the official Playboy studio and the top three finalists will be awarded $5,000 in total cash prizes.
Playboy's seductive Midsummer Night's Dream party will be on Saturday with a "1,001 Arabian Nights"-theme taking over LIGHT Nightclub along with a plethora of Playboy Bunnies. During the day, will.i.am will provide the music at DAYLIGHT.
FERRARO'S DEBUTS NEW DINNER PACKAGE WITH TRANSPORTATION
Ferraro's is offering private transportation in addition to its dining experience. Guests can book a reservation for up to six guests that will include a four-course dinner prepared by Executive Chef Mimmo Ferraro excluding wine, beer and cocktails, along with private limousine roundtrip service provided by Personal Sedan Service. Price for two is $300 plus gratuity and $200 for each additional couple.
DB BRASSERIE AND HONEY SALT HOLD THEMED DINNERS
The Wilson Daniels Around the World Wine Dinner will be held at db Brasserie inside The Venetian on Friday, July 17 at 6:30. Wilson Daniels' Trade Ambassador-Mountain States and well decorated Certified Wine Educator William Davis will walk diners through a four-course dinner created by Chef Daniel Boulud, pairing courses with wines from Wilson Daniels. For reservations, call 702-430-1235. Cost is $175.
Honey Salt's next monthly edition of its Farm Table dinner series from Chef de Cuisine Brett Uniss will be held July 13 at 6:30 p.m. The menu for the communal dining experience will be inspired by the whole lamb and served in the style of a Greek feast. Cost is $45 and optional beverage pairing is available for an additional $25.
FOURTH OF JULY OFFERINGS
For the Fourth of July, there will be a fireworks display at 9:15 p.m. weather permitting at Caesars Palace.
"American Trilogy" featuring tribute artists Gary Anthony as Frank Sinatra, Justin Shandor as Elvis, and Rob Garrett as Neil Diamond and a live seven-piece band, will return to South Point for three nights July 3-5 to celebrate America's 239th birthday. Tickets are $20 to $30.
Independence Day at Cabo Wabo Cantina inside Miracle Mile Shops at Planet Hollywood will celebrate by hosting a patio party with drink specials and live music by Shawn Eifferman July 3-5. The patriotic Fiesta Firework daiquiri will be available for $19.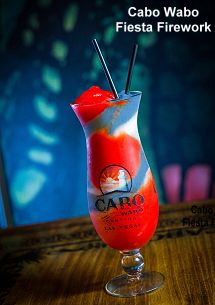 The Life Time Athletic Green Valley will host a Fourth of July bash from 1 to 10 p.m. on Saturday, July 4. The poolside all-ages event will feature a live DJ from 1 to 6 p.m. and again from 7 to 10 p.m. along with drink specials, satellite bars, kiddy games and complimentary hamburgers and hotdogs from 5 to 6 p.m. Life Time will be offering an array of food selections. Partygoers will also have a front-row view of the firework show overlooking the neighboring Green Valley Ranch Resort at 9 p.m. The event is free for members and their guests and for non-members $20 per person, which includes a 24-hour access window to all club facilities.
CURE 4 THE KIDS FOUNDATION HOLDS 'BOWL 4 THE KIDS' EVENT
The Cure 4 Kids Foundation's 5th Annual "Bowl 4 The Kids" fundraiser to benefit kids in Nevada with catastrophic diseases will take place on Saturday, Aug. 1 at Sunset Station's Strike Zone Bowling Center at 1 p.m. Registration is $25 per bowler, which includes three bowling games, t-shirt on bowl day, pizza, DJ, treats, face painting and more. Patients are free and there will be a raffle and silent auction. To register, contact Becky Stephenson at 702-691-5716.
VIRTUOSO® HOLDS LUXURY TRAVEL CONVENTION AT BELLAGIO
The 27th annual Virtuoso Travel Week will be held at Bellagio Aug. 8-14. Virtuoso®, a by-invitation only organization, is the leading network of luxury travel advisors and entities comprising more than 355 agencies with more than 9,000 elite travel specialists in 26 countries. Virtuoso has announced the nominees for its prestigious "Best of the Best" awards that recognize the industry's top properties and hoteliers. Only 50 hotels are under consideration with the winners being revealed at the Hotels & Resorts Dinner on Aug. 12.
JABBAWOCKEEZ HOSTS THREE-DAY WORKSHOP FOR HIP HOP DANCERS
Dance crew Jabbawockeez will offer Wock As One: Summer Dance Intensive 2015 to benefit Sunrise Children's Hospital and Aid for AIDS of Nevada (AFAN). This unique experience is inviting advanced-level and intermediate dancers of all ages to meet, learn and embrace the Jabbawockeez ways on July 15, 16 and 17.
The dance workshops will feature the best choreographers and performers in the dance and hip hop worlds. Celebrity instructors/choreographers include: Lyle Beniga (Justin Timberlake); Charles (Poreotics/Kinjas); Maryss (Beat Freaks); Koncrete (Street Kingdom); and Flo Master (Usher).
There will be two days of multiple-session trainings at The Rock Center for Dance and the final day of training will take place at the Jabbawockeez Theatre inside the Luxor, where participants will perform a number on the PRiSM stage for invited guests and family members.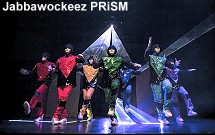 Three-day passes are $200 for intermediate and $250 for advanced dancers, prior to June 30. After that costs goes up $75. Single-class passes are available for $30 per class subject to availability. For information, visit www.wockasone.com.
ABOUT TOWN TIPS
Last week, the cast of History Channel's hit show, "Counting Cars," Horny Mike, Rock N Roli and Ryan Evans, celebrated the premiere of their new season with fans at the D's LONGBAR and watched two new episodes of the show's sixth season. In addition, Mike showed off his new hand-painted "Horny Mike's Smart As$ Car."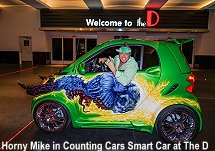 Wet'n'Wild's new promotion allows guests to access the park for $1 per day with their 40-day ticket for $40. The 40-day ticket is good for 40 consecutive days from the date of purchase, and includes access to special events.
The 18th annual Advertising Community Talent Show will hold its fundraiser for Safe Nest on Friday, Sept. 11 in the Chrome Showroom at Santa Fe Station at 7 p.m. Talent entries are being accepted now through July 31.
UFC star Joe Soto will host a fight night viewing party for the UFC 189: Jose "Junior" Aldo vs. Conor "The Notorious" McGregor at the gentlemen's club Crazy Horse III on Saturday, July 11 at 5 p.m.
Last week, the Luxor's Fantasy ladies made a special appearance at the 2015 NHL Awards held at MGM Grand for the first time and it was broadcast live on the NBC Sports Network.
Life After Active Duty and Gateway Arts Foundation will hold The Greatest Patriot Fashion Show at the Baobab Stage Theatre at Town Square on Saturday, July 11 from 6:30 to 8 p.m. Tickets are $25 online, $30 at the door and $10 for military, RSVP at info@lifeafteractiveduty.org.
Celebrity Cruises and MGM Resorts International have made an agreement to give each of their loyalty program members exclusive premium offers throughout the year. This impacts members of Celebrity's Captain's Club and MGM Resorts' M life.
Last week dd's DISCOUNTS®, a division of Ross Stores, Inc. opened a new 22,000-square-foot store in Bonanza East Shopping Center in northeast Las Vegas. This is the fourth Las Vegas location.
CONTINUE ON TO...:
THIS WEEK'S >LAUGHLIN NEWS
LAST WEEK'S >LAS VEGAS NEWS
>VEGAS VIEW FULL NEWS ARCHIVES
Return to >"Heard Around Town"
Return to >Las Vegas Leisure Guide