LAUGHLIN RIVER RUN MAKES ANNUAL TREK TO TOWN!

The 34th Annual Laughlin River Run, the largest motorcycle event on the West Coast, presented by Dal Con Productions is a huge citywide event planned for Wednesday through Saturday, April 27-30. This is when thousands of motorcyclists converge on Laughlin and surrounding communities for fun events including concerts, free outdoor entertainment, exhibits, custom bike show, poker run, and much more.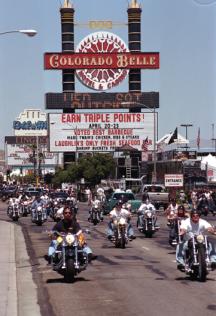 Event and Poker Run registration will be held in the Star View Room at the Riverside. Daily exhibit areas will be at the Riverside, Edgewater, Colorado Belle and Golden Nugget. The Harley-Davidson® Demo will take place Thursday through Saturday at the Colorado Belle with demo rides and a 2016 motorcycle exhibit. The Sin City Kitty Bad Booty Contest will happen on Thursday and Friday at 3 p.m. at the Riverside Resort Bodies Bar Outdoor Stage and the Ms. Laughlin River Run contest will be held there on Saturday at 4 p.m. The Custom Bike Show judging and public viewing will be from 11 a.m. to 3 p.m. at the Colorado Belle's Center Circle. The Tropicana Express American Veterans Charity Poker Run benefiting Tri-State veterans will be held on Friday.
RIVERWALK WELCOMES ANNUAL BLUES & BREWS FESTIVAL
The 18TH Annual Blues & Brews Festival featuring free live entertainment and plenty of ice cold beer is set for Friday-Sunday, April 22-24 on the Riverwalk between Colorado Belle and Edgewater. This year's entertainers include Jay Gordon & Blues Venom, John Earl & The BoogieMan Band and Chris Hiatt. Festival hours are noon to midnight Friday and Saturday and noon to 8 p.m. on Sunday.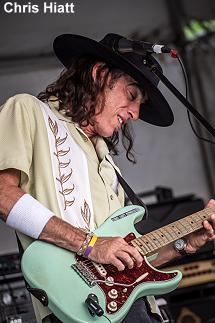 Other themed music and food festivals coming up along the Riverwalk include: April 15-17 Rockin' on the River; April 27-30 River Run featuring John Earl & The Boogie Man Band, The Chris Hiatt Band, Rick Estrin & The Nightcats, and Preston Shannon; May 6-8 Baja Days Riverwalk Festival; May 27-29 Rock 'n' Ribs Festival; and June 17-19 Country Beer Garden.
MIRANDA LAMBERT GOES 'ON THE RECORD' AT LAUGHLIN EVENT CENTER
Miranda Lambert will bring her signature southern charm and sass to the Laughlin Event Center on Friday, May 6 at 8 p.m. She's coming off her extremely successful fourth studio album "Four the Record." In Laughlin, Lambert will perform favorite fan tunes such as "Only Prettier" and "Little Red Wagon," as well as new hits from her latest album "Platinum," including the hit single "Automatic." Tickets range from $85 to $350.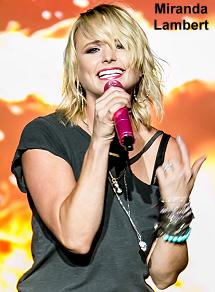 The Aquarius is offering a Miranda Lambert room package. Fans of the southern songstress who book with special code MIRA161 can enjoy a two-night stay, two concert tickets, two-for-one Bud or Bud Light at all casino bars and two-for-one drink specials in The Cove Bar & Lounge and Duet Coffee & Wine starting at $334.
The next acts at The Laughlin Event Center include: Kid Rock on May 21 and Brad Paisley on June 18. Both are Saturday nights.
EDGEWATER E CENTER PRESENTS GEORGE BENSON
Jazz master and guitarist George Benson will headline the Edgewater's E Center on Saturday, April 23 at 8 p.m. Tickets range from $25 to $75.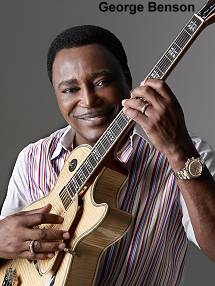 Benson is appreciated as both a versatile musician and performer and has always had the dual role of expert improviser and vibrant entertainer. His adept skills have him crossing easily between straight-ahead jazz, smooth jazz, and contemporary R&B. In almost five decades of writing and performing, the guitarist has won 10 Grammy® Awards, played around the world, and thrilled millions. Not only can Benson play lead brilliantly, he is also one of the best rhythm guitarists around, supportive to soloists and a dangerous swinger, particularly in a soul-jazz format. The added plus is Benson can sing in a lush, soulful tenor voice that has proven even more marketable than his guitar.
CREEDENCE CLEARWATER REVISITED VISITS EDGEWATER E CENTER
The Edgewater E Center will feature Creedence Clearwater Revisited Friday, April 29 at 8 p.m. during the weekend of the Laughlin River Run. The Rock and Roll Hall of Fame rhythm section - bass and drums - from the legendary group Creedence Clearwater Revival launched the Creedence Clearwater Revisited project in 1995. Tickets start at $29.99.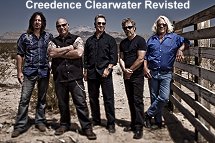 Stu Cook and Doug "Cosmo" may not have intended it, but their band Creedence Clearwater Revisited has taken on a startling life of its own. The Rock and Roll Hall of Fame rhythm section launched the Creedence Clearwater Revisited to once again perform live Creedence Clearwater Revival hits - touchstones of a generation. Though the pair initially only planned to play private parties, Creedence Clearwater Revisited now performs up to 100 shows a year and has released the album "Recollection."
The next acts at the Edgewater E Center will be Styx on Saturday, July 16, 38 Special on Saturday, Sept. 10, and REO Speedwagon on Friday, Nov. 18.
BRET MICHAELS MAKES A STOP AT HARRAH'S AMPHITHEATER
Bret Michaels, lead singer in the glam-metal band Poison, will appear at Harrah's Laughlin Rio Vista Outdoor Amphitheater on Saturday, April 30 at 8 p.m. Tickets range from $35 to $50.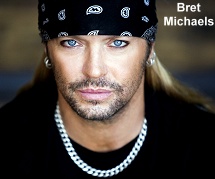 Michaels first gained fame with the group Poison that has sold more than 45 million records worldwide. The band has also charted 10 singles to the Top 40 of the Billboard Hot 100, including the No. 1 single "Every Rose Has Its Thorn."
In 2007 Michaels emerged as a reality TV star on VH1's "Rock of Love," and he followed up in 2010 with "Bret Michaels: Life As I Know It." Michaels also won "The Celebrity Apprentice" in 2010.
TRAVIS TRITT MAKES MUSIC AT THE AVI
It will be an evening with country singer Travis Tritt at the Avi on Saturday, April 30 at 8 p.m. Ticket are $30 and $35.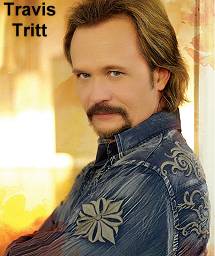 Tritt is known for his bluesy, rock-and-roll-inspired songs. He released his first album "Country Club" in 1989 and followed it with several platinum albums and chart-topping singles throughout the 1990s. Though the Nashville music industry was reluctant to endorse Tritt due his blatant rock-and-roll leanings, the musician continued to persevere with ongoing success, with hits like "Can I Trust You With My Heart" and "Here's a Quarter."
RIVERSIDE RESORT FOCUSES ON TRIBUTE ACTS
The Riverside Resort is featuring first class tribute acts in Don's Celebrity Theatre. "Barbra & Frank, The Concert That Never Was" is scheduled Wednesday through Sunday, April 20-24. "Desperado, Music of the Eagles" with a special tribute to Glen Frey will follow May 3-8. Tickets are $30 for both shows.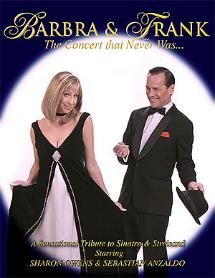 Sharon Owens and Sebastian Anzaldo portray Barbra Streisand and Frank Sinatra, which they have been doing for years, and capture an incredible rapport between two 20th century superstars. Owens and Anzaldo have been traveling the world performing their uncanny recreations. Just imagine if Sinatra and Streisand had toured together. Owens as Streisand was crowned the winner of the hit TV show on Fox called "Performing As…"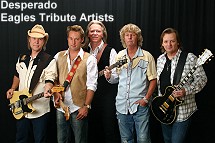 Desperado consists of five incredibly talented musicians and highly accomplished vocalists. Desperado is a cut above their counterparts with their all live, free of backing tracks, presentation of the most popular band of the 70s, the Eagles. Desperado challenges the listener to tell the difference between what is being played live and the original versions of the songs, with the band singing soaring harmonies while executing the guitar parts and rhythm track to perfection.
TOP OF NEXT COLUMN
COMEDY TAKES CENTER STAGE EVERY WEEKEND AT THE EDGEWATER
Two different comedians headline "Comedy on the Edge" at the Edgewater every weekend. Upcoming comedians for "Comedy on the Edge" at the Inferno Showroom include: April 8-10 Todd Johnson and Ron Placone; April 15-17 Brooks McBeth and Nat Baimel; April 22-23 Jack Willhite and Eli Nicolas; April 29-May 1 Chas Elstner and Derrick Stroman; May 6-8 Travis Howze and Jorge Ruiz; May 13—15 Mike James and Brian Kohatsu; May 20-22 Ed Hill and Todd Link; and May 27-29 Danny Villapando and Steve Flye. Shows are Friday through Sunday at 7 p.m. Tickets are $10 and on Sunday veterans get a $2 discount.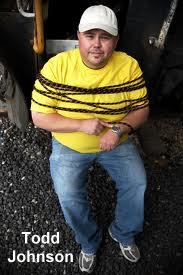 Todd Johnson will appear with Ron Placone April 8-10. Johnson's comedy is about dumb things that happen to him, situations he finds himself in, and family. This Idaho native has performed all over the US and Canada. This Idaho native in 2008 was a finalist in the 29th International Seattle Comedy Competition. In 2011 he participated in the Aspen Comedy Festival and was asked back as host of the Best of the Fest of 2011 in Aspen, Colo. In 2012 Johnson was runner up in the Big Sky Comedy Competition. He was also featured on the Mad TV Network show "Man Up Stand Up" in 2009. Todd shared the stage with Weird Al Yankovik, Paul Rodriguez, Dana Carvey and the country band Lonestar.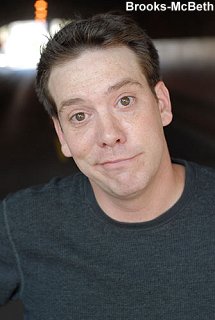 Brooks McBeth is paired with Nat Baimel April 15-17. As a comedian McBeth seems to find the line of decency and then stomp all over it with his edgy yet still endearing style. He continues to appear regularly in national television commercials and voice-overs. In addition to being comedian Joel McHale of "The Soup" and NCB's
Community" fame's full-time opening act, McBeth has performed with such greats as Frank Caliendo, Drew Carey, Harland Williams, Doug Benson and Jack Black to name a few. McBeth also works as a staff writer on such hit shows as FOX's "Mad TV" Comedy Central's "Trigger Happy TV," "Con," and "Almost Live!"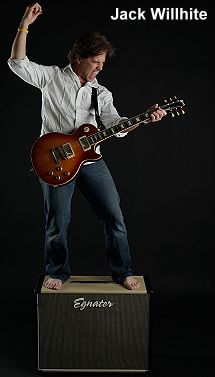 Jack Willhite and Eli Nicolas will provide laughter April 22-23. Willhite's crazy comedy act is fast paced and unpredictable, fueled by a tour de-force of more than 30 dead-on rock, blues and country music impersonations. Described as a cross between Weird Al and the Midwest 80s cover band Hairball, Willhite combines classic rock impersonations with crazy lyrical changes. He employs a half-ton of performance gear featuring live guitars, amps, effects and props to absurdly bring to life acts across the rock spectrum such as AC/DC, ZZ Top and John Mellencamp to Ozzy Osborne, Jim Morrison and Guns N'Roses. Willhite, a 15-year comedy veteran, has with such notables as Jeff Dunham, Jon Lovitz and Bobcat Goldthwait.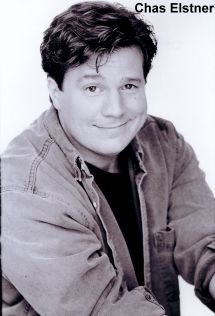 Chas Elstner is matched up with Derrick Stroman April 29-May 1. Elstner, who is a master of mouth sound effects and has an array of character voices, has been a stand-up comic for more than 24 years and written, performed and produced two comedy albums "Is This Stuff Too Real For You?" and "A Man's Home Is Her Castle." Elstner's background includes performing as a featured clown in the Ringling Bros., Barnum & Bailey Circus, studying at the renowned Second City in Chicago, and being nominated as one of the college "Entertainers of the Year" after performing at more than 200 colleges nationwide. He has also performed as an actor in Off-Broadway productions. Elstner has been the opening act for many recording artists including two years for Gloria Estefan & The Miami Sound Machine and for the Pointer Sisters on a Midwest tour and at a special performance at Caesars Palace.
BLUES MUSIC PREVAILS AT THE AVI EVERY THURSDAY
On Thursday nights at the Avi's Arrowweed, audiences are enjoying blues music at 7 p.m. Future blues acts include: Scotty Bratcher April 7; Jimmy Thackery April 14; and Shana Morrison April 21.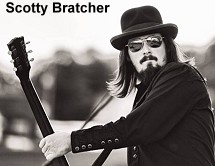 Scotty Bratcher began playing guitar at age 2. When he was 11, the family began going to open mic nights at clubs in the greater Cincinnati area to expose him to the live music scene. This was where he began getting on-stage experience and eventually found band members. Since then, Bratcher has played with and opened for names like Ted Nugent, Little Texas, Blue Oyster Cult, Buddy Guy, Joe Bonamassa, Chris Duarte, Anthony Gomes, Foghat, Lonnie Brooks, .38 Special, Styx, Peter Frampton, Kenny Wayne Shepherd, and many more.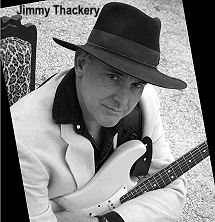 Jimmy Thackery is one of the few blues guitarists who learned firsthand from the masters of the blues, not off a blues record or DVD. Even though many associate Thackery with his 15 years as the co-founder of the Nighthawks, he ended his time with them in 1987. Since then, he has been on the road as a solo musician doing nearly 300 shows a year. Whether Thackery headlines a festival in South Dakota or jams for hours in one of numerous blues bars that dot the musical landscape, he always unleashes an intense volley of rockin' blues guitar.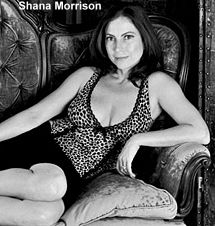 Irish-American singer-songwriter Shana Morrison's music material seems to be ever-changing and hard to pin down categorically. Her style has been called pop with a side of blues and a side of rock. She has also been known to include other ingredients, like country, R&B, and jazz into the mix. Remaining constant; however, is her wide-ranging voice. Morrison grew up in Marin County, Calif., and worked in her paternal grandparents' record shop after they moved to California from Northern Ireland.
VIEWING 'THE HAND OF FAITH'
Many people have no idea that the world's largest gold nugget "The Hand of Faith" is on display in the Hotel Registration Lobby at the Golden Nugget. It's free to view the 61 pound-11 ounce gold piece valued at more than $3 million.
The biggest golden nugget in existence was found by Kevin Hillier in the spring of 1980 when he took his new metal detector out in his hometown of Wedderburn, Australia. He found huge nugget barely a foot underground. "The Hand of Faith" is also the second-biggest nugget ever discovered, and the biggest ever found with a metal detector. For the rest of the story, Hillier sold his golden nugget to the Golden Nugget for more than a million dollars.
NOTABLE NEWS
An upcoming citywide event will be the Method Race Wheels Laughlin Desert Classic presented by Canidae Tap It - "Duel in the Desert" Thursday-Sunday, May 5-8. The desert races will be on a course in the nearby desert for UTVs, cars/trucks in numerous classes. There will be a Family Poker Run for UTVs only, pit stop challenges, special events at casinos and much more.
The Cinco De Mayo Car Show & Celebration will be held in the North Parking Lot at the Tropicana and at other venues Thursday-Sunday, May 5-8. This event features classic cars, low riders, Show 'n' Shine, vendors, DJs, contests, and more. The car show on Friday and Saturday goes from 10 a.m. to sunset both days. There will be a Dance Party in Victory Plaza with music by Adelaide and Midnite Cruzzers from 4:30 p.m.-1 a.m.
Concerts at 8 p.m. will be held at Harrah's Pavilion Theater the same weekend. Thee Midniters with Greg Esparza and featuring Rocky Padilla will be on Friday, May 6 and Joe Bataan featuring Rocky Padilla follows on Saturday, May 7. Tickets for both performances are $25.
The Amateur Athletic Union Powerlifting, Weightlifting, Feats of Strength competition will take place at Harrah's Ballroom and Rio Vista Outdoor Amphitheater the weekend of April 8-10. This challenge will highlight a variety of female and male weight classes and age groups each day starting at 8 a.m. Admission is $10 each day.
The Ink Mayhem - Tattoo Convention will be held on the "D" Deck at the Colorado Belle Wednesday through Saturday, April 27-30. There will be live tattooing by some of best tattoo artists going as well as prizes, daily tattoo contests, vendors, raffle, and a full bar throughout each day and night.
This local event that sells out every year could be really fun for a visitor. On Thursday, June 9 the annual Chefs Food Fest will be held at the Aquarius Ballroom. At this event every year spirit and wine distributors go all out to impress judges with their best food and creative displays. People attending get to sample everything. This is a fundraiser for River Fund, Inc. Doors open at 5:30 p.m. Tickets are $50; call the Laughlin Chamber of Commerce at 702-298-2214.
Sue Hanson plays the piano every Thursday through Sunday from 5-7:30 p.m. at the Gourmet Room Bar in the Riverside Resort.
CONTINUE ON TO...:

THIS WEEK'S >LAS VEGAS NEWS
LAST MONTH'S >LAUGHLIN NEWS
>VEGAS VIEW FULL ARCHIVES
Return to >"Heard Around Town"
Return to >Las Vegas Leisure Guide