JEFF DUNHAM'S NEW TOUR WILL VISIT CAESARS PALACE!

Comedy ventriloquist Jeff Dunham is bringing his cast of characters on the road for a new "Passively Aggressive" tour this fall with a stop at The Colosseum at Caesars Palace on Wednesday, Dec. 6 at 7:30 p.m. Tickets are $49.50, $69.50 and $79.50.

Dunham just released his latest stand-up special taped in Dublin, Ireland, "Jeff Dunham: Relative Disaster," on Netflix featuring his ill-behaved characters skewering family and politics. Dunham and his famous cohorts Walter, Achmed the Dead Terrorist, Bubba J, and Peanut, Dunham consider what a new member to their dysfunctional family could mean, putting the 'relative' in "Relative Disaster."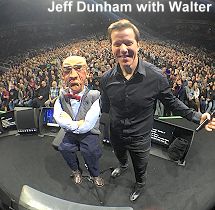 Last week, Dunham along with The Mirage ventriloquist headliner Terry Fator appeared on "America's Got Talent" with the show's newest Season 12 winner 12-year-old Darci Lynne Farmer, who is following in their amazing vocal footsteps with her pals Oscar and Petunia.
ADAM SANDLER HAS EXCLUSIVE RESIDENCY AT COSMOPOLITAN
Adam Sandler will be the first exclusive resident comedic performer at The Chelsea theatre in The Cosmopolitan. His series of dates will start on Nov. 17 and Jan.27, 2018, with future engagement TBA. Tickets start at $49.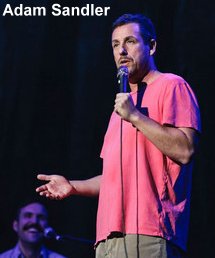 Sandler is a successful actor, writer, producer and musician. His films have grossed more than $3 billion worldwide. In 2014, he signed a deal with Netflix to produce and star in four original movies. The first three to date are the most-watched movies on Netflix. Sandler is in production on the Netflix comedy, "The Week Of," which co-stars Chris Rock and premieres in 2018. Sandler will co-star in Noah Baumbach's "The Meyerowitz Stories," this October in theatres and on Netflix.
STYX & DON FELDER SECURE EARLY 2018 DATES AT THE VENETIAN
Styx and Don Felder will appear five nights at The Venetian Theatre with their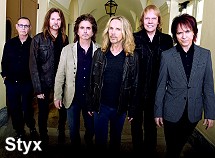 "Styx & Don Felder: Renegades In The Fast Lane" show presented by SiriusXM on Jan. 26-27, 31 and Feb. 2-3. The multi-show run will pay tribute to both Styx's and Don Felder's combined 45-plus years as one of the most successful rock and roll bands and one of rock's most illustrious guitar legends. Tickets start at $59.
CÉLINE DION HOLDS HURRICANE RELIEF COLLECTION AT HER SHOWS
Céline Dion returned to The Colosseum at Caesars Palace to resume her Las Vegas residency following a sold-out summer tour performing 25 shows in 15 cities across Europe. She announced donations to benefit the American Red Cross will be collected during her Las Vegas shows and along with her partners AEG Presents and Caesars Entertainment, they will match the donated funds.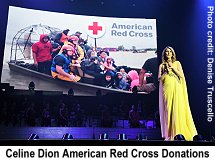 VIC MENSA JOINS JAY-Z'S 4:44 TOUR AT T-MOBILE ARENA
Chicago rapper Vic Mensa will join JAY-Z's 4:44 TOUR this fall as a special guest and appear at the T-Mobile Arena on Saturday, Oct. 28 at 8 p.m. Tickets range from $39.50 to $199.50.
This past summer Mensa released his debut album "The Autobiography" on Roc Nation Records. As a founding member of the SAVEMONEY music collective, Mensa first released his breakthrough mixtape "Innanetape" in 2013 and has since collaborated with music heavyweights such as Kanye West, Pharrell, Skrillex, Weezer, and Chance the Rapper.
ZAK BAGANS WILL OPEN HAUNTED MUSEUM
Zak Bagans, who hosts the Travel Channel's "Ghost Adventures" series and with his team investigate the paranormal, will open his Haunted Museum Monday, Oct. 2, where otherworldly aficionados can see his extensive collection of macabre, bizarre and haunted objects and artifacts. Museum visitors will explore his collection via hour-long guided tours through a 30-room, 11,000-square-foot mansion built in 1938 in the historic downtown Las Vegas district.
CHĒBA HUT OPENS FIRST NEVADA LOCATION
Counter-culture themed restaurant Chēba Hut "Toasted" Subs will open its 20th location and first in Nevada this month at 2550 S. Rainbow Blvd, Suite 113 serving handcrafted sandwiches. Hours will be 10 a.m.-midnight daily.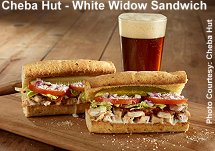 Chēba Hut will be a 2,620-square-foot restaurant with an outdoor patio and full bar highlighting local and regional craft beer on tap. There will be music by local musicians, late night happy hours and other events.
The quick-serve restaurant offers more than 25 varieties of specialty meat and vegetarian sandwiches in three sizes: four-inch Nugs, eight-inch Pinners and 12-inch Blunts. A "munchies" menu has items such as "Goo Balls," loaded not'chos, pretzel nuggets and Rice Krispie bars. Each location showcases its distinctiveness with a "Secret Stash" menu created by the staff. Chēba Hut was founded by Scott Jennings in 1998 near Arizona State University.
THE LINQ PROMENADE WILL DEBUT NEW OUTLETS THIS FALL
The LINQ Promenade will debut an eatery and two new shopping options this fall. Canter's Deli, the Los Angeles import will serve breakfast, lunch and dinner and be open until 1 a.m. on weekdays and 2 a.m. on weekends when it opens in October or November.
Kappa Toys will open its second location this month since debuting at the Downtown Container Park. The family-owned store is known for its vintage toys such as the classic Slinky and interactive 3-D art kits.
Nectar Bath Treats also opening this month with its sixth location will feature a charming bakery-style shop using natural ingredients to hand-make bath and body treats that look good enough to eat.
BINGO GETS BIGGER AND BETTER AT THE PLAZA
The Plaza, home to the only bingo room downtown, will debut a renovated bingo hall on Sept. 27 and offer higher prize amounts for its upcoming Super Bingo tournaments. Bingo at the Plaza will increase prize amounts with a new $10,000 CashBall bonus, resulting in up to $13,500 in bonus CashBall prizes per session, every day.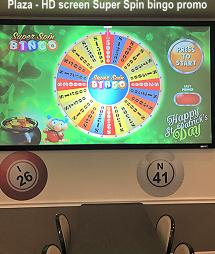 The third floor bingo room is being refreshed with new carpet, chairs, and tables with 200 fixed base electronic bingo units and more charging stations and electrical outlets for guests to use. To celebrate the updates, the Plaza will offer free cake and champagne to bingo players at the 11 a.m., 1 and 3 p.m. bingo sessions on Monday, Oct. 2
The Plaza holds Super Bingo tournaments every two months to compete head-to-head with no linked games. For the final two 2017 Super Bingo events Oct. 8-10 and Dec. 3-5, the Plaza will raise each tournament's prize amount to $200,000 with a daily $50,000 coverall.
The Plaza will host complimentary 15-minute introductory lessons on Tuesdays, Thursdays and Saturdays, beginning Oct. 3, at 10:15 a.m. and 4:15 p.m.
MAGICAL MEMORIES CELEBRATES OSWALD THE LUCKY RABBIT
Oswald the Lucky Rabbit, unofficially referred to as Mickey Mouse's predecessor, has had a fascinating life. Artist, filmmaker and author Dave Bossert, a 32-year veteran of The Walt Disney Company, has chronicled the black-and-white cartoon character's colorful history dating back to its creation in1927 by Disney in his book "Oswald the Lucky Rabbit: The Search for the Lost Cartoons." To celebrate, the public is invited to dress in their favorite black-and-white fashions and visit the new Magic Memories gallery at The Forum Shops at Caesars Palace Friday, Sept. 29–Oct 1 for book signings, meet and greets and special performance by The Broadway Collective of the Las Vegas Academy of the Arts.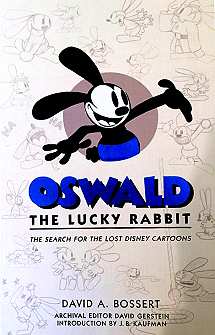 The free public event schedule includes: Bossert book signings Sept. 29-30 5-7 p.m., and Sept. 30-Oct. 1 noon-2 p.m.; Sept. 30 all-day black and white day; and Sept. 30 special Broadway Collective/LVA performance 3-4 p.m.
TOP OF NEXT COLUMN
PENN & TELLER UNVEIL EVERI'S NAMESAKE SLOT GAME AT THE RIO
Magic duo and Rio headliners Penn & Teller premiered their first slot game from Everi in the brand new Empire MPX™ Cabinet at the resort last week. Penn placed a commemorative bet of $100 into the game and hit a magical bonus bringing his winnings to $286.20.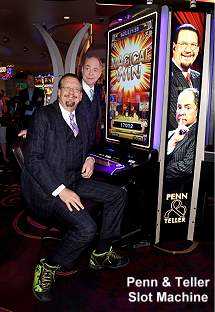 The creation of the Penn & Teller slot game was more than two years in the making with the duo extremely involved in the creative process. From the look to the bonuses to the characters, Penn & Teller provided input. Their slot game is loaded with random events, a fun Mystery Wild® feature and a brand new Wheel concept. With a max bet, the stand-alone progressive jackpot starts at $20,000 with more than 3,100 ways to win. The Penn & Teller slot games are being rolled-out at other Caesars Entertainment resorts.
BEBE REXHA & MARC E. BASSY TOUR WILL VISIT THE PALMS
The Bebe & Bassy Tour 2017 featuring co-headliners pop disruptor Bebe Rexha and singer/songwriter Marc E. Bassy is set for Saturday, Nov. 18 at 8 p.m. in the Pearl Concert Theater at the Palms. The 23-city tour is in support of Rexha's new album "All Your Fault-Part 2" and Marc E. Bassy's Oct. 13 album release, "Gossip Columns." Tickets start at $30.
MGM RESORTS STARTS FIRST CORPORATE BRAND CAMPAIGN
MGM Resorts International launched its first-ever corporate brand campaign "Welcome to the Show" turning the spotlight on the corporation's array of entertainment experiences forming the nexus across the company's 27 distinctive resort destinations.
The integrated campaign showcases the infusion of entertainment from award-winning live and theatrical performances to dining, nightlife, retail, spa offerings and more. This emphasizes the shift from a hospitality and gaming company to a global entertainment brand.
'FANTASY' WILL REVEAL 2018 BLACK & WHITE - NUDE CALENDAR
Channeling the timeless glamour of classic Hollywood, the beautiful ladies of "FANTASY" at the Luxor will debut the show's 2018 calendar, "Black & White and Nude All Over," on Tuesday, Oct. 24.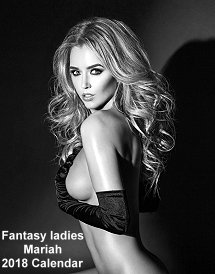 The calendar release coinciding with the show's 18th anniversary was photographed by renowned photographer and stylist Oscar Picazo, who shot the stunning showgirls in timeless black and white imagery. Calendars are $20 with a portion of the proceeds benefitting the Nevada Society for the Prevention of Cruelty to Animals.
SETH GRABEL PRESENTS MAGIC SHOW MIXED WITH LIBATIONS
Alchemy Magic & Libations starring Seth Grabel will be set in an intimate setting at celebrity photographer Mario Basner's gallery "World Heritage Collection" in Tivoli Village on Saturday, Oct 7 from 6-9 p.m. Show is 7-8 p.m. followed by mingling and libations featuring wines from Freak Show, Seven deadly Sins and Inkblot direct from Lee's Liquor and Breakthru Beverage. Magician Grabel was a former finalist on NBC's "America's Got Talent." Tickets are $39.95.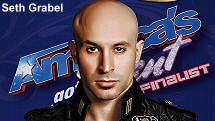 VEGAS IS CELEBRITY HAVEN
Celebrities roam the valley on a daily/nightly basis visiting many shows and attractions and actually flood Las Vegas when an awards show or major events happen in the city. For example, just recently boxing legend Oscar De La Hoya celebrated fight week at Topgolf Las Vegas.
Ricky Martin with a night off from his Park Theater at Monte Carlo residency visited KÀ by Cirque du Soleil® at MGM Grand with his partner and two children.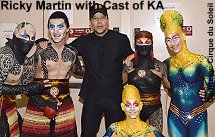 Actor-comedian Marlon Wayans, star of "Marlon" and "White Chicks," recently visited "Mike Tyson Undisputed Truth - Round 2" one-man show at Brad Garrett's Comedy Club inside the MGM Grand.
Emmy® award winning illusionist David Copperfield spend his birthday taking in a performance of The Beatles™ LOVE™ by Cirque du Soleil® at The Mirage and also visited Tyson's show one night.
DINING-BEVERAGE HIGHLIGHTS
La Flor de Michoacán has opened at Texas Station next to Panda Express with a family-owned dessert stop bringing homemade Mexican ice cream and treats to the food court. La Flor de Michoacán has three other locations in Las Vegas and originally opened in 2006.
Hakkasan Las Vegas Restaurant will celebrate the annual Chinese festival of Golden Week for a month with the launch of a limited edition a la carte menu, featuring new dishes Sept. 25-Oct.22. Golden Week is a seven-day Chinese national holiday, the country's most popular traveling period, and coincides with the Mid-Autumn Harvest Moon Festival.
Lucky Dragon will celebrate Chinese Golden Week, Oct. 1-8, and Filipino-American Heritage Month, Oct. 1-31, with Moon Cake giveaways, live music, food specials, and more. On Fridays, Oct. 13 and 27, Lucky Dragon will host "Hot Manila Nights," featuring performances from local Filipino group 360 Band.
Cabo Wabo Cantina is taking National Taco Day to a new level with signature tacos on Wednesday, Oct. 4.
Umami Burger, Beer Garden & Sports Book at SLS will celebrate a month-long Oktoberfest with a Tap Takeover featuring drafts from German breweries Spaten-Franziskaner-Bräu and Bitburger and jumbo salted Bavarian pretzels. On Tap Takeover Tuesdays, a purchase of any Tap Takeover 14-ounce draft allows a guest to receive the second draft for free.
Love & Vine returns to The Palazzo with the Master Chefs of France creating food and wine pairings poolside on Friday, Oct. 6 from 7-10 p.m. at The Aquatic Club. In honor of Vegetarian Awareness Month in October, this year's culinary event will serve vegetarian and vegan dishes paired with vegan, organic and biodynamic wines. Tickets are $75 or $135 per couple.
Chef Shirley Chung and Pacific Zach Allen, Batali & Bastianich Hospitality Group's director of operations, will co-host the next Carnevino Italian Steakhouse's guest chef dinner on Sunday, Oct. 8. It will be a culinary journey from Italy to China for a Marco Polo-inspired dining experience beginning at 6:30 p.m. Tickets are $155 with cocktail and wine pairings included.
Both Chung and Allen were part of Carnevino's original opening team in 2008. Chef Chung currently owns Steamers Co. in Los Angeles and also serves as the chef/partner for Chung Lee Consulting in Las Vegas. She appeared during the 11th and 14th seasons of Bravo's "Top Chef" placing in the top three both seasons.
Americana Las Vegas, which opened in November 2016 at Desert Shores Las Vegas overlooking Lake Jacqueline, is the winner of "Best New Fine Dining Restaurant" by the 2017 Silver State Awards. The restaurant offers: a daily Social Hour 3-6 p.m. daily; Sunday Brunch; Oyster Fest Tuesdays – $1 each; Wine Wednesday 6-8 p.m. with half-off select bottles; and lunchtime Cooking Classes one Saturday per month for $75.
Ferraro's Italian Restaurant & Wine Bar will host a wine dinner with Piemontese winemaker Beni di Batasiolo on Monday, Oct. 9 at 6:30 p.m. Fiorenzo Dogliani will be the presenter discussing the Piemonte wine scene and story and history of his estate and wines. The $125 four-course menu will include wine pairings.
AROUND TOWN NEWS
The Hard Rock Hotel and Casino wants to build a 680-seat theater at Harmon and Paradise intended for ticket holders to audition for TV shows like "The Voice," etc.
Marvel Avengers S.T.A.T.I.O.N. at Treasure Island is collecting comic and reading books Sept. 25-29 to donate to the Houston Independent School District and help replace books damaged by Hurricane Harvey in schools and libraries. Donate new or gently-read comics or books appropriate for Pre-K to 5th Grade students and receive $10 off their admission into the superhero attraction.
Rally in the Alley will take place at Hogs and Heifers and 3rd Street Oct. 4- 8. It will begin with the celebration of Hogs & Heifers 12th Anniversary downtown. Events will include vendors, Babes in the Alley Ladies Only Bike Show, live art, motorcycles, etc.
Nevada Ballet Theatre and Cirque du Soleil® will present "A Choreographers' Showcase" on Oct. 8, 14 and 15 at 1 p.m. in the Mystère Theatre at Treasure Island. Tickets for the 10th anniversary celebration are $25 and $45, call 702-894-7722.
Opportunity Village's fundraiser OktOVerfest celebration taking place at OV's Magical Forest at 6300 W. Oakey on Saturday, Oct. 7 from 3 to 7 p.m. will offer traditional German music, food and more than 25 beers. Tickets are $35 online or $40 at the gate.
The Mob Museum downtown has been named No. 20 on TripAdvisor's list of the Top 25 U.S. Museums in its 2017 Traveler's Choice Awards. It is the only Nevada museum to appear on the list. The museum has been open five years and this is the second year in a row it has made the list.
LIFE TIME ATHLETIC CLUB TO HOST NAMASDAY YOGA CELEBRATION
Life Time Green Valley will hold a NamasDAY yoga celebration Friday and Saturday, Oct. 6 and 7. Friday night's Sound Off Under the Stars from 6-7 p.m. on the pool deck will be a headphone guided yoga practice. Saturday's event will feature signature yoga classes, live music, brunch, kombucha, giveaways and more from 9 a.m. to 2 p.m. For both events, tickets are $10 for members and $15 for non-members.
CONTINUE ON TO...:
THIS WEEK'S >LAUGHLIN NEWS
LAST WEEK'S >LAS VEGAS NEWS
>VEGAS VIEW FULL NEWS ARCHIVES
Return to >"Heard Around Town"
Return to >Las Vegas Leisure Guide