MONTE CARLO WILL BECOME TWO HOTELS!

MGM Resorts International is planning to redesign the Monte Carlo Resort and partner with New York-based hotelier Sydell Group on the $450 million renovation with construction completed by the end of 2018. The project will create two hotels. The Park MGM hotel will have 2,700 rooms and incorporate some of the Monte Carlo's European design influences. The other hotel will be The NoMad Las Vegas and will occupy the top three floors of the existing hotel tower. The 292-room hotel will build on the Sydell Group's flagship property in New York by the same name.
The change will incorporate a more boutique taste without gaming and aim at appealing to younger, affluent visitors who prefer modern aesthetics over themed properties.
RIVIERA IMPLOSION IS CAUSE FOR 'CONFESSIONS' AND VIEWING PARTY
Events are being tied to the June 14 demolition of the Riviera's 24-story Monaco tower. The Barrymore just south at the nearby Royal Resort will have a public after-hours viewing party featuring the Social Hour menu plus $2 beers, $5 cocktails and wine at its patio and lounge area that will be open between midnight and 3 a.m. with an expected 2 p.m. boom. Reservations recommended, call 702-407-5303.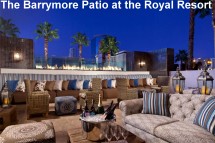 The Las Vegas Convention and Visitors Authority's (LVCVA) newest campaign is asking Las Vegas fans to submit a digital "What happens here, stays here" confession to deposit in a "WHHSH Vault" that will be concealed. People submitting entries to www.whhsh.com will be eligible for a free trip to Las Vegas.
CLINT HOLMES WILL OPEN NEW SHOW AT THE PALAZZO THEATRE
"Clint Holmes: Between The Lines" will open in the newly redesigned Palazzo Theatre on July 16. For Holmes latest adaptation, he will be accompanied on stage by a seven-piece ensemble band. He will also be joined on stage by Cuban-born singer and dancer Noybel Gorgoy, who most recently was featured as the lead singer of the "gypsy" jazz band Hot Club of Las Vegas. The objective with this show is to connect everyone regardless of age or musical preference.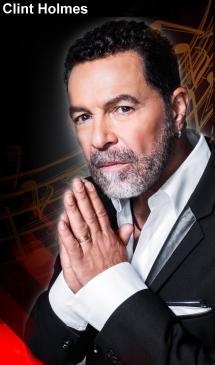 Many recall Holmes headlining at Harrah's for years and learning about his past growing up with an African-American jazz musician father and a British mother, who was a classically trained opera singer. Holmes has spent decades performing around the globe. He also served as Joan Rivers' sidekick and announcer on "The Late Show," and as the musical feature and event correspondent for "Entertainment Tonight."
The show will run Tuesday through Saturday at 10 p.m. Tickets start at $42.65.
'JERSEY BOYS' WILL END ITS LAS VEGAS RUN
Broadway show "Jersey Boys" will close at Paris on Sept. 18 after an eight-year run at two hotels on the Strip. Folks with tickets to shows after Sept. 18 may exchange them for an earlier date or receive a full refund through the source where the tickets were purchased. The adaptation of the career of Frankie Valli and The Four Seasons now has the distinction of being the longest-running Broadway-themed show in Las Vegas with "Phantom - The Las Vegas Spectacular" at the Venetian and "Mamma Mia" at Mandalay Bay both running six years.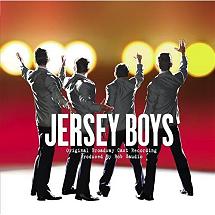 MEGHAN TRAINOR WILL VISIT COSMOPOLITAN
Meghan Trainor, who is "All About That Bass," will appear at The Chelsea inside The Cosmopolitan on Wednesday, July 20 at 7 p.m. with special guests Hailee Steinfeld and Common Kings. Trainor will be kicking off her Untouchable Tour, featuring music from her latest album. Tickets start at $29.95.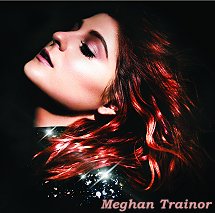 In 2014, pop singer and songwriter Trainor's song was one of the biggest singles of the year and certified five times platinum. The following year, she released her debut album, "Title," which sold more than a million copies. This year, Trainor won a Grammy Award for Best New Artist before releasing her second album, "Thank You."
EGGSLUT OPENED AT COSMOPOLITAN
Eggslut, already a cult favorite in Los Angeles at Grand Central Market, opened last Friday at the Cosmopolitan on Level 2. It is a chef-driven, gourmet food concept founded in 2011 by Alvin Cailan for true egg lovers. Signature dishes include Bacon, Egg & Cheese Sandwich, The Gaucho Sandwich, and The Slut, a coddled egg on top of smooth potato purée, cooked in a glass jar topped with gray salt and chives, served with slices of baguette. Hours are Mon., Wed.-Fri. 7 a.m.-7 p.m. and Tue., Sat. and Sun. midnight-7 p.m.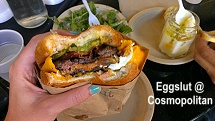 AMORINO WILL OPEN U.S. FLAGSHIP LOCATION AT THE LINQ
European gelato brand, Amorino, known for its flower-shaped cone, will reveal authentic traditional Italian ice cream to the LINQ in July, replacing the former location at Town Square. Amorino will have traditional and seasonal gelato flavors with global ingredients such as mangos from India and Pistachio Bronte from Sicily. The eatery will also sell other decadent treats, including gelato-filled macarons, specialty coffee, crepes, waffles, hot cocoa and chocolates. This 1,500-square-foot location will feature a fireplace, sofas and other luxurious seating for about 50 people.
Amorino Las Vegas is owned by Jeremy Decherchi and Nicolas Mouillon who also own the downtown Las Vegas North Premium Outlets outlet.
EXPLORE ANCIENT ROME THIS SUMMER AT NATURAL HISTORY MUSEUM
From the Italian Artisans who cultivated The Da Vinci Machines Exhibition, comes the Las Vegas premiere of Ancient Rome: The Empire that Shaped the World, to be housed at the Las Vegas Natural History Museum as part of its traveling summer exhibit program through Sept. 11. Admission to the Las Vegas Natural History Museum starts at $10 for adults.
With more than 50 intricately crafted and interactive pieces on display, visitors will be offered a hands-on journey through the Roman Imperial period exploring military war machines, significant construction inventions like pottery wheels and grinding mills, large-scale technical innovations like cranes, water pumps and much more. The exhibition also showcases material inventions such as the book, glass windows and long lasting cement.
'AMERICAN TRILOGY' RETURNS TO SOUTH POINT
The 12-member cast of "American Trilogy" will return to South Point, the casino that helped propel the show last July 4 weekend, and perform three nights July 1-3 at 7:30 p.m. Tickets are $20-$30.
This is a Las Vegas production that brings together three of the most beloved entertainers of all time…Frank Sinatra - Gary Anthony, Elvis Presley - Justin Shandor, and Neil Diamond - Rob Garrett. The show is a scripted as "What If" for the three megastars personifying the American Dream. Each tribute artist performs solo segments backed by a live band, and they unite for a moving patriotic finale for the country's 240th birthday.
The show will be performed again on Saturday, Aug. 20 during "Hot August Night" at the Cannery Casino in North Las Vegas and on Friday, Sept. 9 at Sun City Anthem's Freedom Hall.
FREAKSHOW WRESTLING RETURNS
After a one-year hiatus, Freakshow Wrestling will return with its largest and craziest show to date on Saturday, June 18 at Fremont Country Club downtown.
Freakshow Wrestling: Bad Decisions features freaky fun including: a Locks of Love Hair v. Hair match to benefit local charity Locks of Love; a Michael Jackson knife fight; an Intergalactic Battle Royal; and the Inner Demons Match with Freakshow Wrestling Champ Funnybone! battling himself. The event will be filmed for a special feature DVD.
The show will present wrestling legends with special appearances by: GWAR's Techno Destructo; Kreepy Karen; Shocker from "Penn & Teller's Fool Us;" and Leroy "the Human Tackboard" Patterson from "America's Got Talent." Doors open at 8 p.m. and wrestling action begins at 9 p.m. Tickets are $20 at Ticketfly.
TOP OF NEXT COLUMN
WORLD HIP HOP DANCE CHAMPIONSHIP AND WORLD BATTLES RETURN
While the Olympics are in Rio, the world's top hip hop and street dancers will be competing in Las Vegas at the 2016 World Hip Hop DANCE Championship and World Battles. A record 3,500 dancers representing 50 countries will compete Aug. 6-13 for gold medals and the world title. All events are open to the public. Tickets start at $20.
Championship week begins Aug. 6-7 with the USA Hip Hop DANCE Championship with more than 100 Crews (5 to 8 dancers) and MegaCrews (15 to 40 dancers) competing for the top three U.S. spots advancing to the World Championship.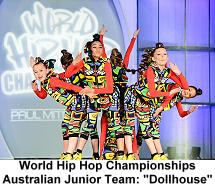 Next will be the World Hip Hop DANCE Championship, Aug. 9-11 with more than 250 dance Crews and MegaCrews from 50 nations competing in qualifying rounds at the Westin Lake Las Vegas Resort leading up to the World Finals on Aug. 13 at Thomas & Mack Center.
At the World Battles on Aug. 12, the world's best street dancers will go one-on-one for world titles for B-boys, Poppers, Lockers and All-Stylers.
SPRINGS PRESERVE FEATURES NEVADA WATERCOLOR SOCIETY EXHIBIT
The Springs Preserve is presenting an array of watercolor paintings representing the best of the 2016 Nevada Watercolor Society through July 10. This exhibition of local artwork explores subjects as varied as still life, abstracts, portraits and landscapes. The exhibit is in the Big Springs Gallery of the Origen Museum and open daily through July 10, 10 a.m.-6 p.m. Exhibit is free for members or with paid general admission.
GIRL SCOUTS OF SOUTHERN NEVADA DEBUT COOKIES & KEGS
For the first time, Girl Scouts of Southern Nevada will host Cookies & Kegs on Wednesday, June 22 from 5-9 p.m. Signature Girl Scout cookies will be paired with six craft beers from family-run Lovelady Brewing Company and complimentary appetizers will be served at the brewery located in Henderson. During this event, Brewmaster Richard Lovelady will also create a special Girl Scout brew for the cause called Porter deLite. Tickets are $20 in advance and $25 at the door.
OV NATION HOSTS INAUGURAL WINE AND PAINTING EVENT
On Wednesday, June 29 from 6-9 p.m., the public is invited to attend a fundraiser ART: abOVe & BEYOND at Opportunity Village's Ralph & Betty Engelstad Campus on Buffalo Drive.
An art mentor will assist OVIP artist Alyssa T. in guiding participants through recreating her original painting, "Tree Mirage." For anyone 21 years of age or older, this event can be experienced in one of two ways. For $45, participants will enjoy music, a silent auction, wine, appetizers, a souvenir wine glass, and an instructional painting session with a canvas and art supplies. A $30 ticket is minus the painting. OVIP artwork, scarves and jewelry will be for sale in the Opportunity Village artWORKS Studio Store. Purchase ticket in advance: at http://bit.ly/ARTabOVE.
PANCHO'S STARTS NEW LINEUP OF NIGHTLY ENTERTAINMENT
Pancho's Mexican Restaurant in Downtown Summerlin, has introduced a new nightly lineup of live entertainment in its cantina. Monday and Tuesday 5-9 is guitarist Edgar Bravo; Tuesday Spanish guitar duo Julio and Cesar 6:30-9:30 p.m.; Rock duo Stefani Savage and Rocky Jackson of STEFnROCK Wednesday and Thursday 6:30-9:30 p.m.; and Friday and Saturday rock and heavy metal group The Saints of Las Vegas 9:30 p.m. to close. Friday and Saturday nights will also feature a rotating lineup of different performers and bands.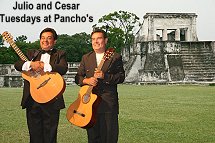 DINING HAPPENINGS
On June 14, 1971, Isaac Tigrett and Peter Morton opened the first Hard Rock Cafe in London. To celebrate its birthday on Tuesday, June 14 Hard Rock Cafes on the Strip and Paradise Road will offer 71 cent Legendary Burgers to all current and retired civil servants starting at 11 a.m. to closing. Also '70s music will be played. Today, Hard Rock has 165 cafes, 23 hotels and 11 casinos across 69 countries.
B&B Burger & Beer at The Venetian with a 2,000-square-foot outdoor patio on the Venetian's Grand Canal facing Las Vegas Boulevard has launched a new special menu, exclusively available for outside guests through Labor Day from 5-6 p.m. and 10 p.m.-midnight.
MRKT Sea & Land inside Aliante will host an exclusive "Tour of Napa" wine pairing eight-course dinner hosted by 10-year Master Sommelier Joe Phillips at 6:30 p.m. on Thursday, June 23. Price is $100; call 702.692.7265 before 5 p.m.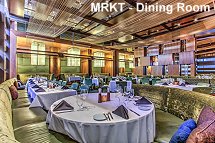 The Habit Burger Grill, an Irvine, California-based restaurant company renowned for its award-winning Charburgers, opened its second Las Vegas location last week on Blue Diamond Road in the southwest area.
Last week, Lazy Dog Restaurant & Bar in Summerlin with a dog-friendly patio debuted a seasonal summer menu featuring new dishes, desserts, and refreshing cocktails.
For a limited time, Ferraro's Italian Restaurant is offering a seasonal prix-fixe dinner option for $45 featuring three courses of your choosing and closing with a sampling of popular desserts.
FATHER'S DAY RELATED NEWS
In honor of Father's Day, Ethel M® Chocolates is introducing its new Smoked Sea Salted Caramels. The new flavor is created by smoking coarse sea salt with a blend of seven carefully-selected woods over 14 days. The caramels are available in the Design Your Own chocolate box collection. Ethel M will also highlight a Father's Day-inspired Classic Collection with a specialty sleeve over the signature gold Ethel M Chocolates box in addition to its Crème Liqueurs.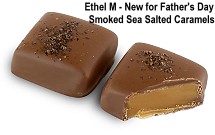 Dancer, musician and actor, Kevin Federline, will celebrate Father's Day on late night June 18 with his friends and perform a live DJ set at the gentlemen's club Crazy Horse III.
MISC. NEWS ITEMS
MGM Resorts International's dreaded controversial new paid parking program is now in effect charging customers up to $10 a day to park. The parking fees revenue generated will be dedicated to building a new $54 million, 3,000-space parking structure near the Excalibur and investing $36 million in upgrades and enhancements to existing parking facilities. MGM's current parking lots lack improvements available through technology, including space availability and way-finding systems.
The current lineup for "Legends in Concert" at the Flamingo this summer features tributes to Prince, Elvis Presley, Whitney Houston and Lady Gaga. Legends hailed as a "Las Vegas Strip Institution" was first introduced in 1983 at the Imperial Palace and moved to the Flamingo property in 2013.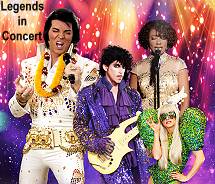 "MJ LIVE," the Michael Jackson tribute concert at the Stratosphere, will start a 5 p.m. matinee show on July 2 that will run every Saturday and Sunday through Labor Day weekend, Sept. 4 and also perform nightly at 7 p.m. Tickets start at $59.95.
The new SPEEDVEGAS at 14200 S. Las Vegas Blvd. installed its 100-foot high and 50-foot wide sign, making it one of the largest signs of its kind and the first one incoming Southern California drivers see traveling into Las Vegas.
MGM Resorts International with Republic Services introduced a recycling exhibit full of facts, figures and images of the valley in the Siegfried &Roy Secret Garden and Dolphin Habitat at The Mirage. The Sustainability Discovery Center, which overlooks the dolphin exhibit, has plastic gallon jugs decorating hanging light fixtures and a sign reading "We can all do more to protect our Blue Planet."
New York trained actor and comedian Stephen Sorrentino will be in town sharing his experience, theories and techniques with his performance workshop "Finding The Character Within" June 15-18 at Hattie's House (Arts Space). Sorrentino has been mentoring young performers and artists worldwide for years and will also be presenting in San Francisco, Los Angeles and New York during the remainder of this year.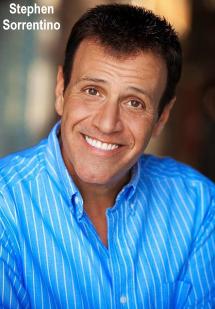 A middle age musical comedy, "I Know I Came in Here For Something," will take place at the Summerlin Public Library on Saturday, June 25 at 2 p.m. Tickets are $20 and $15, call 702-360-8340.
Kelly Clinton will perform her show "Oh, My Half Italian Roots Are Showing" at the Italian American Club on Thursday, June 23 at 8 p.m. Tickets are $25 and $35, call 702-457-3866. Jay Ramsey and Jerry Brown will bring back old school Vegas on Sunday, June 26 at 8 p.m. There will be a $20 cover charge.
For EDC festivalgoers June 17-19, Davidoff Cigar Bar on The Plaza at Fashion Show is offering a complimentary bottle of Fiji Water to anyone purchasing a cocktail and flashing EDC credentials. Also, the bar recently launched a new daily Happy Hour from 6-8 p.m. with all alcoholic beverages being buy-one-get-one.
Essence Educates: Wellness Wednesdays free education program returns to Essence Vegas at 4300 E. Sunset Road, Suite A3 in June at 6:30 p.m. On June 15 it will be How to Make Edibles and June 29 How to Read Test Results. RSVP by visiting the website.
Electric Daisy Carnival's (EDC) producer Insomniac has planned 20 new over-the-top additions in celebration of the "20 Years Under the Electric Sky" anniversary June 17-19 at the Las Vegas Motor Speedway. A few of the new elements will include: two wedding chapels, new art cars, new VIP amenities, going green, etc.
CONTINUE ON TO...:
THIS WEEK'S >LAUGHLIN NEWS
LAST WEEK'S >LAS VEGAS NEWS
>VEGAS VIEW FULL NEWS ARCHIVES
Return to >"Heard Around Town"
Return to >Las Vegas Leisure Guide