SUZANNE SOMERS INDEED SIZZLES AT WESTGATE!

It's nice to see Suzanne Somers back on a Las Vegas stage. In the 1980s, she headlined at the Las Vegas Hilton (now Westgate) in the main showroom with a big production show, which it seems many people don't remember. This time she's doing an impressive intimate cabaret show in the Shimmer Cabaret now called "Suzanne's."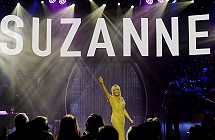 Yes, Somers sings throughout her show that completely revolves around her life and distinct superstar personality. When she enters through a shimmering color changing bead curtain, her name flashes above in huge letters that even a blind person can see. With her glib persona, Somers takes you on her life's journey that she even calls "my narcissistic life" and matches song selections ranging from the catchy "He's A Tramp" from the movie "Lady and the Tramp" to Barry Manilow's serious "I Was A Fool (To Let You Go)." Five fabulous musicians back her act.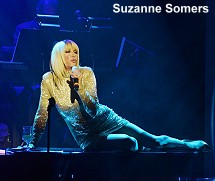 On stage behind a screen and while talking, Somers makes four stunningly beautiful costume changes that when revealed all evoke applause. She takes you on a journey as if you were visiting with an old friend.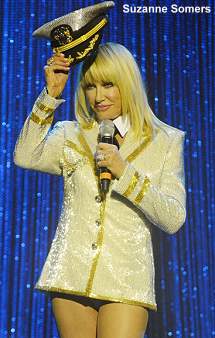 "SUZANNE Sizzles" is performed at 7 p.m. Tuesday through Saturday. General admission tickets are $79 and VIP and meet-and-greet tickets are also available.
MO5AIC LAUNCHES ALL-NEW SHOW AT BALLY'S
The five-member, a cappella sensation MO5AIC (pronounced Mosaic) is returning to Las Vegas with an all-new show and residency at Bally's beginning Friday, June 5. The group will perform five nights a week in the Bally's Windows Showroom through Dec. 7. The all-ages show will run Thursday - Monday at 9:30 p.m.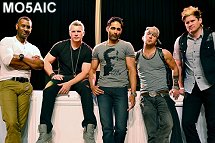 For the new show, MO5AIC promises new staging and the latest in technology, including a looping demonstration by founding member Josh Huslig. In addition, the group has added a variety of new songs including hits by artists Sam Smith, Bruno Mars and Ed Sheeran.
LIFE IS BEAUTIFUL FESTIVAL RETURNS WITH INSOMNIAC PARTNERSHIP
Two powerhouse organizations team up. Life is Beautiful, the three-day music, food, art and learning festival and Insomniac, the world's leading producer of dance music experiences, are partnering to produce the third annual Life is Beautiful Festival Sept. 25-27. Together they will transform more than 15 city blocks downtown into an unparalleled event experience. To expand the festival's dance music platform, Insomniac will curate a stage that will incorporate the company's signature production values with pyrotechnics and creative displays. This stage will be one of four on the festival ground.
PALMS INTRODUCES CAFÉ 6 INSIDE PALMS PLACE
Palms Casino Resort introduces a new culinary experience with Café 6, a contemporary take on American comfort food classics, that has opened inside Palms Place on the sixth floor in the venue formerly occupied by Simon Restaurant & Lounge. With a spacious interior and floor-to-ceiling windows, diners can enjoy views of the Palms Place Pool. Café 6 is open Monday through Sunday from 11 a.m. until 2 p.m. for lunch and 5 to 10 p.m. for dinner.
BRAVO! CUCINA ITALIANA IS NOW OPEN AT GALLERIA MALL
BRAVO! Cucina Italiana, the sister restaurant to Las Vegas' BRIO Tuscan Grille, is now open at the Galleria at Sunset mall in Henderson. The subtitle "Cucina Italiana" means Italian kitchen, in which all cooking is done in full view of the guest. This "polished casual" restaurant offering classic Italian food is part of Columbus-based BRAVO I BRIO Restaurant Group. Founded in 1992, the company currently operates more than 100 restaurants including Bon Vie Bistro.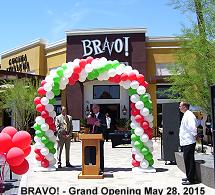 ORGANIC FLOUR & GROUNDS OPENS IN HENDERSON
Flour & Grounds Bakery and Espresso Bar is a new organic establishment in Henderson featuring hot or cold espresso/coffee drinks along with gluten-free, vegan as well as traditional pastries in a boutique-like atmosphere. The co-owners are moms-on-the-go Jennifer Valle and Alexis Baker who were looking for a healthy choice.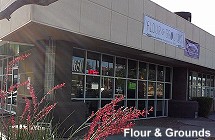 Everything is backed fresh on the premises using absolutely no artificial ingredients, colorings or preservatives, and that includes GMOs. Location is 1650 W. Warm Springs Road but actually facing Arroyo Grande. Hours are 6 a.m.-6 p.m. Monday-Saturday and 7 a.m.-4 p.m. on Sundays. There is free Wi-Fi and items change daily.
DOWNTOWN'S FIRST FRIDAY ESTABLISHES A NEW FOOTPRINT
First Friday Las Vegas has a new footprint starting June 5. The monthly event is moving north with all the festival elements including Art Walk, Artisan Bazaar, Fashion Alley, KidZone, Eatery, Main Stage, Dance DepARTment and Guerilla Kages. It will relocate just north of Charleston, encompassing the area between Charleston Blvd. to Coolidge Ave. and Casino Center Blvd. to Main Street.
This move reduces costs and the use of public right of ways including both roadways and walkways. With the lack of street closures in these areas, festival attendees should have easier access to parking.
The summer themes for the next three First Friday events are: June 5 "Music is Beautiful;" July 3 "Heroes;" and Aug. 7 "Art Battles."
SUNSET STATION'S OUTDOOR AMPHITHEATER HOSTS JUNEFEST
Junefest will be held at Sunset Station's poolside Sunset Amphitheater on Saturday, June 6 at 5 p.m. The annual 96.3 KKLZ music festival will feature performances by Joan Jett and the Blackhearts, Berlin featuring Terri Nunn, The Romantics and John Waite. Tickets start at $29 for standing room only.
Joan Jett as the leader of the hard-rocking Blackhearts has earned eight platinum and gold albums and nine Top-40 singles. Berlin is a Los Angeles-based synth pop group with their latest album being "Animal" in 2013. The Romantics were bred on the mean streets of Detroit's east side and inspired by the British punk invasion nearly 30 years ago. Their big hit was "What I Like About You." John Waite began his career as lead vocalist for the Babys before going solo.
WHEELS OF SOUL SUMMER TOUR VISITS THE PEARL AT PALMS
Tedeschi Trucks Band's (TTB) Wheels of Soul tour will visit The Pearl inside the Palms on Tuesday, June 19 at 6:30 p.m. The show features the Grammy Award-winning 11-piece blues-rock group together with soul sensation Sharon Jones and the Dap-Kings, and acclaimed guitarist Doyle Bramhall II. Tickets start at $63.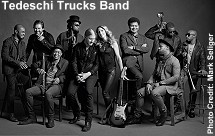 Singer and guitarist Susan Tedeschi fronts TTB with her husband and guitar virtuoso Derek Trucks. The group formed in 2010 with Tedeschi and Trucks shelving their equally successful solo careers. Already TTB earned a Grammy for its debut album, "Revelator."
MANDALAY BAY SERIES HAS UNDER THE SUN - AUSTRALIAN PINK FLOYD
Under The Sun, the summer tour celebrating the golden age of alternative pop rock 'n' roll, will return to the Mandalay Bay Beach Saturday, July 18. The 2015 tour features top bands of the 90s and today including, Sugar Ray, New Orleans-based band Better Than Ezra, Uncle Kracker and Eve 6 that formed in Southern California in 1995. Tickets are $34.50.
The Australian Pink Floyd Show, which gave its first concert in Adelaide, Australia, in 1988 and has since performed in more than 35 countries worldwide, will take the stage at the Mandalay Bay Beach on Friday, Sept. 4 with Led Zeppelin2, The Live Experience joining as special guests. Striving to reproduce the Pink Floyd experience, the live show includes a stunning light and laser show, video animations, film projected onto a large circular screen and other special effects. Tickets are $39.50.
STRIP HOUSE BEVERAGE PROGRAM ADDS NEW WINE-SPIRITS ELEMENTS
Strip House steakhouse at Planet Hollywood is introducing two new specialty elements to their beverage program designed to appeal to wine and whisky connoisseurs.
The Bucket List made possible by the Coravin system allows for sampling a selection of wines by the glass. A guest can sip a three or six ounce pour. Prices range from $25 to $179. A vertical tasting flight of Cardinale Winery's 2007, 2008 and 2009 cabernet sauvignon vintages is also available $150 for a three-ounce pour of each year.
For those who prefer spirits, the restaurant is debuting two new house barrel-aged cocktails.
TOP OF NEXT COLUMN
DINING ADVENTURES
Chef Rick Moonen will team up with Henderson-based CraftHaus Brewery to host a special four-course collaboration dinner at Rx Boiler Room inside The Shoppes at Mandalay Place on Friday, June 26. In addition, Moonen will launch his first brewery collaboration, Gone with the Wit. Cost is $60, RSVP 702-632-9900.
TREVI Italian Restaurant inside The Forum Shops at Caesars has introduced new weekday lunch menu specials available from 11 a.m. to 5 p.m. that include appetizers, salads, panini selections, chicken Caesar wrap, and three different quesadillas.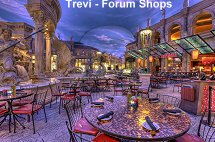 Downtown's newest restaurant, Glutton is launching "The Boozy Brunch" on Saturdays and Sundays from 9 a.m. to 3 p.m.
MELODY SWEETS 'BIG TOP CIRCUS AND BURLESQUE' IS A FUNDRAISER
Melody Sweets will transform the Absinthe Spiegeltent at Caesars Palace on Friday, June 26 into a circus spectacular for one night with all proceeds benefitting the UNLV College of Fine Arts. Following the success of her "XXXmas - A Burlesque Spectacular" and "Wild Wild West Burlesque," show Sweets now invites guests for an evening of excess at "Big Top Circus and Burlesque."
Sweets will perform a variety of songs including original numbers from her debut album "Burlesque in the Black." There will also be a live all-star band and featured performances by: Duo Fevrier from "Absinthe;" Laugh Extractor Jimmy Slonina of Cirque Du Soleil; The Flying Wallendas' Lijana Wallenda and her Wire Walking Wonders also from "Absinthe;" Miss Exotic World, Dirty Martini; 1923's Buttercup Delight; 2014 King of Burlesque, Mr. Gorgeous the Human Cannonball; and special guest from Frank Marino's "Divas."
Celebrating the sexy side of circus, revelers are invited to arrive early for face painting by Skin City Body Painting and circus-inspired antics in the courtyard prior to doors opening at midnight. The performance will begin shortly thereafter. A limited number of pre-sale tickets are available online for $20 at www.MelodySweets.com. Tickets at the door will be $25.
SKIKUSUI FUNAGUCHI SAKE CAN UNVEILING AT YUSHO AFTER DARK
On Tuesday, June 2 at Yusho After Dark, Yusho Japanese Grill and Noodle House at Monte Carlo will unveil a Kikusui Funaguchi sake can designed specifically for the restaurant.
Yusho, the largest pourer of Kikusui Funaguchi sake in the world, will be the only restaurant to carry its own personalized can created by Chicago artist Sarah Beacon. Funaguchi, a fresh sake that hasn't been pasteurized or blended, continues to mature in the can and has a 19.8 percent alcohol content.
Yusho Executive Chef Brian Lhee and SUSHISAMBA Chef Bobby Silva will create two dishes just for the evening as well as offer a variety of Yusho's signature appetizers and ramen bites. A DJ will spin hip hop music while local street artist, Mowgli, creates a work of art. Wirtz Beverage Sake Director Eric Swanson will be sharing tasting notes and his sake expertise.
Yusho After Dark will take place from 11 p.m. - 2 a.m. with tickets available for $25 per person.
FUN AROUND TOWN
At Town Square when the daily temperature is forecasted to reach 105 degrees or above, participating Town Square stores and restaurants will offer shoppers a 15 percent discount through the center's Summer Savings promotion. See postings on www.mytownsquarelasvegas.com and upon checkout mention the forecast at hot spots including Bonefish Grill, Francesca's, Lucky Brand Jeans, LOOK Style Society, White House|Black Market and more.
Hershey's Chocolate World inside New York-New York has unveiled its Statue of Liberty made entirely of red Twizzlers and on June 3 will celebrate its one-year anniversary on the Strip.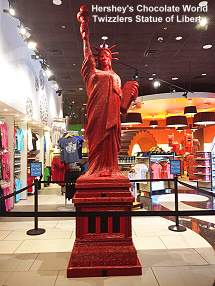 Na Hula will perform a live hula show in the Chrome Showroom at the Santa Fe Station on Sunday, June 14 at 4 p.m. The cover charge for the show is $15 cash at the door.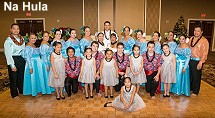 The comedians performing June 2-7 at the Improv at Harrah's will be Dat Phan, the original winner of NBC's "Last Comic Standing," Billy Bonnell and Traci Skene. Tickets are $29.05 or $44.95 for the 8:30 and 10 p.m. performances Tuesday through Sunday.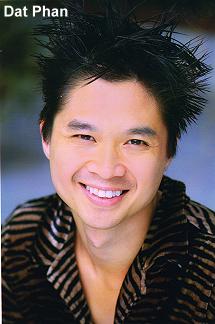 The 46th Annual World Series of Poker, which is the world's largest, richest and longest-running poker tournament, has started at the Rio with nearly $200 million expected to be awarded. The 68-event schedule runs through July 14. Last year with 82,360 entries, $227 million in prize money was awarded to players from 110 different countries.
Attended an event at the Radius° Rooftop Pool & Wet Lounge on the 25th floor of the Stratosphere Tower. Have to say the view of the valley is tremendous and this boutique pool by day and lounge by night is for visitors who prefer a smaller more intimate environment than the big clubs. DJs entertain every Thursday through Sunday at varying times. For non-hotel guests, the cover is $15 for men and $10 for the ladies.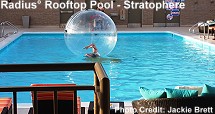 Having outgrown the Springs Preserve, this year the 4th annual Health, Healing & Happiness conference will be held June 13 and 14 at Tuscany Suites & Casino. This event features top nutrition and lifestyle speakers, chef demos, classes, and a vendor marketplace. For information, visit www.health-healing-happiness.com.
National Atomic Testing Museum will host Atomic Comics! on Saturday, June 6 celebrating the influence that the atomic bomb and radiation had on comic books from 10 a.m.-3 p.m. This will be a free Family Fun Day with local comic book shops present and planned activities including a mini-exhibit highlighting the stories and characters, kid-friendly science experiments, games, a costume contest, and a special raffle.
MGM RESORTS INTERNATIONAL HOLDS 2015 RECIPE SHOWDOWN
The MGM Resorts International Recipe Showdown is back for a second consecutive year and expanding to 16 cities across the United States and Canada. This year, the contest is open to travel professionals in addition to meeting planners.
Contestants will dish up secret recipes for a chance to win a trip to the finals in Las Vegas on Oct. 29 to compete in front of a live audience and celebrity chef judges including award-winning chef Julian Serrano, and to enjoy a special private performance by The Mirage headliner Terry Fator. The top three finalists from each city will have their recipes featured in a recipe book by meeting and travel professionals for meeting and travel professionals.
AVIATION SYMPOSIUM PLANNED AT NATIONAL ATOMIC TESTING MUSEUM
U.S. Congresswoman Dina Titus, who is a member of the Transportation and Infrastructure Subcommittee on Aviation, will host an all-day National Symposium on Aviation Leadership on Monday, June 8 at the National Atomic Testing Museum. The featured keynote speaker will be Michael Huerta, Administrator of the Federal Aviation Administration. Huerta, who oversees a $15.9 billion budget and more than 47,000 employees, is responsible for the safety and efficiency of the largest aerospace system in the world. There will be panel discussions on Aviation Tourism and Unmanned Aviation along with many aerospace industry leaders. Cost is $150.
MARIO BATALI FOUNDATION PRESENTS CELEBRITY GOLF CLASSIC
The exclusive Swing Session Las Vegas Celebrity Golf Classic presented by The Mario Batali Foundation (MBF) will be held June 5 and 6 at Cascata located in Boulder City. The event will be hosted by actor and comedian Anthony Anderson and Tiger Woods' former swing coach and one of the country's most sought-after golf instructors, Hank Haney. The event includes pre and post parties with proceeds benefitting the MBF to ensure that children are well read, fed and cared for. Cost is $3,500 per person.
Celebrities scheduled to appear include: actor Aidan Quinn; television personality Carter Oosterhouse; star of Animal Planet's "TANKED" Frankie DiLuzio; R.E.M.'s Mike Mills; four-time MLB All-Star George Hendricks; and world-renowned chefs Elizabeth Falkner, Ming Tsai, Donald Link and Michael Symon.
A limited number of tickets to Burgers in the Bunker and 19th Hole pre and post event parties are available to non-golfers for $100 and $250 each, respectively.
CONTINUE ON TO...:
THIS WEEK'S >LAUGHLIN NEWS
LAST WEEK'S >LAS VEGAS NEWS
>VEGAS VIEW FULL NEWS ARCHIVES
Return to >"Heard Around Town"
Return to >Las Vegas Leisure Guide