AMERICAN AIRLINES BRINGS SCHEDULED SERVICE TO LAUGHLIN!

A public event was held Feb. 16 to welcome the first flight arrival and departure of American Airlines' new nonstop service between Phoenix Sky Harbor International Airport (PHX) and Laughlin/Bullhead International Airport (IFP). The historic event welcoming American Airlines to Laughlin and Bullhead City was celebrated with a "water cannon salute," an arch of water sprayed from two airport fire trucks.

"We're excited to finally be able to say that you can connect to the world, direct from IFP," said Mohave County Airport Authority President John Hastings. The announcement is the culmination of more than a decade of labor on the part of Airport Authority staff and its many community partners tirelessly working to attract commercial service. "We have been waiting for this day for a really long time and we are beyond excited for this opportunity," added airport director Jeremy Keating. For more information, visit aa.com.

KISS WILL ROCK LAUGHLIN EVENT CENTER

America's No.1 Gold Record Award winning group of all time, KISS will take over the outdoor Laughlin Event Center on their "Freedom To Rock Tour" on Saturday, April 22 at 8 p.m. Tickets range from $64 to $179 and suites $250/$350.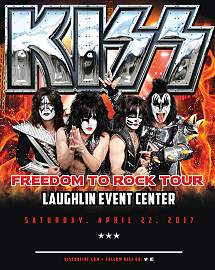 The distinctive quartet with more than 40 years of record-breaking global tours have released 44 albums and sold more than 100 million albums worldwide. The Rock and Roll Hall of Famers were honored by their peers and received the ASCAP Founders Award in 2015.
The KISS brand is a juggernaut. They've made high-profile appearances at the Super Bowl, Winter Olympics, Rockin' The Corps concert, a FOX alliance with KISS appearing in multiple episodes of "Family Guy," plus two special guest performances on "American Idol" finales. KISS has been featured in major advertising and marketing campaigns for John Varvatos, Hello Kitty, Google Play, and even appeared in a Dr. Pepper Super Bowl commercial and advertising campaign in support of their Hottest Show On Earth tour. KISS founding band members Paul Stanley and Gene Simmons have joined the culinary world with a string of successful restaurants named Rock & Brews and there is a KISS by Monster Mini Golf at the Rio in Las Vegas.
E CENTER ATTRACTS HEADLINERS LOGGINS, MANDEL AND ROBINSON
The E Center at the Edgewater has a "fab" lineup in March with Kenny Loggins, Howie Mandel and Smokey Robinson.
American singer-songwriter and guitarist Loggins leads the way Saturday, March 4 at 8 p.m. Tickets start at $35.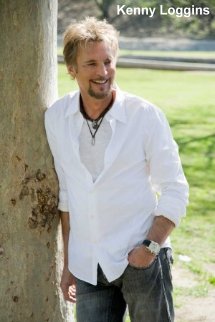 Loggins recorded his early songwriting compositions with the Nitty Gritty Dirt Band in 1970, which led to seven albums, and performing as the group Loggins and Messina from 1972 to 1977. As a solo artist, Loggins experienced a string of soundtrack successes, including an Academy award nomination for "Footloose" in 1984. He even released a children's book "Footloose" last October inspired by the Grammy® Award-winning "Song of the Year." Loggins early soundtrack contributions date back to the film "A Star Is Born" in 1976, and for much of the 1980s and 90s, he was known as "The Soundtrack King." In 2013, "Finally Home" was released and shortly after he formed the group Blue Sky Riders with Gary Burr and Georgia Middleman.
Canadian comedian actor, writer, producer and Emmy nominee Mandel is set for Saturday, March 18 at 8 p.m. Ticket range is $35 to $85.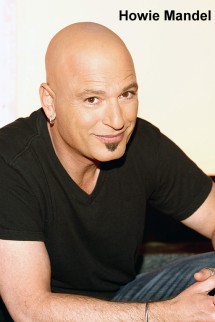 Mandel has done it all including countless comedy specials on TV. Right now he's best known as a judge on NBC's "America's Got Talent," replacing David Hasselhoff in the fifth season of the reality talent contest, and also for his fear of germs and preferring "fist bumps" to handshakes. Fans also know him from hosting his own syndicated talk show, "The Howie Mandel Show," and hosting the NBC game show "Deal or No Deal." In his earlier career, Mandel was well known for his role as rowdy ER intern Dr. Wayne Fiscus on the NBC medical drama "St. Elsewhere." Another accomplishment is also as the creator and star of the children's cartoon "Bobby's World."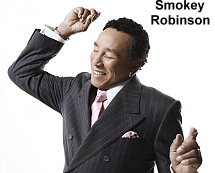 Motown great Smokey Robinson has locked in Saturday, March 25 at 8 p.m. Tickets are $40 to $90.
Robinson is an American singer, songwriter, record producer, and former record executive as Motown's vice president. He was the founder and front man of the Motown vocal group the Miracles, and was the group's chief songwriter and producer. During his amazing 50-year career in music, the prolific songwriter has accumulated more than 4,000 songs to his credit and 37 Top 40 hits, including "Tears of a Clown," "Tracks of My Tears" and "Love Machine." He also wrote and produced hits for groups such as The Temptations - "My Girl" and Mary Wells "My Guy." Robinson went solo in 1972 and in 1989 wrote his autobiography "Smokey: Inside My Life," which addressed his battle with cocaine. Robinson was a Kennedy Center Honoree in 2006.
RIVERSIDE LINES UP COUNTRY STARS CLARK, GILLEY AND BOGGUSS
Don's Celebrity Theatre at the Riverside Resort is focusing on country stars in March with Terri Clark, Mickey Gilley and Suzy Bogguss headlining. Depending on the artists, tickets range from $30 to $38.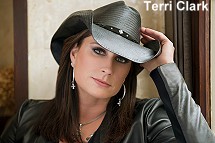 Clark, who sings, plays guitar hails from Medicine Hat, Alberta, Canada, will entertain March 3-5. Before signing with Mercury Records, she got her start playing for tips at the honky-tonk bar Tootsie's Orchid Lounge located across the alley from Nashville's Ryman Auditorium. With her distinctive voice, Clark has garnered eight CCMA Entertainer of the Year awards, and the CCMA Female Vocalist of the Year award five times. She has more than 20 singles, including six No. 1 hits in Canada and the United States such as "Better Things To Do," "Poor Poor Pitiful Me," "Girls Lie Too," and "I Just Wanna Be Mad."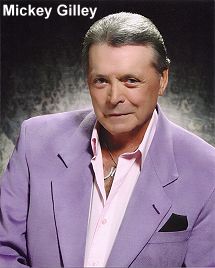 Gilley, who will headline March 8-12, learned to play piano at an early age but did not achieve success like his cousin Jerry Lee Lewis until the mid-70s. In 1971, Gilley and a partner, opened Gilley's, known as the world's largest honky-tonk. It was there Gilley started experiencing his first success releasing "Room Full of Roses" and hitting the country charts with regularity in the '70s. The movie "Urban Cowboy" created a craze that put Gilley's bar on the map and propelled Gilley's career into high gear.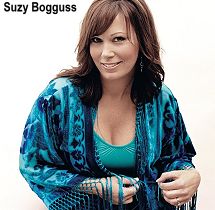 Taking center stage March 14-19 is American country music singer and songwriter Bogguss. Her career began in the early 1980s as a solo singer and the Illinois native's 1989 major label debut was "Somewhere Between." In the 1990s, Bogguss released one platinum and three gold albums, charted six top ten singles, and had more than three million sales. She scored a string of Top 10 singles with country radio staples like "Aces," "Outbound Plane," "Drive South," "Hey Cinderella," and "Letting Go." Bogguss won the Academy of Country Music's award for Top New Female Vocalist and the Country Music Association's Horizon Award.
AVI RIVER STAMPEDE PRESENTS RODEO AND BULL RIDING
The annual Avi River Stampede Rodeo & Extreme Bull Riding will be held Friday-Sunday, March 10-12. Cowboys and cowgirls will compete for a purse of almost a quarter million dollars in the annual PRCA Rodeo. As many as 700 participants compete in eight traditional rodeo events, including bareback bronc riding, team roping and bull riding, which is always a favorite. Entertainment and vendor booths will round out the celebration at the Mojave Crossing Event Center in Arizona across the river from the Avi. Tickets are $10-$25.
HARRAH'S FEATURES AN ABBA-TRIBUTE SHOW
"Abbacadabra - Tribute to ABBA" will be taking audiences back in time to the '70s March 15-27 (dark March 21) at 8 p.m. in the Fiesta Showroom at Harrah's. Tickets are $35.
Abbacadabra creates the ultimate ABBA concert complete with the fashion like leisure suits and platform shoes, flare, and hit tunes. The movie and play "Mamma Mia!" have kept the ABBA music alive and popular. The group's 20 greatest hits like "S.O.S.," "Danicng Queen," "Super Trooper," "Fernando" and "Chiquitita" make any show worthwhile.
TOP OF NEXT COLUMN
MOTOWN ROCKERS RARE EARTH APPEAR IN CONCERT AT THE AVI
Rare Earth, Motown Records one and only successful white band from 1968 to 1978, will visit the Avi on Saturday, March 25 at 8 p.m. Tickets are $20, $25 and $30.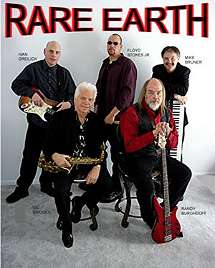 This group has an interesting history. A group of high school buddies formed the band in 1961 as The Sunliners. In the latter part of 1968, Motown Record Corporation, already a dynamo company geared for promoting and distributing in the black market, approached the group to sign a recording contract. They were reluctant until Motown decided to launch a new division to cater to white artists and the group's name was changed to Rare Earth.
Motown wanted an album immediately. Rare Earth had been playing a lot of Motown songs in clubs. However, one of their tunes was "Get Ready," which started out as a three-minute song. Eventually, one member did a solo until everyone wanted their own part and the song became 21 minutes long and their closing signature song. Rare Earth wanted it to be their first recording and it took up one whole side of their first album, which was unheard of at the time. "Get Ready" first broke in Washington, D.C. in the black market, spread across the country and into the white market. It was a huge hit selling millions of records and remaining on the charts for almost three years. Other Rare Earth hits from 1969 to 1974 include "Big Brother," "Born to Wander," "Tobacco Road," "(I Know) I'm Losing You," and "I Just Want To Celebrate."
EDGEWATER SEQUESTERS COMEDY ON WEEKENDS
"Comedy on the Edge" at the Edgewater provides audiences with laughter every Friday, Saturday and Sunday by featuring two different stand-up comedians each week at 7 p.m. Tickets are $15 with a $2 discount on Sundays for U.S. veterans with an ID.
The upcoming lineup of comedians include: March 3-5 Davin Rosenblatt and Jamario McClain; March 10-12 Johnny Watson and Adrianne Chalepah; March 17-19 Andrew Sleighter and Johnny Pizzi; March 24-26 Darryl Rhoades and Daniel Eachus; March 31-April 2 Gregory Freiler and Corey Sweeney; April 7-9 Nathan Timmel and Patrick Keane; April 14-16 Derek Richards and Rob Neville; April 21-23 John Tole and Rich Harkaway.
Davin Rosenblatt and Jamario McClain are paired March 3-5. Rosenblatt is a 15-year comedy circuit veteran with topical material and improvisation skills. He traded law school for comedy and worked his way up conquering really tough houses like biker bars in New Jersey. A fun bit of trivia, Rosenblatt made his show biz debut on "Romper Room." He's been on Comedy Central, "Arise & Shine" on Arise TV, Sirius/XM, I Heart Radio's "Davin's Den" and has traveled to Japan, Korea, Iraq, Kuwait to entertain U.S. troops.
Johnny Watson is appearing with Adrianne Chalepah March 10-12. Watson's jokes are about his life including growing up "white trash" and being divorced. Over his 15-year career, he's performed his silly-edgy comedy with Bobby Collins, Bill Burr, and Chris Rock, as well as for U.S. troops. He's a regular at Comic Strip Live and Dangerfield's and also appeared on "Killing John Lennon," "Saturday Night Live," and "Fly Guys."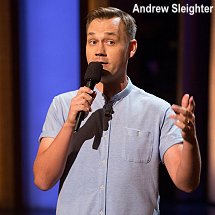 Andrew Sleighter will co-headline with Johnny Pizzi March 17-19. Eleven-year, stand-up veteran Sleighter has a laid-back style with comedy material all about his life and friends. He wrote and blogged for "Sports Show with Norm Macdonald" on Comedy Central and was a regular on the MTV prank show "Money From Strangers." He's performed on Nuvo TV's "Stand Up & Deliver," "Last Comic Standing," and made his late-night stand-up debut on "Conan."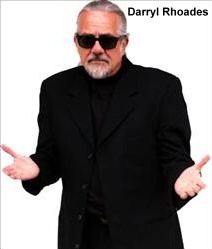 March 24-26 will have Darryl Rhoades and Daniel Eachus sharing the stage. Rhoades, a comedian, musician and actor, has an act that is original using multiple personalities, rapid fire delivery and satirical music. Kurt Loder with "Rolling Stone" described him as "one of the most savagely gifted writer/performers in the country today." Over the past 27 years, Rhoades performed with major comedians. As a musician, he performed with Tom Waits, Jerry Lee Lewis, the Atlanta Rhythm Section and many others. His acting parts have been in "Crazy Heart" with Jeff Bridges, "D.O.A." (Sex Pistol documentary), James Brown TV Show "Future Show," and "Livewire" on Nickelodeon TV.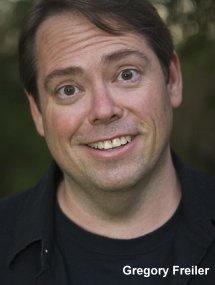 Sharing the stage March 31-April 2 will be Gregory Freiler and Corey Sweeney. Freiler draws his comedy material from his nomadic childhood with his family moving frequently, being the child of a stoic immigrant father, personal relationships and his experiences as a teacher. As a stand-up comedian for more than 10 years, he has worked with many major comedians including Jim Belushi, Louie Anderson, Jon Lovitz, David Spade, Bob Marley, Ritch Shydner, Tom Arnold, Anthony Jeselnik, Paul Reiser, and Richard Lewis. In 2013, 2014 and again in 2016, he had the opportunity to perform for the U.S. military overseas.
MORE SHOWS TO CONSIDER
Willie Nelson is booked at Harrah's Rio Vista Amphitheater on Friday, April 20 at 8 p.m. Ticket range is $45.50 to $91.50.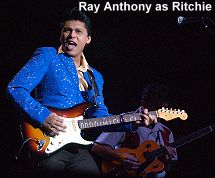 John Mueller's "Winter Dance Party," the live and authentic re-creation of Buddy Holly, Ritchie Valens and the Big Bopper's Final tour, will headline at the Riverside Resort March 22-26 at 8 p.m. Audiences get to experience high voltage entertainment featuring each star's hit songs from the 50s such as "That'll be the Day," "Peggy Sue," "Oh Boy," "Rave On," "La Bamba," "Chantilly Lace," naming only a few. Tickets are $30.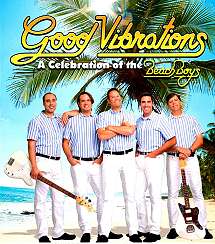 At the Tropicana in the Pavilion Theater, two shows in March will be trips down memory lane. Shows are at 8 p.m. and tickets are $15. Good Vibrations - A Celebration of The Beach Boys will set the pace on Saturday, March 18 presenting their version of fun-in-the-sun hits such as "Surfin' U.S.A," "Wouldn't It Be Nice," and "Kokomo" along with melodies "In My Room" and "Don't Worry Baby." The Goldtones will bring on the sounds of the 50s and 60s with a touch of sock-hop on Friday, March 31.
EVENTS ON THE HORIZON
The Front Parking Lot at the Pioneer will set the stage for the 6th Annual Smokey Hayes BBQ "Porkin' on the River" competition March 3-4. On Friday there will be a "One Bite Beef Challenge." On Saturday, the event has a two category BBQ competition of pork ribs and pork shoulder with tasting kits available at noon. There will be vendors, food available and a beer garden both days.
The Connie Davis 5K Walk for Cancer fundraiser will be held Saturday, March 4 at 9 a.m. at Pyramid Canyon Day Use Area in Greenway Park and Trails across from Davis Dam. This is walk is sponsored by the Laughlin Chamber of Commerce. There will be an "After Event Party" with food/drinks at the finish line catered by Chef Paul Terry, music by Billy Kay, and raffles. Registration is $20, which includes T-shirt and goodie bag (while supplies last); call 702-298-2214, ext 0.
March is the time to celebrate the wearing of the green. The Shamrocks & Shenanigans On The Riverwalk will be held March 17-19 with authentic Irish entertainment on the Loading Dock Stage, beer and food.
The 30th Annual Gambler Classic River Run will be held at the Tropicana March 30-April l. This special event is open to the first 200 car entries of 1955, 1956 and 1957 Chevrolet automobiles, Corvettes, and trucks. Event participants are part of the show-n-show and receive a goodie bag, t-shirt, and dash plaque. Raffles, trophies and awards are part of the event and visitors can view the cars when they are on display.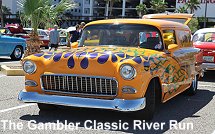 The World Fighting Championships (WFC) 67 will be held at the Avi on Saturday, April 8 at 8 p.m. Ticket range is $30-$75.
The same weekend, Amateur Athletic Union (AAU) North American Weightlifting, Powerlifting, Feats of Strength/Strongman & MAS event will be held at Harrah's Ballroom and Rio Vista Amphitheater Friday-Sunday, April 7-9. Drug free athletes will compete in both indoor and outdoor events in men's/women's/youth divisions.
Dal Con Productions' 35th Annual Laughlin River Run will invade the whole town Wednesday-Saturday, April 26-29. Attracting thousands, the motorcycle run will have vendors at most casinos, music, events, overall bike watching and riding, etc.
CONTINUE ON TO...:

THIS WEEK'S >LAS VEGAS NEWS
LAST MONTH'S >LAUGHLIN NEWS
>VEGAS VIEW FULL ARCHIVES
Return to >"Heard Around Town"
Return to >Las Vegas Leisure Guide