FORUM SHOPS CELEBRATE CHINESE NEW YEAR WITH GIANT DRAGON!

A legendary creature in Chinese mythology and folklore, the dragon is a traditional symbol of power, strength, and good luck.

Celebrating Chinese New Year, The Forum Shops at Caesars is once again sharing the fabled creature by displaying a 22-foot long, six-foot wide and 12-foot high dragon on the Fortuna Terrace near the mall entrance from Caesars Palace casino. The massive 950-lb steel-framed dragon is covered in 30,000 red and amber LED lights with many flickering and sitting on a red carpet surrounded by hand-painted wood pillars, gold fencing and red velvet ropes. While the Chinese New Year begins on Feb. 8, the Chinese dragon will be on display throughout the celebratory season.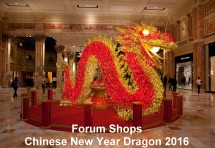 For the 20th consecutive year, students from the Meadows School will perform the traditional dragon parade throughout The Forum Shops at Caesars on Monday, Feb 8. The cast of singers and dancers includes 120 Meadows students - 60 from kindergarten and 60 from fifth grade plus the school's founder and Las Vegas Mayor Carolyn Goodman.
HAKKASAN CELEBRATES CHINESE NEW YEAR
This Chinese New Year, Hakkasan will celebrate the Year of the Monkey with a limited edition menu created by International Executive Chef Ho Chee Boon alongside an exclusive cocktail and dessert from Jan. 22-Feb. 22. The Chinese New Year menu is available at $138.88 per person for parties of two or more.
Hakkasan's 11 restaurants around the world will continue to honor the Chinese wishing tree tradition inspired by the Lam Tsuen Wishing Trees in Hong Kong. Guests will be invited to share their hopes for the coming year by writing their wishes on gold ribbons and hanging them in the restaurant.
During the festive period it is customary for friends and family to gift red envelopes containing money symbolizing luck and wealth. This year Hakkasan is giving all guests who dine from the Chinese New Year menu a specially designed Year of the Monkey coin as a gift of good fortune.
On Thursday, Feb. 4 as part of the restaurant's Chinese New Year celebration, lion troupes will make their way through the intimate latticed woodwork cages, offering symbolic expressions of luck, fortune, wisdom and joy.
'TWISTED VEGAS' WITH ALEX GOUDE WILL OPEN AT THE WESTGATE
Beginning in February, French superstar Alex Goude will debut his new live production show "Twisted Vegas" at the Westgate. The interactive show is promising impressive large-scale singing and dancing numbers, world-class magicians, contortionists, and a scene-stealing finale. Abundantly twisted, the show will include hand balancing and acrobatics by The Kristef Brothers, impersonations of Celine Dion and Britney Spears by Costic, and aerial artistry by Katya. Performances will be nightly Tuesday-Saturday at 7 p.m. Tickets start at $45, visit www.Twisted.vegas.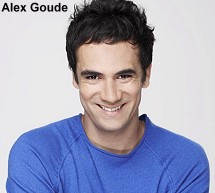 "Twisted Vegas" will catapult its writer, director, and producer Goude into the American spotlight. In France, Goude is a famous TV host, producer, writer, director and actor much like America's Neil Patrick Harris. Goude hosts many shows in his country including "France's Got Talent."
Goude has been quietly living in Las Vegas for three years with his family while keeping his shows in France and preparing for his Las Vegas debut. He is producing and directing another future Las Vegas show while also developing a new musical in France that will open in September 2016.
SPRINGS PRESERVE HOSTS 'RUN AWAY WITH CIRQUE DU SOLEIL'
On Saturday, March12, Cirque du Soleil will hold its 15th annual Run Away with Cirque du Soleil 5K Run and 1-Mile Fun Walk at the Las Vegas Springs Preserve. Mayor Carolyn Goodman will kick off the race at 8:30 a.m.
Pre-registration is open at Active.com. Registration fees are $37 for the 5K Run and $27 for the 1-Mile Fun Walk with prices increasing by $3 after March 1. On-site registration will open at 7 a.m.
The event will include pre-race activities and warm-ups beginning at 8 a.m., live music, photos with Cirque du Soleil artists, complimentary refreshments provided by Whole Foods and Starbucks, a circus-themed play area, and an awards ceremony at 10:30 a.m.
PITBULL WILL RETURN TO THE AXIS AT PLANET HOLLYWOOD
After an extremely successful engagement last year, global music superstar Pitbull will return to The AXIS at Planet Hollywood with his show, "Time Of Our Lives Las Vegas," March 12-26. Pitbull plans to make this show even bigger. Tickets range in price from $39 - $169.
Mr. 305 and Mr. Worldwide, known around the globe as Pitbull, is an internationally successful Grammy-nominated musician, performer, business entrepreneur, fashion icon and actor. His career sales have exceeded five million albums and 60 million singles worldwide, including his album, "Globalization." Pitbull has scored No. 1 hits in more than 15 countries.
BRIGG'S OYSTER CO. DEBUTS AT THE SUNCOAST
Brigg's Oyster Co. has premiered at the Suncoast. Brightly illuminated Brigg's interior is centered round an open exhibition kitchen. The feature draws customers into the middle of the action with chefs creating the restaurant's bold and unique flavors.
A NEW OYSTER BAR WILL OPEN AT SANTA FE STATION
Station Casinos' seafood bar concept, The Oyster Bar, will open a new location at Santa Fe Station later this month. The restaurant will be open daily for dinner at 5 p.m. and showcase a number of the seafood specialties that have made The Oyster Bar experience special at many of its sister properties.
Similar to the Palace Station location where the concept began 20 years ago, The Oyster Bar will be an intimate space with seating for 21 guests. It will offer a few tables and bar seating with an open kitchen where dishes will be made-to-order and cooked in front of guests in steaming kettles.
At Santa Fe Station, The Oyster Bar joins a lineup of restaurants including Cabo Mexican, The Charcoal Room steakhouse, Feast Buffet and Grand Café. The Oyster Bar
ARIA IS LAUNCHING UNPRECEDENTED IN-ROOM TECHNOLOGY
Aria has collaborated with Crave Interactive, a cutting-edge guest service software company, to create the largest-ever installation of the provider's in-room hotel tablets. The tablets will offer a hyper-tailored guest experience with new amenities such as digital in-room dining orders, one-touch spa service requests and an endless stream of news in multiple languages.
Aria's Crave tablets will be offered in all 4,004 guestrooms, with further customized services for Deluxe Rooms, Tower Suites and Sky Suites' guests. The installation will roll out through multiple phases and future enhancements will include retail ordering, M life status and tier credit updates, customized messaging, tablet skins and graphics, social media and much more.
CAESARS ENTERTAINMENT LAUNCHES SELF CHECK-IN KIOSKS
Caesars Entertainment is debuting new self check-in kiosks at its Las Vegas resorts beginning with The LINQ, Flamingo and Caesars Palace. This is the first fully-integrated self check-in program that incorporates email, text, web, mobile app and kiosks.
Caesars Entertainment's rollout of its new kiosk program is the latest stage in a technology solution to completely automate the check-in process. Upon arrival, guests can proceed immediately to the check-in kiosk to begin their check-in process, verifying their IDs and taking payment information right at the machine and then either receive a printed key if the room is ready, or if it is not set up, receive an alert to return when the room becomes available. Additionally, guests who book their reservation directly through Caesars.com will have the ability to begin their check-in process at home, either through the web or through Caesars Entertainment's "play by Total Rewards" mobile application, and receive a notification to proceed to the kiosk to get their keys when their room is ready.
TOP OF NEXT COLUMN
M RESORT BOOKS THE SHIRELLES STARRING BEVERLY LEE

The Shirelles, credited for originating the girl-group sound of the '60s, will return to the M Resort on Saturday, Feb. 13. Starring Beverly Lee, the Rock & Roll Hall of Fame group will perform a selection of legendary love songs and popular hits. Tickets for the 7 p.m. concert are $19.99, $24.99 and $29.99.

FIGHTERS ONLY MAGAZINE HOLDS 8TH ANNUAL WORLD MMA AWARDS

On Friday, Feb. 5, Las Vegas will again host the only red carpet, black-tie awards ceremony that honors high achievements in mixed martial arts (MMA) that transpired in 2015.

"Fighters Only Magazine" has revealed the list of nominees for the 8th Annual World MMA Awards, and announced three new categories: Best MMA Programming; Best MMA Clothing & Equipment Brand; and Analyst of the Year. Fans can cast their votes through their mobile devices, smart phones or PCs via the official website WorldMMAAwards.com

through Jan. 31at midnight.

MIXED GENERAL NEWS CLIPS

Last week "Sons of Anarchy" stars Charlie Hunnam (Jackson "Jax" Teller) and Chuck Zito (Frankie Diamonds) dined at Andiamo Italian Steakhouse at the D downtown. The next day, the actors returned to the D to join co-star Christopher Reed (Filthy Phil) for a night of craps and blackjack.

Last week, John Fogerty arrived at The Venetian® for his eight-show residency, "Fortunate Son in Concert," running through Jan. 23. In true rock 'n' roll fashion, Fogerty led 50 Harley-Davidson motorcycles down the Strip to the resort's entrance.

The next headliners for the Golden Nugget's Fridays Concert Series are Canada's The Guess Who on Jan. 15, Gary Puckett and The Union Gap Band on Jan. 22, and the Orchestra on Jan. 29. The Orchestra is a rock band created by former members of the Electric Light Orchestra and ELO Part II.

Fresh off the release of her Nov. 2015 mixtape "But You Caint Use My Phone," her first release since 2010's "New Amerykah Part Two (Return of the Ankh)," Erykah Badu is returning to Las Vegas for a performance at Brooklyn Bowl at The Linq on Friday, Jan. 15 at 9:30 p.m. Tickets start at $47.50.

The annual forecasting Preview Las Vegas presented by the Las Vegas Metro Chamber of Commerce will be held Jan. 29 at the Thomas and Mack Center. Tickets are $65 for members and $85 for non-chamber members; visit PreviewLasVegas.com.

BROOKMAN ELEMENTARY SCHOOL ATTEMPTS GUINNESS WORLD RECORD

Comedy magician Adam London will co-host the Brookman Elementary School Guinness World Records attempt with Alana London (pronounced: Uh-LAY-Nuh) on Jan. 15 at 5 p.m. when 20,000 glow sticks will illuminate the school grounds at 6225 E. Washington Avenue. The glow sticks represent each book the students read and tested on, with an 80 percent comprehension or better from September 2015 to January 2016. As of Dec. 18, 2015, the students read 19,876 books.

London who performs his all-age friendly comedy magic show at the D Las Vegas, partnered with his wife Alana to sponsor the event by purchasing the glow sticks. Alana London, a 4th Grade School Teacher at Brookman Elementary School, created the "Reading Makes Us Bright" program to get her students excited about reading and rallied the entire school to get involved in breaking the world record. The current world record holder is a primary school in Australia with a 9,800 glow stick chain.

EVERLY BROTHERS EXPERIENCE VISITS THE SUNCOAST

"The Bird Dogs: The Everly Brothers Experience" tribute show will bring the famous two-part harmonies of the popular, country-influenced rock 'n' roll duo to the Suncoast Showroom Jan. 23-24. Tickets for the 7:30 p.m. show start at $20.

The show celebrating Isaac Donald "Don" and Phillip "Phil" Everly's music stars the Zmed brothers, Dylan and Zachary. The Everly Brothers' musical career lasted more than 30 years. They finished with 35 Billboard Hot 100 singles, including 26 that made the top 40. The duo was also among the first 10 artists inducted into the Rock and Roll Hall of Fame in 1986.

FREE MOB MONTH LECTURES HELD AT CLARK COUNTY LIBRARY

Three more Mob Month free Tuesday night lectures are being held at the Clark County Library on East Flamingo at 7 p.m. this month. Seating is on a first-come, first-served basis.

Upcoming lectures include: Jan. 13 - The Fix Is In: Sports and the Mob; Jan. 20 The Great Debate: Is the Mob Still in Las Vegas?; and Jan. 27- Our Kansas City Connection and Screening. In his new documentary "Gangland Wire," filmmaker and former police officer turned lawyer Gary Jenkins describes the rise and fall of Kansas City's River Quay district and the investigation which exposed the Mafia influence over the Teamsters International Union and Las Vegas casinos.

LAS VEGAS TOURISM RELATED NEWS ITEMS

In 2015, Las Vegas set another new record with more than 42 million visitors for the first time, which broke the 2014 record of 41.1 million.

This year, the final presidential debate will be held on Oct. 19 at the Thomas & Mack Center and put the city in the national spotlight. Also the Las Vegas Convention and Visitors Authority will move forward with the demolition of the old Riviera to make way for development of the Las Vegas Convention Center District.

After CES, more big conventions are taking place this month. The Las Vegas Convention Center will host the National Association of Home Builders (NAHB), International Builders' Show (IBS), and the Kitchen & Bath Industry Show (KBIS) from Jan. 19-21with an estimated 93,000-plus attendees. This year's event will also feature two additional shows, the International Window Coverings Expo and The International Surface Event. The Shooting, Hunting & Outdoor Trade Show and Conference will be held at the Sands Expo and Convention Center Jan. 19-22. More than 50,000 retailers and designers are expected to attend the Las Vegas Market at the World Market Center Jan. 24-28.

NEW RADIO SHOW IS BROADCASTING FROM LAGASSE'S STADIUM

Yahoo Sports Radio's "Game Night with Matt Perrault" debuted last week at The Palazzo Broadcast Studio inside Lagasse's Stadium®. The live show broadcasts week nights from 7 to 10 p.m. PST.

SETH GRABEL JOINS 'FANTASY' SHOW ON TUESDAY NIGHTS

"America's Got Talent" finalist Seth Grabel has joined the adult revue cast of "FANTASY" at the on Luxor Tuesday nights. Sean E. Cooper will continue his comedy routine the other six nights a week.

MOB MUSEUM WILL DISPLAY 'FOLIES BERGERE' SHOWGIRL COSTUME

The Mob Museum downtown will unveil a showgirl costume from the Tropicana's historic "Folies Bergere" 50-year production show on Thursday, Jan. 21. A reception will take place from 6-8 p.m. with a program at 6:30 p.m. The costume is on loan from the Nevada State Museum, which recently acquired a large collection of "Folies Bergere" costumes.

DINING TIDBITS

Sammy's Restaurant & Bar in Henderson will host a four-course cocktail pairing dinner as part of Sammy's Social Club beginning at 7 p.m. on Thursday, Jan. 21. Cost is $50, call 702-564-7007.

BRAVO! Cucina Italiana at the Galleria at Sunset mall is offering lunch and dinner Comfort Classic Combos, two-course meals for $10.99, through Feb. 27.

In recognition of Martin Luther King Jr. Day, the newly-remodeled Charlie's Market Buffet at Arizona Charlie's Decatur will offer ace | PLAY™ card members an array of lunch and dinner buffet classics for $5 on Monday, Jan. 18.

National Cheese Lover's Day is Wednesday, Jan. 20 and TREVI Italian Restaurant inside The Forum Shops at Caesars will celebrate by offering $10 cheese pizzas.

ADULT FILM STARS INVADE LAS VEGAS JAN. 20-23

The 2016 AVN - Adult Entertainment Expo takes place Jan. 20-23 with more than 500 adult stars attending, 150 exhibitors showcasing products and services, 15 parties, and seminars, etc. taking place.

The 2016 AVN Awards Show, "the Oscars of porn," with Joanna Angel and new Evil Angel director Albrite hosting will be held at the Hard Rock on Jan. 23.

Chateau Nightclub & Rooftop at Paris will spice up things up in honor of the Adult Video News award show with parties hosted by an array of adult film stars such as Eva Lovia and Teagan Presley and adult toy company, Fleshlight, on Wednesday, Jan. 20 and Saturday, Jan. 23. Admission is $20 for ladies and $30 for gentlemen.

The Saints & Sinners Party will be held at the Hard Rock's Body English Nightclub Thursday, Jan. 21at 11 p.m.

CONTINUE ON TO...:
THIS WEEK'S >LAUGHLIN NEWS
LAST WEEK'S >LAS VEGAS NEWS
>VEGAS VIEW FULL NEWS ARCHIVES
Return to >"Heard Around Town"
Return to >Las Vegas Leisure Guide